Author: Beach Combing | in : Contemporary , trackback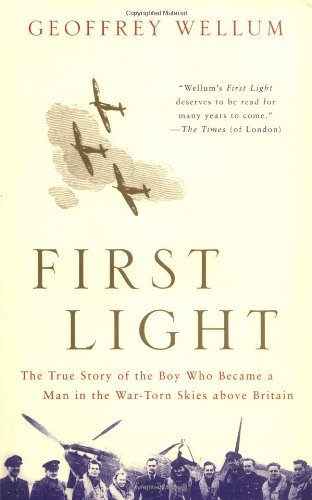 Beachcombing confesses that he has gone a bit Battle-of-Britain mad in the past few weeks with several posts on 'their finest hour' and the RAF generally.
His excuse? Well, this is, after all, the seventieth anniversary of the BoB and so he offers here another, a review of his favourite BoB book: First Light.
First Light not only tells but also has an interesting history. The author Geoffrey Wellum flew spitfires in the summer of 1940 aged 18. He survived and went on to run sorties off Malta protecting the convoys passing through the Mediterranean. He is still, happily, alive today.
As a BoB pilot Wellum wrote down some of his impressions in an 'old exercise book'. In the 1970s he took the notes and wrote them up into a manuscript that was then published in 2002. Beachcombing imagines that at this point further changes were made. There are, therefore, three levels of experience, three vantage points of that distant summer of 1940 – one contemporary, one written in late middle age and a final one in old age.
To the reader it is the boy that speaks loudest. Wellum was (and Beachcombing is sure is) a likeable fellow with an easy wit. But he was still a child and in some ways a rather immature child when he went to fight for his country in 1940. It is as if a teen diarist should give up writing about girls and spots and start up about 'killing chaps' and his fear of death at two hundred miles per hour. (Adrian Mole puts on flight goggles: British cultural reference).
Wellum's commanding officers don't tell him to 'shape up' but to 'grow up'. And his language fluctuates between jolly 'wizard' pilot tones that seem learnt and the vulnerable child. Compare 'Praise be to Allah yet again. A bit firm that one but not a bounce and utterly safe' with 'God, now listen to me: If you are around please help Laurie. I realise that you're a difficult person to find and perhaps I don't try all that hard, but I'm trying now, so please hear me.'
The author states, at one point, that he did not regret his experiences only that he had had them when he was so young.
And what experiences, gliding with disintegrating butterfly wings over the abyss. In the first flying camp five of the trainees go out for a meal. Of these five two will die in training and one in conflict – crashing into the Channel. Then there is Wellum himself…
Two full spitfire tours the summer of 1940 and Malta finished the author off emotionally and he ends up what would become a post-war favourite in films and bad novels: the burnt-out spitfire pilot.
If someone can give their life for their country then presumably it is right that someone else give up their nerves for their country. But Wellum was so young… And one of the most moving scenes comes at the very end of the volume when he is sent back, a mental wreck, to his parents and enters his old bedroom: 'and there was my room waiting for me just as I had left it over three years ago'.
The man comes face to face with the child.
The structure of the book falls apart in perfect time with the author. Recruitment and training are covered in great detail and in a coherent sequence. But by the time we get to the fighting everything slips into an impressionistic splurge of memories and sensations and by the time that Wellum is fighting out of Malta it is almost as if his ability to remember and feel have themselves been compromised.
What a superb book!
Any other BoB stories: drbeachcombing AT yahoo DOT com
***
1st Oct 2010: JE wrote in with a fascinating comment about Wellum that reflects the impossible lives of Battle of Britain pilots and gives some interesting background to Beachcombing's hero, Wellum himself (if the identification is sound). 'I discovered FL around two years ago, when I purchased it with two other very fine books, Fighter Boys by Patrick Bishop, and The Most Dangerous Enemy: A History Of The Battle Of Britain by Stephen Bungay. The three books actually complemented each other very well, concentrating as they did on different aspects of the RAF experience of that Late Spring to Early Fall of 1940. Over the course of a summer I indulged in a glorious orgy of BoB history. As a retiree I had the luxury of time to burn (rather I should say, I was operating under the impression that I had time to burn, which is not quite the same thing: tempus fugit and all that other miserable sinner-ness of the Calvinist/Puritan Weltsicht  having been drummed into my schoolboy head by my Headmaster, the Very Reverend David Pottie, Chaplain, RAF, retired). So I cross-referenced the books, often finding personalities mentioned in one also mentioned in another. It was thus I found, I think in Fighter Boys, a reference by letter from a pilot (perhaps to one of the twins from so popular with 92 Squadron) that "The Boy Drunkard" was so done up and burned out that he was becoming "shy", which realization left him awash in alcohol and a threat to die within days were he not taken off operational status. Some checking back between the three books,  and even in some outside sources, led me to conclude that the "Boy Drunkard" so despaired of was indeed Wellum. And of course it fits his own admissions of alcoholic pickling and his assessment of his dangerously deteriorated flying skill and combat effectiveness.'  Thanks J.E. for this and also for a fabulous Battle of Britain photograph.