Author: Beach Combing | in : Contemporary , trackback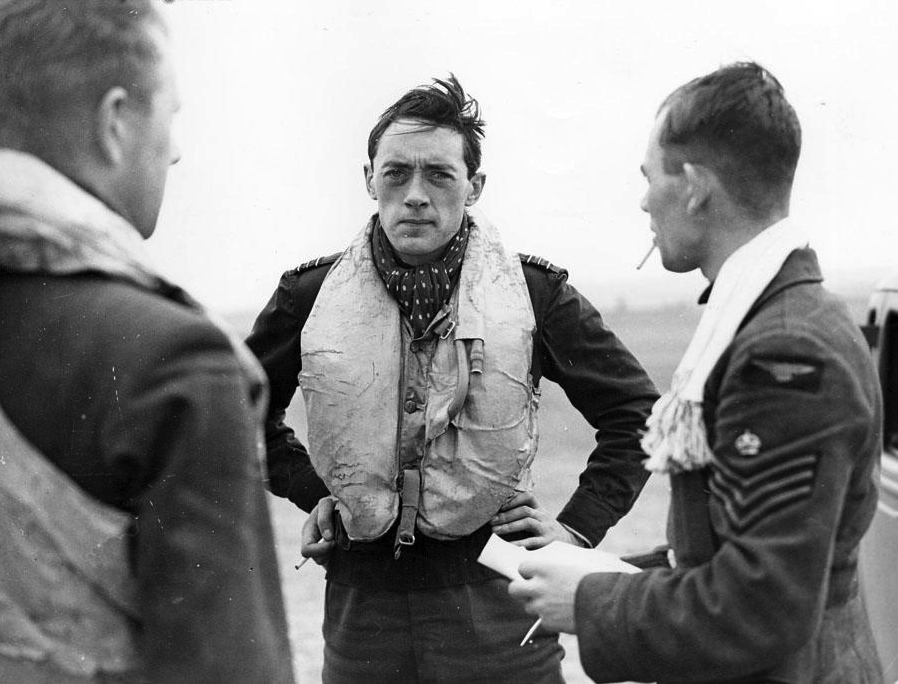 As his final tribute to the RAF on the seventieth anniversary of the Battle of Britain, Beachcombing offers this remarkable photograph from 19 Squadron.
19 Squadron had fought over Dunkirk and spent the Battle of Britain in the front line at Duxford: the legless and incorrigible Douglas Bader was one of her pilots as was the legendary 'grumpy' Unwin. 19 Squadron later undertook, inter alia, fighter sweeps on D-Day and would become a frontline British squadron in the Cold War, finally being disbanded in 1992.
19 Squadron's motto was 'Possunt quia posse videntur' – 'They can because they think they can'. It might reasonably do service as a title for this superb photograph by Stanley Devon.
The ravaged twenty-three year old caught between life and death here is Squadron Leader Brian 'Sandy' Lane – Beachcombing always forgets how young the British fighter pilots were – while on his right was Unwin, an old man at 27. The photograph was taken at Fowlmere in early September 1940 in one of the most critical phases of the Battle of Britain.
Commentators have noted the strain on Lane's face, but more striking perhaps are the eyes that seem to stare right through Beachcombing's arthritic and crunched up figure at the keyboard. Sandy is just back from a sweep – his hair has been tousled by a flying helmet – and perhaps he has not even seen the photographer? Indeed, his eyes suggest that he has barely registered the presence of Unwin or his other colleague on the left. Does he hear their words or smell their cigarette smoke? His senses that have been primed for the last two hours can now close down – at least for a while.
Yet contrast this with the description that Lane offers of the RAF feeding frenzy on September 11, mere days after this photograph was snapped.
'Party over London. Sighted big bunch of Huns south of the river and got in lovely head-on attack into leading He 111s. Broke them up and picked up a small batch of six with two Me 110s as escort. Found myself entirely alone with these lads so proceeded to have a bit of sport. Got one of Me 110s on fire whereupon the other left his charge and ran for home. Played with the He 111s for a bit and finally got one in both engines. Never had so much fun before!'
Beachcombing has always been fascinated by the gap between RAF reality and RAF, Beachcombing will call it, 'rhetoric'. When the definitive twenty-first-century history of the Battle of Britain comes to be written it must, in some manner, bridge that gap and this photograph might stand as one of the supports of said bridge.
To remind readers of the other (very necessary) 'rhetorical' RAF Beachcombing includes here the 'airbrushed' Sandy – one of Churchill's knights within arm's length of his white steed.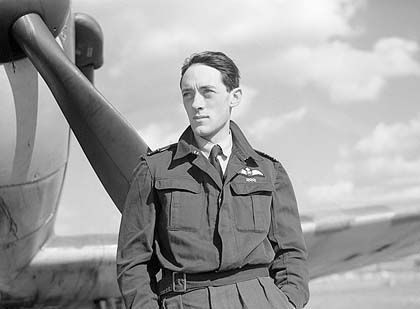 Lane himself died in or above the sea about thirty kilometres from southern Holland in 1942. There is something horribly ignoble about a combat pilot drowning in his cockpit and Beachcombing hopes that it was over long before the Squadron Leader hit the brine. His book Spitfire! was published  just before his death under a pen name, B.J.Ellan. It is still available today though the author is now properly 'Brian Lane'.
The correspondent who put Beachcombing onto the photo that heads this piece wrote: 'I cannot stop looking at this picture'. Beachcombing certainly has been doing little else all afternoon. Thanks, kudos and boiled sweets to JEC.
Possunt quia posse videntur!
Beachcombing is always on the look out for striking WWII photographs: drbeachcombing AT yahoo DOT com
Mrs B. offers a minority opinion: she thinks SL Lane is angry with the photographer…