Author: Beach Combing | in : Modern , trackback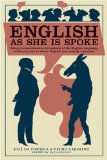 Beachcombing offers today not a review but a celebration of Pedro Carolino's O Novo Guia da Conversação, em Português e Inglês, em Duas Partes, [A New Guide to Conversation in Portuguese and English in Two Parts] (1855). This was a translation of an earlier and absolutely competent Portuguese French conversation guide by José da Fonseca and the guilty party, by which Beachcombing means the 'translator', was one Pedro Carolino.
Carolino was a native Portuguese speaker so he had one of the two languages down bang to rights. However, his English was virtually non-existent and he translated from Portuguese into English with the help of a dictionary and, in some cases, it has been deduced, with the help of a French dictionary. This was the nineteenth-century equivalent of allowing Google's translator to go shake its rabid saliva all over some precious prose, though even a French dictionary (or indeed Google on a bad day) can hardly explain some of the sentences that Carolino came up with.
In any case, talk is cheap. Beachcombing offers dialogue 43 on 'the french [sic] language':
Do you study?
Yes, sir, I attempts to translate of french by portuguese.
Then you learn the french language?
You do well the french language becomes us all days too much necessary.
What books have you there?
It is a grammar and a vocabulary.
Do you know already the principal grammars rules?
I am appleed my self as to learn its by heart.
What work do you translate thither?
It is a collection choice pieces in prose.
Don't you read yet the poets?
The poems are yet too difficult by me.
Do you compose without doubt also some small discourses in french?
Not yet I don't make that some exercises.
Do you speak French alwais?
Some times; though I flay it yet.
You jest, you does express you self very well.
There is something divine in this. A romance language (you can hear the French behind these sentences) dressed up in the heavy drag of English. Beachcombing imagines the Lisbon class of 1855 getting on the transatlantic cruiser bound for the US, ready to spread delight and confusion. ('What's he saying, Ma?')
Already in the years after its publication O Novo Guia became something of a cult object in the English-speaking world. And in 1883 it was published in English with a preface by Samuel Clemens entitled English As She is Spoke. The fact that 'Mark Twain' had got behind such an exercise means that it already had a substantial comic reputation, the linguistic equivalent of Plan Nine From Outer Space.
Beachcombing would love to know anything more about Pedro Carolino and the early Portuguese publishing history of the book. He's up to Portuguese. drbeachcombing AT yahoo DOT com