Author: Beach Combing | in : Ancient , trackback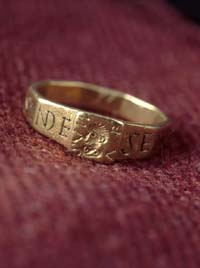 As noted in yesterday's post Beachcombing is presently trying to pass on some off-the-beaten-track travel tips to Canadian History Student in his/her coming trip around south-east England. Beachcombing thought that for the second of his suggested visits he would counsel a quick run up to Vyne House near Basingstoke. Beachcombing doesn't care much for the Tudors and this is a Tudor 'palace'. But he has on occasion enjoyed visiting one exhibit within: the Vyne Ring.
The Vyne Ring is Roman and was discovered at Silchester in 1786 and somehow ended up out in the Hampshire sticks. This simple ornament was likely made in the fourth century and contains a Latin inscription. 'Seniciane vivas in de[o]'. 'Senicianus may you live well in God'. Nothing particularly special here you might think. Admittedly precious Roman rings – especially Christian ones – are not that common, especially in Manitoba. But should Beachcombing really send Canadian History Student across the shires to see a glint of gold?
In justification Beachcombing quotes from a nineteenth-century resident of Vyne House, Chaloner Chute,
'[b]y an extraordinary coincidence, in Mr. Bathurst's park at Lydney in Gloucestershire… a small leaden tablet of the fourth century has been found, which apparently advertised the loss of this very ring, and imprecated woe upon Senicianus until he should restore it. This fragile tablet, the preservation of which is in itself a remarkable circumstance, was dug up among the ruins of a temple dedicated to [Nodens] (a British god of the sea adopted by the Romans)… The translation of the Latin  [on the tablet: Deuo Nodenti Silvianus anilum perdedit demediam partem donauit Nodenti inter quibus nomen Seniciani nollis permittas sanitatem donec perfera[t] donec usque templum dentis] is as follows: 'To the god Nodens: Silvianus has lost a ring: he has vowed the half to Nodens (if he recovers it). Among those who bear the name of Senicianus to none grant health until he bring the ring to the temple of Nodens.'
Either we have a remarkable coincidence here – Senicianus is a rare name – or we have two halves of a fourth-century story written out on a pair relics from Roman Britain found a couple of hundred miles apart.
Silvanus had lost a ring that had been stolen or lent to Senicianus and Silvanus, in a fine fury, wrote out a curse tablet to bring down the wrath of Nodens (a nasty water-dog divinity) on the ring's possessor. Senicianus meanwhile didn't give a damn and got his name inscribed (badly) on the ring's edge.
Beachcombing concedes that it is not Anna Karenina. But it is one of these rare moments when dark British antiquity becomes human: 'The blood that warms an English yeoman,
The thoughts that hurt him, they were there.'
Beachcombing is not being sponsored by the British Tourist Board but he should note that the temple of Nodens is an extraordinary site and if Canadian History Student didn't waste so much time in the capital… Anyway, Beachcombing is digressing.
The Temple of Nodens was, in Roman times, a place of healing and recuperation, where those with problems would go to dream and have their dreams interpreted. Several curse tablets such as the one noted above have been found there and were an attempt by worshippers to influence Nodens. That the ring was found at Silchester suggests that, well, to be frank, Nodens had too much on his plate when Silvanus asked.
Beachcombing understands. He too has days like this and he is not even a divinity.
This strange soap opera played out through two archaeological objects is surely reason enough to visit an obscure Tudor house – what a shame the original curse stone and the ring could not be exhibited together!
However, there is more. When Mortimer Wheeler was digging at Lydney in 1929 he got in touch with an obscure Oxford don to do some of the linguistic legwork on the name Nodens. (A god that incidentally survives in Welsh legend as Nudd). The name of this obscure don? None other than J. R. R. Tolkien. Anyone who ever thrilled over the Hobbit should now see where this is going.
Tolkien published an appendix to Wheeler's work and it has been suggested that Wheeler told J.R.R. about a cursed ring and that a story began, already at that early date, to ferment in the scholar's mind.
One ring to rule them all…
Beachcombing doesn't much care for Tolkien, but he loves the Vyne Ring. Any other ring gossip? drbeachcombing AT yahoo DOT com