Author: Beach Combing | in : Modern , trackback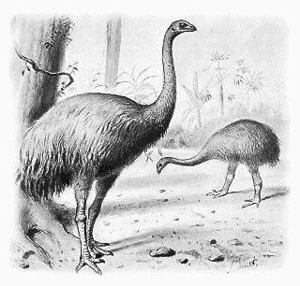 Beachcombing is in an ornithological mood this month. It all started off with the druidic ravens at the Tower of London, then came the hibernating swallows, the parrots of Orinoco, swan-necked Mary Beard and today, to round off the series, he turns to one of his favourite bird stories of all time: the moa of the Cannibal Gorge!
First some background. The moa, for those who are not lucky enough to know, was the large flightless bird megalapteryx didinus that once dwelt in New Zealand.
Opinions are much divided as to when the last died out. Orthodoxy has them already annihilated by the Maori c. 1400. Possibly they made it though through to the late eighteenth century, just conceivably the late nineteenth century and there is a minority but vocal opinion that claims that they are still sqwarking today…
'Hopes are occasionally expressed that the remote areas of the South Island may yet harbour a few surviving moas, and truly in parts this is a formidable wilderness. If the birds dwelt only in the depths of the forest, if they were strictly nocturnal and if, above all, they were by nature silent, secretive creatures, then perhaps a few could exist unnoticed, but such hopes are hardly realistic.' (Fuller 51)
There have, in any case, been a number of 'sightings' over the years, but Beachcombing has been particularly interested in this little known letter that appeared in the Manawatu Herald in 1878 [22 October 1878, Page 2] and that had apparently been taken from the New Zealand Times.
Sir, would you kindly insert this in your newspaper? Last autumn I and my mate were out prospecting for gold betwixt Lake Rotorua and the Cannibal Gorge, in the province of Nelson. We heard a strange screeching noise in a gully about a hundred yards from where we were camped, and went to where the noise proceeded from, and to our surprise we saw two gigantic birds coming towards us. They did not show the least alarm at seeing us, but continued coming to where we were, so we took to our heels. We heard them two or three times that night again. Having no gun with us we thought it advisable to start the next morning, for fear they would tackle us. One of them was apparently about twelve feet high, and the other somewhat smaller, with feathers resembling the kiwi's. I have no doubt but they were moas. I have mentioned it to several persons, and did intend going out in search of them this summer, but hearing that a party were forming in Wellington to go in search of moas, I thought I would acquaint you with these facts, and if they should start out I would advise them to come here in search of them, and we would be most happy to direct them or to conduct them to the spot where we saw them. I am etc Alfred Berry, Matakitaki, September 23.
Did Alfred Berry exist though? A letter the following year in a British periodical contested the claim [15,95].
'The bird is said to have been seen in the province of Nelson, near lake Rotorua and Cannibal Gorges, the latter I have not heard of nor can I find them on the map. The only lake of that name is in the province of Auckland (North Island)… I fancy it must be a hoax, as nearly every year false reports are spread of them [the moa] having been seen, very often turning out to be tame emus, escaped into the bush. Also, as yet very few bones, only two or three I believe, have ever been found in the North Island, while in the Middle Island we plough them up wherever new ground is broken up. The only lakes in Nelson (Middle Island) are lakes Pakerua, Brunnern, Hochstetter, and Hawick. So I think there must be some mistake. – W. E. Barker, Jesus College, Cambridge.'
Beachcombing would love to know more on surviving mao or even better 'tame emus escaped into the bush' and hopes in 2011 to write several posts on the subject: drbeachcombing AT yahoo DOT com
***
1 Dec 2010: The letter may be a fake but not on geographical grounds. Beachcombing quotes from Mike Dickinson over at www.giantflightlessbirds (the most irresistible name on the net? DEAD LINK). 'Just disregard that reply letter to the moa sighting: the author obviously knows nothing about NZ. The original sighting is set up in Nelson Lakes; I was just there last month. I hadn't come across that particular sighting before, but occasional letters to the editor describing moa aren't all that uncommon. Never any physical evidence of course: no feathers, droppings, or even sketches of footprints, let alone actual bones or bodies.' The problem as Wilson Sheldon and Dave S. from Australia pointed out to Beachcombing is one of spelling (o instead of u in Lake Rotoroa). Wilson had himself visited the site a number of years ago and has some more information. 'Nothing in the undergrowth (wouldn't that have been something?) but insane swarms of mosquitoes every night at dusk, all the campers huddled in tents waiting it out. Lake Rotoroa is an interesting lake.  From what I recall, there are few fish, but abundant fresh-water eels.  Also, it's alpine though only a short distance from the coast.   I also recall, there was a monument to a hermit (European descent) who lived there, for many, many years.  He paddled around the lake in a homemade canoe.  I believe he may have been a centenarian, with some sort of tragic story, though I couldn't find a reference to him online to jog my memory.' Anything on the hermit would be gratefully received. Beachcombing thanks Dave S. Sheldon and Mike Dickinson for taking the time to write in!