Author: Beach Combing | in : Contemporary, Modern , trackback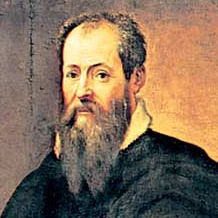 Monsoon season in Italy continues and Beachcombing finds himself trapped far from home while providing three lectures for a sister institution. It is 6.00 in the morning, no one is stirring. As the library is closed and Beachcombing's cognitive functions seem impaired  he thought that he would offer up a cookie-dough post: a hopefully interesting morsel that one day he would like to properly bake.
Beachcombing has recently been fascinated by what he will call the 'Vasari Phenomenon'.
Giorgio Vasari (obit 1574) was, for the lucky ones who don't know, a Florentine artist and architect who wrote Le Vite de' più eccellenti pittori, scultori, e architettori (Lives of the Most Excellent Painters, Sculptors and Architects, first edition 1550).
And there in a (long) sentence is the Vasari phenomenon… We have an individual who specialized in one area – in this case art  and architecture – depending for his or her immortality on a chance contribution to another discipline – in this case a work of history, something that Vasari knocked off in a few months.
It is as if Woody Allen were remembered in 2100 for his clarinet playing and not his films.
In the case of Vasari the contrast between what he believed himself to be and what he was is almost painful. This, after all, was a man who trained himself up to an extraordinary level, who befriended Michelangelo and who was convinced that he was one of the greatest painters in the history of the world.
And, indeed, Vasari was admired as an architect and artist in his own day. He was given, for example, the commission to redecorate (let's call it that) Palazzo Vecchio in Florence and also to build the Uffizi, where today many of the world's most tedious paintings are hung out for unsuspecting tourists.
But his reputation fizzled – all those bloody cherubs… And today Renaissance types damn him with faint praise for his architecture, while he is universally decried as an artist – Beachcombing finds that art historians actually lower their eyes when they talk about poor Vasari!
Certainly to walk into the Sala del Cinquecento in the Palazzo Vecchio, which Vasari vandalized in the 1550s, is too much for anyone with an artistic sensibility. Here is the once beating heart of Florence's medieval democracy now glaringly bright, where Vasari and his conspirators happily painted over works by Leonardo and Michelangelo with gold dust.
And in this hall the thin once ate the fat…
Another example of the Vasari phenomenon that has always struck Beachcombing comes in the diary of the British Tory grandee, Alan Clark (obit 1999). In the last decade of his life Clark came across, in a room in his vast family residence at Saltwood Castle, an old agenda of his father, Kenneth Clark, the celebrated art historian. The agenda was packed full of dates and committee meetings which KC had attended and which a generation later meant nothing: as Clark reflected his father's reputation was built entirely on his work as an art historian and from there AC got all moist-eyed about human transience.
The truth is that Kenneth Clark was an art historian and will be remembered as an art historian: if he wasted his time on various committees then, like much of the rest of the human race, he sometimes wasted his time. (Beachcombing has been known to play computer games and watch Disney). His son Alan was though a classic Vasari.
A brilliant writer AC dedicated himself, as a young man, to history where he wrote several interesting works: including a narrative of Barbarossa, Germany's attack on the Soviet Union in 1941-5, in which he had the bad taste to describe Wehrmacht atrocities as 'exuberance' (?!?!).
He then dedicated the second portion of his life to Conservative politics where he was an unsuccessful, minor minister with hopeless ambitions.
Yet he became one of the most published British authors of the post-war period because of his three volumes of diaries. If you can get past Clark's Nazi-tendencies and philandering (where Beachcombing has old-fashioned views), they are a remarkable exercise in the knowledge of failing power, of getting older while the world refuses to do the same – how dare everything be so green in spring! – and the experience of dying. 
Successful diarists are almost by definition 'Vasarists'. Think Pepys, 'Chips' ('Today we made history or what is better prevented history'), Dorothy Wordsworth… So much wasted energy – as Clark would have had it – when their contribution to world history would be the scribbling of a few lines in the time that most people take to brush their teeth before going to bed. 
The melancholy Vasari phenomenon must be common and Beachcombing would love to find other examples – any contributions please drbeachcombing AT yahoo DOT com