Posted by Beachcombing in : Beachcombed , trackback
Dear Readers, 1 Feb 2011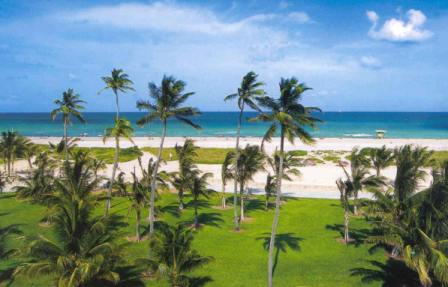 Some tawdry bits of news.
It is now the season to search for a new web address – Beachcombing books cannot be sold on WordPress… – and so Beach is looking for the right name. Is there anyone versed in the dark arts of SEO who can give advice on a choice of three or four that Beachcombing has scratched out?
Also Beachcombing was interviewed by Tim Binnall for his online radio service. Two hours and eight minutes of Beach…  Even Mrs B isn't up to that.
And now, news cast over, back to bizarrism and some of the best emails from the last thirty days. This was the first month that Beach got more good suggestions for new posts  than corrections and elucidations to existing ones. He is naturally grateful and, with time, will come to all these. Emails covered topics from safe-blowing to dancing skeletons.
Baby-Eating Eagles: John E has written in adding to early comments about Thunderbird sightings. 'I assume you are aware of the many, many accounts of 'thunderbirds' which have appeared throughout history and continue until today. While not strictly baby-eating eagles, the thunderbirds appear to be some sort of relict avian along the lines of extinct teratorns such as Argentavis magnificens, the largest bird capable of flight. But there are also numerous contemporary sightings, particularly in the Phillipines/Indonesia of flying creatures with leathery skin and wings which compare most closely with the  Pteradons – what we used to call the 'pterodactyls'. In these sightings wingspans of up to 30' have been reported.  One particular event stands out. On July 25th, 1977 in Lawndale, Illinois, US, there was a aborted bird-snatching of a 10-year-old boy, relatively well-documented and witnessed by several adults. There had been numerous sightings of flying birds of an unheard of size in that part of Illinois since April of that year. On the evening of July 25th several adults as well as two other boys playing with Marlon Lowe watched as two huge black birds, each with a 6'' long hooked bill and a single white ring around a 6'' long neck, flew very low over their neighborhood. The larger of the birds chased the screaming Marlon who attempted to run away. Several adults and the two other boys watched as the swooping bird grabbed the 56-pound Marlon by the shoulders with its clawed feet and actually lifted him offf the ground and attempted to fly away. Marlon's mother ran to the bird, which was still low. striking it and clutching at Narlon, causing the bird to release the boy, who fell with his mother onto the ground.  An excellent account of the event by the cryptozoologist who investigated the case (and IMO did a creditable job). Now the birds might not have been eagles, and Marlon, who was barely lifted off the ground, was not carried away to a lofty aerie to have his body cruelly torn apart and gorged upon to be regurgitated to a wriggling clutch of screeching eglets; but the provenance IMO makes up for those deficits.' Beachcombing still has no idea what to make of this. MD, meanwhile, writes in to say:  'An extinct giant eagle native to New Zealand, Haast's eagle, existed there for five hundred or more years after Maori populated the country.  This bird was of a size that would have made it a danger to an unwary human, especially a child, with a 3-metre span and 20-25kg predatory mass with a raptor's beak and claws.  It's assumed to have preyed on moas, another extinct (more recently.  perhaps less than a century before Europeans arrived) giant, but flightless, and up to 3 or more metres tall.  There are the usual oral tradition stories of Maori people attacked by giant birds, but in the case of Haast's eagle, very much less unlikely than elsewhere, and perhaps even probable at some time in history.' Thanks John and MD!
Allendale Wolf: Amanda writes in with this - 'there have been some reports of wolf sitings in the uk in recent years: 'Cannock Chase seems to be a favourite haunt.  This report of a wolf from last year. This is a 2009 report of a wolf from Scotland.' Here we seem to find ourselves in the ABC realm – the large 'cats' that are spotted in the British countryside and yet never caught. Thanks Amanda!!
Mermaids: Kandinsky writes in on the subject of Columbus' eyesight! 'Mistaking a manatee for anything approaching human suggests drunkenness or tall-tale telling. In his case, there seems to be anecdotal evidence that Columbus' eyesight was indistinctly myopic by his final journey in May 1502. Statistics for short-sightedness in general populations vary greatly. 30% is suggested by research funded by the US optician industry…ahem. Nevertheless, I wonder how many exotic sightings from the past were an outcome of poor sight? Perhaps a poor diet exacerbated natural short-sightedness and combined with his 'visionary' perspective to ensure a series of misidentified mundane sightings? Eyesight is a rarely mentioned factor in historical accounts.' This got Beachcombing wondering about other eyesight moments in history: any ideas? Thanks Kandinsky (who sent in the references as well)!
Night Climbers of Cambridge: Dan K emails to say night climbing is a pivotal plot device in science fiction writer Roger Zelazny's 1976 novel, Doorways in the Sand. It inspired a similar bout of campus climbing during my own college days…' Thanks Dan for this reference that had passed Beachcombing by! The plot seems to make it a pre-cursor to Hitchhiker's Guide to the Galaxy?
Dog-headed Saint: Ostrich writes in with a provocative thought: 'Purely idle speculation, and I wasn't even going to mention it until you wrote 'Or are we perhaps dealing with an outcast, common in legends across Euro-Asia, the young man who goes out into the wilderness and 'wolfs' around stealing and destroying.'  St. Christopher's name before his conversion is traditionally given as Reprobus [Outcast].  Perhaps the pictures of Christopher with a dog's head are really an artistic reference to 'wearing the wolf's head'? The name is usually written off as a hagiographical convention but this makes you think… Thanks Ostrich!
Atlantis in Asia: The unusual locations for Atlantis keep rolling in. Beachcombing, for example got this email from Tina over at yufology: 'Location number one, the Cape Verde Islands. I came across an account by a Greek mariner who said that the Islands of Cape Verde, at the time referred to as the house of the Seven Gorgons, was hard to navigate because of the sludge or muddied waters, which I do believe is one of Plato's descriptions of the waters after the sinking of Atlantis. The second location I believe may be a place called Gilgal (Golan heights), located in Israel. Currently the area is off limits to the public, but there is a Stonehenge like structure there which is said to have been built by Og of Bashan. Gilgal Refaim or as it is known in Biblical references, Circle of the giants is a series of concentric circles that closely fit the description of Plato's Atlantis. Perhaps the design (concentric circles) of most sites from antiquity may have all modelled themselves on the myth of Atlantis. But it makes one wonder, none the less…' Beachcombing's absolute favourite though was some references to Mars as Atlantis! He'll try and get to this and the other locations in the next month. Thanks Tina and all those other who have written in over Atlantis: Beachcombing promises that he is keeping notes.
Atlantis after Plato: Obstacle Course, meanwhile, has written in noting that Plato claims, in his own writing, to have gotten his Atlantean information through an ancestor and ultimately through the Athenian lawmaker, Solon. Beachcombing should certainly have stressed this: but what is interesting for Beach is corroborating evidence or pseudo-evidence apparently external to Plato. Thanks Obstacle Course for pointing to a flaw in Beachcombing's 'explanation'!
Moa Sightings: CS writes in to note that, by coincidence, John Dutton who wrote the preface to Bruce's book – a fine preface, btw - died the week of Beach's post. The biggest coincidence that Beachcombing has had since starting this blog was posting a bio of Amedeo Guillet on the very day he died… Thanks CS!
Silly Sieg Heils: Invisible has been heroic sending some other funnies in. She has not respected the rules with the Paris Hilton photo – post WW2 – but surely PH is worth breaking them for – at least in this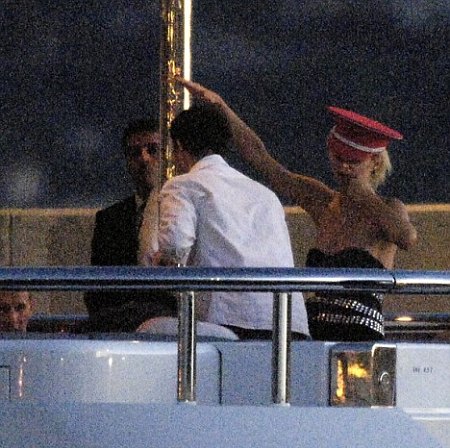 pose.
Then there is still no Lloyd George but here is a clue that it really happened.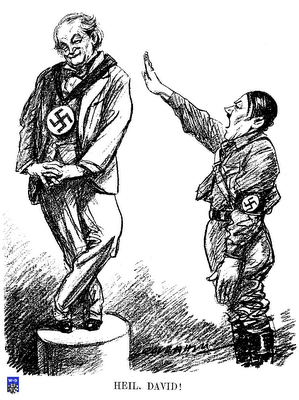 Then Disney got in on the Nazi act in their 1943 propaganda film Der Fuehrer's Face.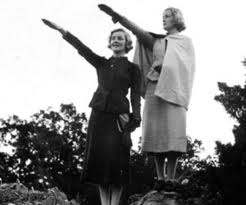 Then finally, not that bizarre really, but certainly worth showing, the Mitford Girls making fools of themselves
Thanks a million Invisible!
Also Beachcombing knew that something didn't add up with the Pope pic – Benedict XVI was too young to be ordained when the Nazis were in power. It fell to Rico F to point out that this is a cropped picture. Take a look: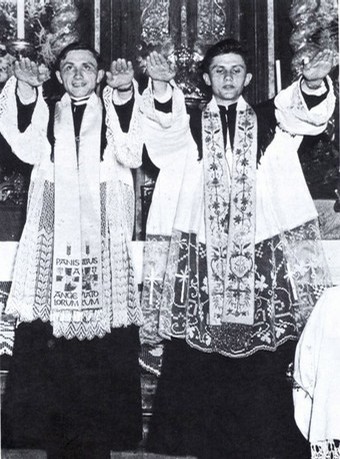 Thanks Invisible and thanks Rico F, Beachcombing is in your debt!
War in Dollyland: Ostrich wrote in with the book (by H.G. Wells no less!) that is surely the inspiration behind War in Dollyland.  Invisible, meanwhile, carried out her own research into the authors of Dollyland: Harry Golding may have been born in 1881. However, this Edgar Rice Burroughs site has the following info: Harry Golding F.R.G.S. ed. 1889-1969, giving him as the editor of the Wonder Book of Aircraft. There was, it is true, a Brigadier General Harry Golding who was an Army chaplain, who has the same dates as mentioned on the ERBurroughs site (1889-1969). I'm not sure if this was the same man or if the ERB site just saw the name and date and figured it WAS the same man. The many martial themes in his books would suggest he had a military background. But I can't find a bio/obit for the General, only for his wife, Dame Monica Golding. Harry Golding was an editor for Ward, Lock & Co, which closed in 1941 (another article says, instead, that it still exists as a subsidiary of Orion.  He does not seem to appear in the Oxford DNB. He was a Fellow of the Royal Geographical Society. He is listed as 'editor, compiler, and illustrator' in WorldCat. According to that same source, Albert Friend's only other work was 'Music Drama in the Medieval Church'. War in Dollyland : a book and a game by Harry Golding (Book) 3 editions published between 1913 and 1915 in English, held by 3 libraries worldwide Golding seems to have been relentlessly prolific. These are the titles found on bookfinder.com. Golding is apparently not a pseudonym, but there is precious little online about him, other than endless information on copies of his books, which are very collectible.
Thanks to everyone who took the time to write. Beachcombing is ashamed to say that there are still some others that he has not processed, including some particularly interesting ones from the end of the month.
Tara!
Beach