Author: Beach Combing | in : Medieval , trackback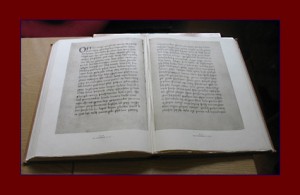 Beachcombing has been driven to the edge of sanity by term papers and 90 plus students this semester. So he tried to relax earlier today with a collection of Anglo-Saxon riddles from the Book of Exeter – a 'treasure' that was used as a beer coaster for much of its history (another day, another post).
How long it has been since he has enjoyed these: perhaps a decade has past? The animal and bird puns are perhaps the most best-loved – Beachcombing thrills at the cuckoo. But some of the obscene riddles are also worth quoting. What, for example, is being described here?
It swings by his thigh – a most magical thing!

It is there under his belt and the folds

Of his tunic hang around it. It has a hole at front and

Stiff and strong it turns.

The holder levels the hanging thing's head

Holding up his gown

And shoves it into a well-known hole

That it fills completely when stretched out.

It has often been there before. And now it sticks there again.

The answer, of course, is a key.
What about this one? Answer in tomorrow's post.
I'm a strange one, for I satisfy women,

Doing in this way service to neighbours! None suffer

At my hand expect for my slayer.

I grow tall and erect in bed,

Hairy I am below. And every so often

A beautiful girl, the daughter

Of some peasant tries to hold me

Pulling my brown skin, robbing my head

And putting me in the pantry. At that time the girl

Who has taken me will not forget our meeting.

Her eyes moisten.
Can anyone suggest any other medieval riddles of this type: a premium on ones from outside Europe? Drbeachcombing AT yahoo DOT com Please remember that Beachcombing is a prude at heart.