Author: Beach Combing | in : Modern , trackback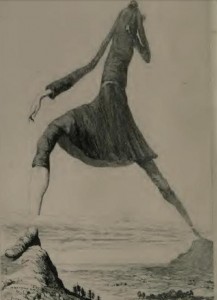 A gentle post today as we near year's end. Beachcombing has spent an unaccountable amount of time in Cornwall (south-west 'England') in the last week, looking at nineteenth-century infanticide (as you do). In his many wanderings through the meadows of Cornish books he stumbled upon the tale of the giant Bolster striding from St Agnes Beacon to Carn Brea, a distance of six miles, something impossible for us, but an act without even the stretch of a moderate yoga move for old Bolster.  What amused Beach was not the fact that a giant was able to stride six miles – this was, after all an epoch, when gods walked the earth. But a nineteenth-century illustrator's attempt to render this intelligible and his subsequent furious justification of said illustration (the head has not been chopped off).
Dear Mr Hotten, I have received your note, in which you express a doubt as to whether some portion of the public will understand my representation of the Giant Bolster. To all such persons, I would beg of them to reflect that if a Giant could stride 6 miles across a country he must be 12 miles in height, according to the proportions of the human figure. In order to get a sight of the head of such a Giant, the spectator must be distant a mile or two from the figure. This would, by adding half the 'stride' and above 11 miles perpendicular, place the spectator about 1 5 miles distant from the Giant's head, which head, in proportion to the other parts of the body, would be about three-quarters of a mile, measuring from the chin to the crown of the head. Now let any one calculate, according to the laws of perspective, what size such a head would be at such a distance. To give a little insight into the matter of perspective, let any one imagine that they are looking down a street, 15 miles long, of large houses, and then calculate what size the last house would be at the further end of the street; and it must therefore be recollected that every part of such a huge body must lessen in the same way body and limbs smaller by degrees, if not beautifully less. I selected this subject from my friend Robert Hunt's work as one of the numerous proofs, which are shown in both the volumes, of the horrible dark ignorance of the Early Ages a large amount of which ignorance and darkness, I am sorry to find, still remains. I hope that these few lines will explain satisfactorily why Giant Bolster has been thus displayed by, Yours truly, George Cruikshank.
George perhaps took his work a little too seriously. Strange illustrations have never crossed onto Beachcombing's radar before, but he now finds himself wondering whether this might not be a fruitful area for bizarrists: any examples, drbeachcombing AT yahoo DOT com
PS A personal appeal. About twenty years ago Beach was walking down the High Street in Cambridge when he saw some beautiful children's illustrations in a shop window (Heffers). He has been looking for them ever since and would be extraordinarily grateful if anyone could help him track them down. One had a 'princess' leaning out of a window and being offered an apple by an old hag. Another had a 'princess' looking out of her room over a snowy landscape. What made them so impressive was the cross-section effect: the contrast between the internal, warm, detailed, slightly messy room and the rather frightening symmetrical wilderness outside.
It's vague, I know and some details may have been changed by memory, but there is a blank on the wall upstairs… They were by the same author.
Thanks to all contributors for the BH News Stories
L) Published Three Hundred Years Late
M) Cornell's Coin Collection Goes Online