Author: Beach Combing | in : Modern , trackback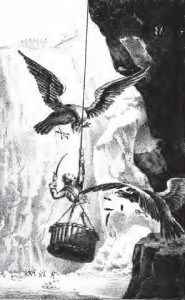 Beachcombing probably owes his ever patient readers an apology today. This post hardly counts as bizarre history: but there are eagles (much visited in previous posts, particularly involving children being carried away) and a young man's hair turning white and a classy illustration to go with it. The story relates to the West of Ireland where such shenanigans were still going on late in the nineteenth century.
Two eagles, in the wildest part of a neighbouring county, had for some time depredated on the neighbourhood, and bore away lambs, kids, &c., for the sustenance of their young. Some peasants determined, if possible, to obtain the young birds, and ascended the mountains, but found that the nest was in a part of the perpendicular rock, near one hundred feet below the summit, and about three hundred feet above the sea, which, with terrific appearances, dashed against its base. They had provided themselves with ropes, and a lad, armed with a cimeter [sword], was by this means lowered by the rest. He arrived in safety at the nest, where, as he expected, he was attacked with infinite fury by one of the old eagles, at which he made a stroke with his sword that nearly cut asunder the rope by which he was suspended. Fortunately one strand of it remained. He described his state to his comrades, waiting in horrible expectation that the division of the cord would precipitate him to the bottom ; but though he might have been to die by a rope, it was not in this manner [!!!]; he was cautiously and safely hauled up, when it was found that his hair, which, a quarter of an hour before, had been of a dark auburn, had in that short period become perfectly white.
So fair play to the eagles!
Beachcombing is always on the look out for eagle stories, so go on, knock yourselves out: drbeachcombing AT yahoo DOT com