Author: Beach Combing | in : Modern , trackback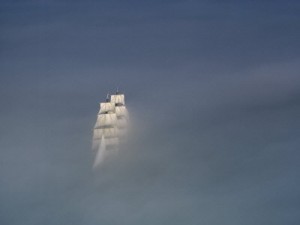 Beachcombing still hyperventilating from the terrifying task of talking in front of 200 plus 'new' students yesterday. Only syllabus writing is worse. Anyway, back to the far more serious task of charting the perversions of the human imagination. Beachcombing had been going to spend the Christmas holidays writing serious academic 'stuff' about Marco Polo. But, somewhere about 10 Dec he got distracted and lingered rather too long in nineteenth-century Cornwall. He came across many beautiful passages but this letter was among his favourites. The experience related dates to between 1850 and 1860.
'Some fourteen years ago I found myself, with about fifty [Cornish] emigrants; in the Gulf of St Lawrence, on board the old tub Resolution, Captain Davies, commander. We were shrouded in a fog so thick that you might cut it like a cheese, almost all the way from the Banks to Anticosti. One morning, soon after sunrise, when near that island, the fog as thick as night overhead, at times would rise and fall on the shore like the tantalising stage curtain. All at once there was a clear opening right through the dense clouds which rested on the water, that gave us a glimpse of the shore, with the rocks covered with what to us appeared very strange creatures. In a minute, the hue and cry from stern to stern, among all the cousin Johnnys, was 'What are they, you? What are they, you?' Somebody gave the word 'mermaids'. Old men, women, and children, that hadn't been out of their bunks for weeks, tore on deck to see the mermaids, when, alas the curtain dropped, or rather closed, and the fair were lost to sight, but to memory dear; for, all the way to Quebec, those not lucky enough to see the sight bothered the others out of their lives to know how they looked, and if we saw the comb and glass in their hands.
And here the conspiracy theory truly began…
The captain might as well save his breath as tell them that the creatures they saw on the rocks were seals, walruses, and sea-calves. 'Not yet, Captain dear, you won't come that over me at all ; no, not by a long chalk! No, not at all, I can tell'e! I know there are mermaids in the sea ; have heard many say so who have seen them too! But as for sea-calves, I ain't such a calf nor donkey neither as to believe it. There may be a few of what we call soils (seals) for all I know; perhaps so, but the rest were mermaidens.' No doubt, centuries hence, this story of the mermaidens will be handed down with many additions, in the log-huts of the Western States.'
Quite.

Mistaken identity is always fun: drbeachcombing AT yahoo DOT com