Author: Beach Combing | in : Modern , trackback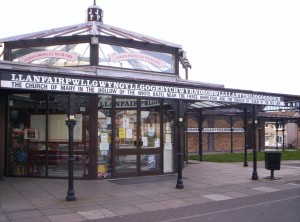 Another of Beachcombing's deities died this morning: the small Welsh village of Llanfairpwllgwyngyll-gogerychwyrndrobwllllantysiliogogogoch (Anglesey) well known in Britain as having the longest name in the country, if not the world. Of course, a moment's consideration should have told Beach that something fishy was going on; instead, he had innocently let the name be, reasoning that sooner or later he would go and be photographed beneath the road or station sign.
Well, 'never glad confident morning again!'
First, the basics. The name should be translated as Church of Mary at the hollow of the pool of the white hazel near the fierce whirlpool and the church of Tysilio at the red (?) cave.
Now names are labels, convenient ways in which we put sticky tabs on our world. As names cease to be understood they remain as convenient labels and people simply do not bother with twenty six syllable words because they have to help the kids with homework and milk the cow (standing next to the fierce whirlpool).
And this monstrosity, where did it really come from? The answer seems to be from a local wit, a nameless cobbler (curiously enough) who lived at Menai Bridge and who presumably wanted to wind up visiting English tourists. This cobbler apparently floruit in the early part of the nineteenth century and his wheese had caught on by the 1860s when the name and its abbreviated form (Llanfair PG) had become current and celebrated. 
Cobblers and placenames, anybody: drbeachcombing AT yahoo DOT com Or anything more on this particular cobbler? It would be nice to document the story: or do we have cobblers within cobblers here?