Author: Beach Combing | in : Medieval , trackback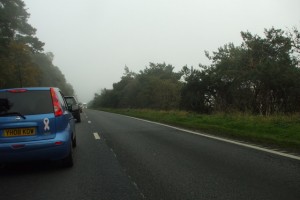 The elves were Anglo-Saxon fairies and as such deserve a bizarrist's respect. They are though – not unlike the medieval fairies that come after – gone almost without trace. But there is, every so often, a Dark Age charm, a riddle, a line of Anglo-Saxon poetry that recalls belief in this receding people. Make no mistake the canon is small: not big enough really to fire a single two inch ball, certainly not enough to knock down a line of cavalry.
But among these precious glimpses of English fairies before the Normans there are the most durable proofs of all: placenames. For a number of English placenames hint at elf-belief among the general population. It is admittedly difficult to distinguish elf-names from other kinds of names. For example, the elf-sounding Elvington in Kent was – the earliest forms of the name suggest – Aelfgyth's Tun, an estate belonging to an Anglo-Saxon woman named Aelfgyth: 'aelf' was frequently found in both men and women's names. In other cases, there is the danger of confusion between elves and, believe it or not, swans, elfitu (sigh).
But even given this a few names make it through to the elf-approved category and perhaps the most exciting of these is Elveden, a village on Suffolk side of the Suffolk-Norfolk border. Eleventh century forms, the earliest we have include: Haluedona and Eluedene that look rather like the Elf-denu or the Elf-valley.
Normally, with placenames this bare act of reconstruction is all that we can actually do, hoping that the Domesday Book's scribe was being attentive. But, in this case, there is something else. A twelfth-century saints' life seems to records Elveden in Latin: ex rure… quodam beatis regis et martyris Edmundi quod lingua uallem nunpharum interpretatur anglica, 'from the lands of the king and martyr the blessed Edmund, which is called valley of the nymphs in English'. St Edmund is, of course, the East Anglian king and victim of the Vikings and Domesday confirms that Elveden belonged to the abbey of St Edmund. Nymphs was an English approximation then of elves. [Alaric Hall, 64-65]
If the life in which this quotation appears – Miracula sancte Wihtburge – is really twelfth century then we either have a folk memory of elves peeping through the leaves or an inventive hagiographer who has decided to 'interpret' a place-name.
In Beachcombing's experience twelfth-century writers aren't quite as keen to 'interpret' as seventh-century ones. There seems a very good chance then that this is the real deal, that here is a valley of elves in the Suffolk badlands. In fact, Beachcombing was already packing his collecting jars and butterfly nets when Mrs B put a damper on the whole thing. Elveden is apparently famous today not for changeling thefts or music on moonlit nights but, Mrs B's internet researches show, for its disgracefully heavy traffic: a bypass has frequently been mooted. And, if there is one thing that Beach has learnt it is that elves and fairies hate noise. As Beachcombing's students would say 'bummer'!
Any other fairy placenames in Britain or abroad: drbeachcombing AT yahoo DOT com
***
11/2/12: Invisible is all a flutter with fairy names. There's a database of US place names. Here are the fairy ones (mostly natural features/wonders).  I'd be interested to know what went on at " Fairy School " in South Carolina , but it is probably a family name.  And the elf names Hmmm, " Elf Cemetery " in Pennsylvania? In my old newspaper researchers, I found a woman named Fairy Coffin (Mrs. Lynd, daughter of Mr and Mrs Harry Coffin of 214 N School Street , Fayetteville , AR.) This was in the1930s-40s.   Surprising number of Elf/Elvin in Alaska . There is an "Elves Chasm" in Arizona . It is a "valley."  Of course, Loren Coleman and others have played the "name game" with Fay/Fayette and the weirdness that seems to gather in spots with some variation of these names. 1, 2, 3 and 4.  An article about Lafayette/anomalies.  I'm very fond of the Ave Maria Grotto, built by a Benedictine monk, but I didn't realize it included "Hansel and Gretel's Temple of the Fairies". Some other fairy name sites: at Norcia, standing stones in Eire,  and this run from 1865 by the Sisters of Saint-Maurice, who coined the present name! The there is the Grottes aux fées and Les Grottes aux fées dans l'ancienne Gaule, by Max Gilbert, 1976. Thanks Invisible!!!!!
22/2/12: JJ from A Corner Writes in: I was delighted to find your piece about elves, not just because of you being perhaps the first person ever on the Internet *knowingly* to pun on `canon',  but also because it gives me the chance to tout the work of a friend, Alaric Hall of the University of Leeds, whose Ph.D. was on this very matter, the Anglo-Saxon belief in elves. This has now become a very well-received book, previewable on your pet odium Google Books here: and reviewed by _The Fortean Times_, no less, here: but if Boydell's prices should prove too high (or the fact that I also have a book with them too suspicious), then you may be pleased to know that Alaric has put his original Ph.D., along with much else, online for free. Thanks for the tip Jonathan!