Author: Beach Combing | in : Contemporary, Modern , trackback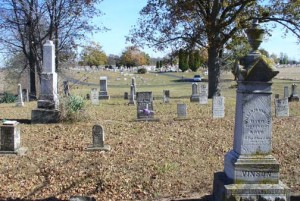 One of those difficult days. Two of Beachcombing three sources of income have wobbled in a single six hour span and Beach answered an obnoxious email from one of his 'managers' with an even more obnoxious email. Anyway, quite how he got from these troubles to gravestones he can't remember. But he did spend a few minutes of reverie flicking through old collections.  Here are a select few from hundreds: eight that seemed to deserve a larger public.
1) In Paris: 1830
J'attends ma femme, 1820 [I await my wife, 1820]
Me voilá, 1830 [Here I am! 1830]
2) Or on the romantic front this is from Torrington, Devon, where the pixies roam
She was – but words are wanting to say what;
Think what a woman should be – she was that.
3) Then there are those graves that play with professional categories. Here is a class 'act' from Grimmingham church-yard, Norfolk, England
To the memory of Thomas Jackson, Comedian, who was engaged 21st Dec, 1741, to play a comic cast of characters, in this great theatre – the World: for many of which he was prompted by nature to excel. The season being ended, his benefit over, the charges all paid, and his account closed, he made his exit, in the tragedy of Death, on the 17th of March, 1798, in full assurance of being called once more to rehearsal; where he hopes to find his forfeits all cleared, his cast of parts bettered, and his situation made agreeable by Him who paid the great stock-debt, for the love which he bore to performers in general.
A beautiful last clause and more importantly in Keynsian terms the stone mason made a fortune. It also got Beachcombing thinking about what a blogger would have on his gravestone: google analytics, Chinese hackers WordPress…
4) Or what about this undated epitaph from Queenborough: a flash of adventure in mossy English soil.
Henry Knight, master of a ship to Greenland, and
            Herpooner 24 voyages.
In Greenland I whales, sea-horses, bears did slay
Though now my body is intombed in clay.  
Let's hope that HK came home 'heureux qui, comme Ulysse, a fait un beau voyage…' a far-travelled one, laid to rest in the village of his birth.
5) Or from adventure to villainy. This is from Penryn:
Here lies William Smith; and what is somewhat rarish,
He was born, bred and hanged in this here parish.
It sounds like Mr Smith was lucky to get into consecrated ground.
6) Here are a couple of famous ones. John of Doncaster:
What I gave, I have;
What I spent, I had;
What I saved, I lost.
It reminds Beach of a favourite line from a favourite poem: 'that which is taken from me is not mine'.
7) Then there is Yeats' memorial under Ben Bulben:
Cast a cold eye
On life, on death.
Horseman, pass by!
8 ) And best and most moving of all (quoted from memory [now confirmed and corrected by Mike Dash, see below]) on a wreath rather than on stone, an anonymous memorial.
'The village cricket team of 1926 is now complete.'
Try bettering that for finality!
Monuments to the dead are two a penny: but any really special ones? Drbeachcombing AT yahoo DOT com
***
26/Feb/ 2012:  Southern Man writes in with another professional gravestone, this time a dentist: Strange! Approach this spot with gravity! John Brown is filling his last cavity' Invisible meanwhile has ' Junior Glover and a picture: 'For almost forty years for a nasty wife and her three kids I was a slave, So please God let me find rest in this grave.' Don't believe it? Invisible has, true to form produced a photograph. Thanks SM and Invisible!
27/Feb/2012: Mike L writes in with this photograph of Gordon Bell in Highgate Cemetery.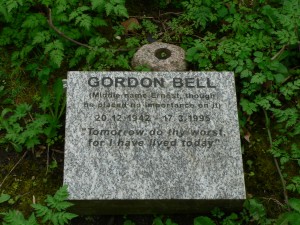 Mike Dash meanwhile writes in about cricket. 'The quote is from Byron Rogers 'The cricketer' in An Audience with an Elephant (London: Aurum, 2001) pp.160-2. The quote is correct bar the actual year (1926) [now corrected]. The date of the wreath was, March 1987, the village, Napton Hill in Warwickshire, and the cricketer's name was Sydney Hill. Rogers adds: "Homer could have written that." I think he is right. And he says: "Who would they have been? Carpenters, labourers, farmers, perhaps the village schoolmaster. You will not find their names in Wisden, but that does not matter, as 60 years on one man remembered he had seen the gods saunter down that hill, before whom the teams of Warwickshire must have gone down like grass." What a writer Rogers is: thanks Mike and Mike!
29 Feb 2012: Author Paula de Fougerolles writes in: Here's a gravestone I've always loved (and which I'll be stealing for my own unless I can come up with something better).  Don't know date or provenance, sorry, except that it's from an English cemetery and wonderfully prescriptive. The wonder of the world.  The beauty and the power, The shapes of things, their colours, lights, and shades; These I saw Look ye also while life lasts.' The Mike L writes in again with this gem.  I can't find it anywhere on the web but I have a memory of one for a sewer worker which went something like: 'Fred Smith, sewer worker, is here interred. In death as in life.' Thanks Mike and Paula!
30 April 2012: Ricardo sends in an epic cemetery story: This is not an epitaph but is somehow related. The grave digger from my parents village come from a wealthy family. His management of the family wealth was not so good and he was throw into poverty. The village administration took care and gave him the job of grave digger. He seems to be known has harboring the wittines of someone who has been up there and now is down here. My parents village has one of those coffee places near the street, where old men stay baking in the sun outside, looking at each other and now and then exchanging some words. That is the setting. One day (I like to think of it during the summer) the grave digger went to the café, stopped for a brief moment in the street before entering and 'Look here, oh, where all my money is waiting.'
(Vejam lá onde tenho o meu dinheiro empatado). And Invisible has a photograph. Thanks to both!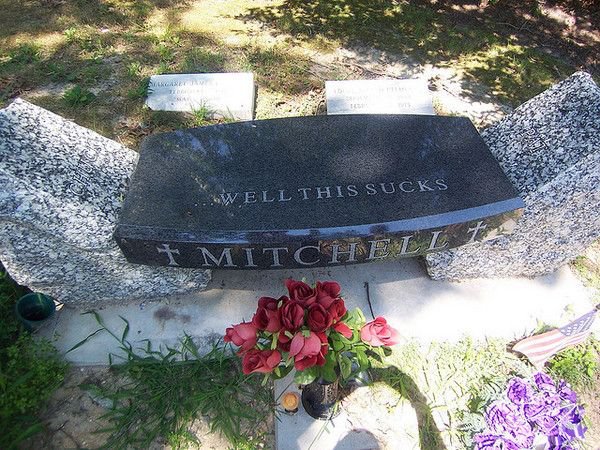 22 Dec 2015: JT writes in with 'My favorite, from Boot hill cemetery. "One of the best-known markers belongs to Lester Moore. He was a Wells, Fargo & Co. station agent in the Mexican border town of Naco, Arizona Territory. One afternoon Hank Dunstan appeared to claim a package due him. When he got it, he found it thoroughly mangled. The two men argued, and then both Moore and Dunstan drew their weapons. Dunstan got off four shots, hitting Moore in the chest with his .44 caliber revolver. Dunstan was mortally wounded with a hole through his ribs by the single shot Moore had squeezed off. Les Moore was buried in Boothill, and his famous tombstone epitaph remains an attraction in the cemetery:[4] HERE LIES LESTER MOORE, FOUR SLUGS FROM A 44, NO LES NO MORE" Quote from Wikipedia entry on boot hill' Thanks JT