Author: Beach Combing | in : Contemporary , trackback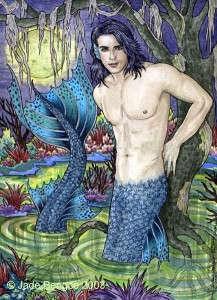 ***Beach dedicates this to Mike Dash who sent in the clipping***
The Nottingham Evening Post, Aug 26 1937 ran with a merman story that was new (at least to this mermaid enthusiast). Note curious claims for his dimensions or is this just a misunderstanding on the part of the journalist in the English Midlands.
The 'monster' season has opened in Ireland – if the tale of two Connemara fishermen is to be believed. A bigger [?] and better 'monster' than than of Loch Ness, it is claimed, has been discovered at Ballinakill Bay, near Renvyle, Connemara. He is described as a 'merman'. It is nearly nine months, according to the highest local authority, since he first made an appearance. On that occasion, after creating a mild sensation, he retired to winter quarters. A few days ago he woke and discovered it was summer. He also discovered that he was hungry, and cast an eye about for something to devour. At this point two Connemara fishermen, Thomas O'Toole and Michael Ward appeared on the scene in their curragh (a canvas covered canoe). The 'merman' according to them bobbed up beside the curragh.
Fishermen believed, it must be remembered, that mermaids were unlucky. And these two were also understandably terrified at this manifestation of the deep and they put their oars into the water with some rapidity.
The fishermen at once made efforts to set up a new world's record for the flying half mile with curragh. The 'merman' started in pursuit. After a time, the story goes [?], the fishermen asked themselves whey they should run away from a mere 'merman'. Up came the 'merman'. The fisherman took stock of him. He had according to their version, strawlike, shaggy hair and beard, with very red lips and bushy eyebrows. His skin was fair in front and by way of variety, blue on the back. He swam head and shoulders above the water.
It would be interesting to see if any creature recognised by marine biologist comes close to this curiosity: 'very red lips'? The best Beach could do was a seal whose spent too long near a nuclear power plant: drbeachcombing AT yahoo DOT com. Note the next scene with its fish-feeding recalls a nineteenth-century record from the south coast of the UK previously examined in this place.
When Ward threw him a mackerel [the merman] seized it eagerly, and dived under the water to consume it. In a few moments, according to the fishermen, he reappeared, smacking his lips and coming alongside the curragh with the evident intention of coming aboard. O'Toole decided that familiarity had gone too far, and gently chided the 'merman' with an oar. The 'monster' whinnied in pain and dived into the depths. The fishermen made tracks for the shore which they reached in safety, to tell their tale of adventure in the countryside.
Why was it a merman rather than a mermaid? An absence of breasts? The beard?