Author: Beach Combing | in : Contemporary , trackback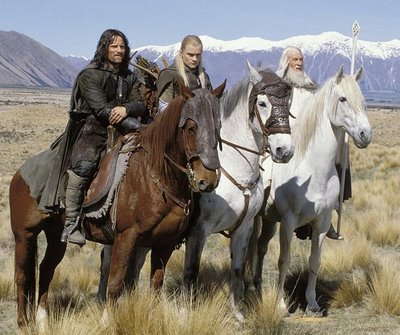 J.R.R. Tolkien 'horsed' his world with some wonderful creations. There was Roheryn the stallion of Arogan, Arod a steed so strong that he carried an elf and a dwarf together on his back and even the hobbits' loyal pony Bill. But most memorable of all was Shadowfax, who bears the mage Gandalf, 'like the north wind' through hundreds of pages of Lord of the Rings and across several battlefields. Shadowfax, descended from an equine god, was the mightiest of the Meiras, a horse race that could understand human speech. Too proud to ride under a mere man one of Shadowfax's ancestors, a certain Felarof had thrown and killed the first who dared to mount him. And Shadowfax proved just as unfriendly to those leaping onto his back. Gandalf alone could tame him with magic wiles, and even then the grey wizard was only allowed to cling onto mane, Shadowfax always refusing saddles. Not only was this the fastest horse in Middle Earth, Shadowfax also had the most curious colours. Invisible in the dark, he glowed like silver in the daylight, and his name is best translated into modern English as 'shadowy-hair': 'fax' is an archaic English word for hair and has nothing to do with telephones, it appears in some British placenames e.g. Halifax. In his films of the novel Peter Jackson chose Demero, a magnificent white Andalusian stallion, who allegedly had the bad temper of the original, to play Shadowfax. But Demero did not take the boat as Shadowfax had to immortality in the Blessed Isles, dying instead from a melanoma on his stomach in 2003. However, do the wise of Middle Earth not tell that there are many ways to the Isles of the West, particularly for the bad tempered and equine hams? Indeed, it must be hoped that, at this very moment, actor and acted, Demero and Shadowfax are gambolling together in Tolkein's horse heaven, while Elven music fills the groves.
Beach himself is heading for the lands of the west, at least for the summer. One more exam and orgy of exam marking and then there will be only light summer classes ahead until September. There is already a giddy, almost indecent, dizzy feel to the days: last night Beach was up to 4.00 AM writing a bibliography! Oh, the unlikely joys of knowledge. And today he didn't get angry when some incompetents cut off his light supply for six hours, but rather read a book about Victorian fairy art. He will now start catching up on emails hoping that he has not damaged too many friendships in the process. Apologies to all.
Beachcombing has opened suffrage to fictional horses: drbeachcombing AT yahoo DOT com Any other fictional preeminent horses of calibre?