Author: Beach Combing | in : Modern , trackback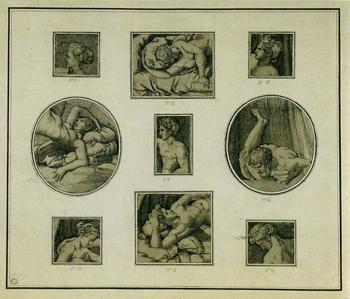 Beachcombing has often celebrated in this place lost books and burning libraries. Today he wants to celebrate a book that while not lost (it can be found in a modern edition on the top shelves of academic institutions around the world) got through to us by the skin of its erotic teeth. Beach refers, of course, to  I modi (the postures): an opusculus best avoided by those with back problems.
I modi included a series of sixteen possible and borderline impossible positions in coitus: dressed up, this was the renaissance, in the rags of classical myths. ('Yes, that's Pandora giving head" etc). These images had been originally drawn by Giulio Romano who was, legend claims, so frustrated that the Vatican had not paid his bills that he drew them on the walls of the Hall of Constantine. From there Marcantonio Raimondi engraved the 'positions' and, in 1524, an edition was brought out. This edition may have been limited but one copy fell into the grubby little hands of the Italian poet Pietro Aretino who wrote a number of sonnets around the theme. A second edition then appeared in 1527 that included Aretino's non-too gentle works.
The Pope, Clement VII (obit 1534), struck back. The Papal police rushed through the capital confiscating every copy and while Aretino's poems survived the book disappeared from view: full credit to the papal security forces, getting rid of two editions is quite an achievement. A very few fragments survive in the British museum: where there are only the faces divorced of sexual activity (see the image above). There are rumours too that an edition was brought out at All Souls (Oxford) in the seventeenth century where it almost got several dons expelled: might this have come from the same book, later ripped up as it travelled archive-wards?
Apart from these BM fragments not a single copy of the original survives but by good fortune a pirated copy was brought out in Venice (Europe's publishing capital at this date) in 1527. The fine original engravings were reproduced with blurred or missed details and, horrors!, one of the postures was missing. The lovers of Europe gnashed their collective teeth. But at least a shadow of the original survives and it was that which was brought to the university presses in 1988 with a commentary by Lynne Lawner. In the stacks of academic libraries 'bald heads forgetful of their sins' breathed a collective sigh of relief.
Beach is always on the look out for lost or almost lost books: drbeachcombing AT yahoo DOT com
***
23 May 2012: Angel W from robertstephenhawker writes 'Hope this isn't too lowbrow but I'm rather fond of Sarah Dunant's novel In the Company of the Courtesan and the name Aretino rang a bell. Dunant structures her story (which begins in 1527) around a surviving copy of 'Giulio's Positions' with Marcantonio's original engravings and with 'The Licentious Sonnets' attached. If you haven't come across it already and like that kind of thing it's an entertaining romp, better than The Birth of Venus which I seem to remember receiving more attention.' Thanks Angela!