Author: Beach Combing | in : Actualite, Contemporary , trackback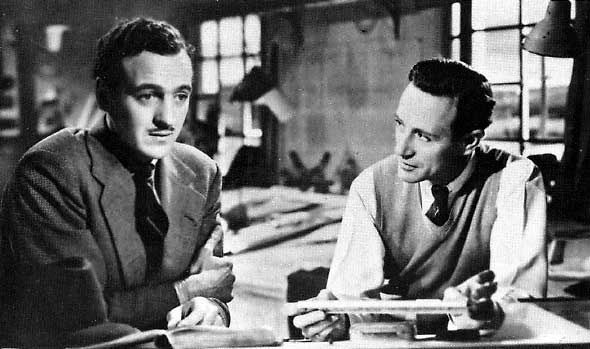 It very rarely happens that Beach gets excited about something new on the web. But it happened tonight. And as the two individuals responsible have immense talent and as too few people know about them here's a post dedicated to Public Service Broadcasting, a British outfit that has (apparently) been around for the last three years.
PSB take old films and documentaries, cut them, play with them and then set them to repetitive, hypnotic music. Yes, if Beach had just read that he probably wouldn't be clicking on any links either. But if you are going to waste some time this week, please, please waste it on this.
We'll start with Spitfire, PSB here used that excellent and rather cheesy old British film First of the Few. FOTF mythologised the creation of the spitfire in the 1930s and has Leslie Howard and David Niven cast to perfection. (Niven's acting here was one of several signal services he did for his country in the war.)  Beachcombing likes the film because it does such creative violence to history and because it has one of his favourite scenes, the angelic spitfires flying towards the setting sun.
PSB, in any case, have taken a film that no one today will watch and recast it so (i) you can dance to it in a disco and (ii) seventy years on you can feel the talismanic magic of the spitfire rending the heavens. As Niven says in the film 'I can't see a spit in the air without getting a kick out of it'.
Quite as lovely – though here the weight of delivery rests on the spoken word rather than the images or the music – is Waltz for George about the British evacuation from Dunkirk to the gentlest, scattering tune: 'It was astounding to walk along carriage after carriage full of soldiers and to find in each one silence: and so the men of the BEF came home.'
It haunts Beach to think that most of the people dancing there are dead and gone; a very few will be in wheelchairs or in hospital beds. A generation slipping away…
There is also 'If War Should Come' that gets Britain's messy Chamberlainite days just perfectly: 'but if war should come don't be alarmed, keep a good heart, whatever happens Britain is a nation prepared'. Mmmm…
And wittiest Lit Up a tribute to the British navy going into the war: with its mediocre admirals, poor ships and tiger-like captains and crew: the men that fought on the Glow-worm and at the Platte and that led suicidal convoys through the Baltic and the Med. The commentary is taken from a famous radio broadcast where Thomas Woodrooffe, a part time 1930s radio personality, appeared on air drunk to describe a showing of the Home Fleet. The BBC waited (incredibly) for two minutes before pulling his live feed…
Look out too for Dig for Victory
And London can take it!
There is perhaps a new genre of historical music videos to be enjoyed: Beach has already publicised in this place on several occasions a celebration of the Uhlan in the September War
Any other examples? Drbeachcombing AT yahoo DOT com
***
25/7/2012: SY send this one in on Arbos, the changing generations.
Southern Man sends in two videos on the battle between Keynes and Hayek.
http://www.youtube.com/watch?v=GTQnarzmTOc
http://www.youtube.com/watch?v=d0nERTFo-Sk
And these are supposed to be neutral!
Aurora sends in Ragazzi di Budapest a film with unfortunate far right – sometimes neo-nazi – associations in Italy. But in this version it can pass for what the lyrics offer: a tribute to those who died fighting the Soviets in Budapest in 1956.
http://www.youtube.com/watch?v=Vgwrx-xl9KY