Author: Beach Combing | in : Medieval, Modern , trackback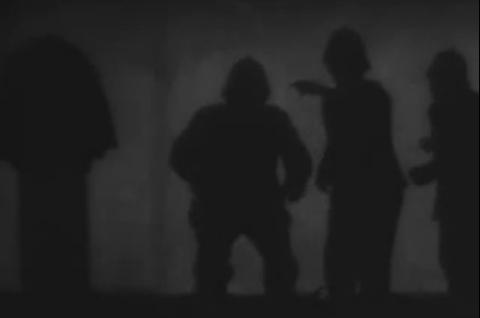 In the Middle Ages they had the wild hunt, the insanely nasty cavalry that rode across the sky. Then, come the early modern period, when everyone had 'grown up a bit' and men with shag and swords were so, well, 'medieval', that they moved on. They started seeing, instead, headless horsemen out on the toll road and best of all phantom coaches with headless drivers: the growth in interest in headless people in modern times deserves study.
Just to give a sense of what kind of legends we are speaking about for the UK, Beach has opened up the paranormal database under horses and cut and paste a couple of examples; there are many, many more.
Coach with Headless Driver. Location: Abington (Northamptonshire) – Pig Lane [Pixy Lane???]; Type: Haunting Manifestation; Date / Time: Unknown; Further Comments: Racked with guilt after deliberately running over his daughter's lover in 1780, this man now continues to drive his coach and horses down the lane, though he has lost his head since death.
Phantom Coach Location: Aylsham (Norfolk) – Bridge Type: Haunting Manifestation Date / Time: 19 May (Reoccurring) Further Comments: A ghostly coach and four passes over this bridge once a year. It is said to be driven by a headless Sir Thomas Boleyn, and is one of eleven bridges that he passes over on the night of his daughter Anne's execution.
And Beach's favourite because it is so damn unpleasant.
Headless Horseman Location: Ballymena (County Antrim) – Road leading to the White Gates, Crebilly Road area Type: Haunting Manifestation  Date / Time: 31 October (reoccurring) Further Comments: A robber escaping from a house rode into a thin piece of wire tightly pulled between the gateposts here, losing his head in the process. His decapitated shade is either seen or heard at Halloween, still on horseback.
But Beach, instead, of getting ghost/goose bumps (that, nota bene, cannot be faked) started thinking about that extraordinary film of the extraordinary Will Hay, Ask a Policeman, where a headless horseman is a front for a group of local smugglers – the famous shadow scene is at the head of the post. And this got him thinking; have ghosts, particularly headless ones or stage coaches (which have obviously practical uses) been used as a cover for criminal activity: drbeachcombing AT yahoo DOT com
Theo Brown – now long since departed? – a fine folklorist from Devon came trotting to the rescue though with a reference to an ungettable periodical, as is her wont.
It has been suggested that many of the phantom carriages were created by smugglers. Indeed, the Brandy Bottle Tree in Kingerswell parish (on the Barton Hall estate), was a regular cache for spirits of this kind, which were conveyed from the coast in a hearse which was painted with luminous paint, horses and all, and the hooves were padded. If as we might imagine the heads were not painted, obviously they would appear headless.
Theo references the Transactions of the Devonshire Association 88 for 1956, p. 253 if anyone happens to be passing the right stacks…
***
31 August 2012: Kath writes: I don't know about real examples, but the Dorothy Sayers story "The Undignified Melodrama of the Bone of Contention" (from the short story collection Lord Peter Views the Body) features someone playing on local superstitions of phantom carriages to cover his tracks – using the luminous-paint and padded-hooves techniques your folklorist mentions.Wade writes 'This post brought back memories of Patrick McGoohan as Walt Disney's Dr. Syn in The Scarecrow of Romney Marsh. He wasn't headless but still cut a fearsome, preternatural figure on his white horse. Apparently, Disney thought Syn was a real person, unless that was given out for promotional reasons. I remember smuggling is involved in the story and the supernatural aspect fits well with your suggestion of crime and headless fakery.  According to this link    there was a real Dr. Christopher Syn, Rector of Saint Peter and Paul, Dymchurch in Romney Marsh in 1775.' Thanks Kath and Wade!