Author: Beach Combing | in : Actualite , trackback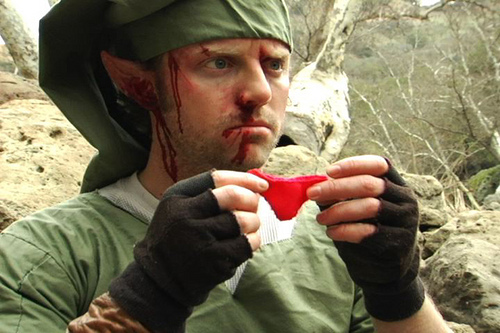 This news story ran at the end of July. Why, on earth, didn't it receive more international attention? Perhaps the world was tired of Zimbabwean mermaids. The version here comes (cut) from the The Herald (Zimbabwe).
A sixty-two year-old Gokwe man has come out in the open and claimed ownership of a goblin which has been terrorising women in his village by taking off their panties at night while they were asleep. The man, Mr Lameck Ncube of Village Charisekera, under Chief Njelele, made the startling revelations at a cleansing ceremony in the village on Wednesday… Chief Njelele had invited the traditional healer commonly known as a tsikamutanda from Hwange District and the prophet in a bid to bring peace to his area after 26 women woke up recently and found themselves without panties. Chief Njelele had sought clearance from the police to have his area 'cleansed' following the bizarre incident. It also emerged during the cleansing ceremony that the mysterious goblin had been tormenting women in the villages since 2004. The ceremony was characterised by drama and chilly witchcraft stories as villagers took turns to stand before the n'anga and the prophet.
Then the confession…
Mr Ncube, who became the 25th villager to appear before the tsikamutanda and the prophet, then confessed that he owned the 'menacing' goblin, which he claimed to have acquired long ago to enhance his luck. Mr Ncube told the puzzled crowd that the goblin had, however, turned 'hostile and weird' to a point of going around sleeping with women. A police officer who had been invited to the occasion to maintain order at one time moved in to restore order after some villagers whose wives fell victim to the goblin's 'sex' escapades threatened to beat up Mr Ncube.
Then the attack
The n'anga, who was accompanied by six aides, was forced with his team to temporarily stop the witch hunting ceremony as they accompanied Mr Ncube to his homestead to 'capture' the goblin which shared a bedroom with one of Mr Ncube's sons.
Would you leave a panty-stealing goblin with your son!?!
There was more drama as the villagers jostled to have a glimpse of the decorated goblin after the tsikamutanda brought it before the crowd. The goblin, which looked like a living creature, was wearing a pair of blue female panties, which village head Charisekera's wife, Ms Silvia Marumbe, claimed to be hers. Ms Marume claimed during the event that she lost her panties in mysterious circumstances in 2004. The goblin was later burnt before the crowd. In an interview after the burning of the goblin, Mr Ncube said he was happy that he was now a free man, saying the creature had been giving him sleepless nights for a long time. Mr Ncube said he bought the goblin in Chakari near Kadoma in 1983 when he was still working in Kwekwe. 'When I bought this goblin, my purpose was to try and have luck in my life. I also wanted to get promoted at my work as well as acquiring wealth but when I later retired, I then learnt that the goblin had not performed to my expectations,' he said.
During the ceremony, eight women from Charisekera and Matanganyika villages positively identified their panties, which mysteriously went missing and were now in the custody of Chief Njelele.The panties were found dumped in a bushy area under village head Pauro about two weeks ago.
Anything more on this Goblin and should we take 'decorated' to mean that this was a doll? drbeachcombing AT yahoo DOT com
***
31 August 2012: Invisible points out there is something of a tradition here from Africa: Zimbabwe witches, Goblins and a girl, goblins burn house… Invisible continues 'I think there is a winged goblin that rapes men in their sleep–but it is from Tanzania–called a Popobawa. Thanks Invisible!
30 September 2012: The Count writes: Concerning those nasty little African monkey-fairies, here are some sites that make it clear how seriously the locals take them: (1), (2), (3).   You will note that, despite their clearly magical nature, it is completely taken for granted that they are physically real beings which can be arrested and locked up. Though nobody seems to have bothered to take any pictures, and whenever physical evidence is mentioned, it's always somewhere else and not available for inspection. I would guess that the number of Africans who have a friend who knows someone who has seen a tokoloshe is very considerably larger than the number who honestly think they've seen one themselves. And I bet the latter mostly live in places where you get monkeys.This is of course the biggest problem with cryptozoology – if you assume, as many "experts" do, that the very widespread tales of tokoloshe prove the existence of a tribe of humanoid, possibly sub-human small hairy people in Africa, you also have to assume that all the aspects of the story that ore obviously complete nonsense are mythical additions that you can ignore. Well, if there's no physical evidence that a creature exists, and most of the information you have about it is clearly made up, why can't the whole story be completely fictional? For example, if you take Scottish tales of the kelpie as proof that many Scottish lochs contain plesiosaurs, you have to ignore the claims that all of these critters are man-eaters, since tourists in the vicinity of Loch Ness never seem to get mysteriously bitten in half. Oh, and the little point that nearly all of them can transform themselves at will into horses and/or pretty girls… Thanks Count!