Author: Beach Combing | in : Contemporary , trackback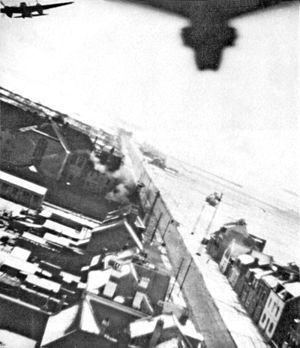 You are in prison and you have a friend with a plane. How can that plane get you out of prison? Well, at Colditz they built a glider in the castle attic; a glider that perhaps fortunately was never used. Then there are the various helicopter escapes, for which Beachcombing recommends an excellent wikipedia page. But planes and prisons? Beach knows of only two cases. Both from World War II.
19 February 1944, the Germans were to execute approximately a hundred French citizens – many members of the resistance – at Amiens prison in northern France. News of this came to the Allies and, 18 February, an attempt was made to save lives using an extremely blunt tool, a score of tactical bombers. RAF typhoons escorted a group of nineteen mosquitos who crossed the Channel and then made a bombing run on the Amiens compound.  The aim of Operation Jericho, as it was called, was to bring, Biblical-style, the walls crashing down and to let the prisoners out. Now think about this. WW2 bombers, even tactical bombers were not cruise missiles with their within-ten-metres accuracy. What are the chances that these bombers would actually hit the walls? Not very great. And yet the mosquitoes were successful.
Three Mosquitos of No 487 Squadron attacked the eastern wall at 1203 hours, just clearing the wall on a heading 250 degrees 12 bombs. The leaders' bombs were seen to hit the wall five feet from the ground, while other bursts were seen adjacent to the west wall and overshoot in fields to the north. Two aircraft of no 487 Squadron attacked the northern wall at 1203 hours just clearing the wall on a heading of 150 degrees with 12 bombs. These attacks were directed at places later reported breached by reconnaissance aircraft. One bomb seen to hit the large building, and northern side of the eastern building was also reported hit. Two Mosquitos of No 464 Squadron bombed the eastern wall at 1206 hours from 50 feet heading 150 degrees and 250 degrees with 8 x 500lb bombs. The wall appeared unbreached before the attack. Results were unobserved. Two Mosquitos of No 464 Squadron bombed the main building at 1206 hours from 100 feet heading 150 and 250 degrees with 8 x 500lb bombs. The north wall appeared to be already damaged.
Of the 700 prisoners there were 176 casualties (of which 102 deaths) meaning that the mosquitos killed more of the French than the Germans had planned to. 258 escaped of which about 150 were recaptured. An MI6 document in British archives claims that twelve members of the resistance who awaited execution were among the escapees. Two mosquitos and two typhoons did not return. And one of the dead was Percy Pickard, group captain and RAF legend: the star of Target for Tonight.
Operation Jericho is often judged to be a great success by the RAF: in terms of the exactness of the bombing it proved remarkable; in terms of lives lost it was rather less successful. There are also controversies: some allege that Operation Jericho was an intelligence blind. There are conspiracy theories here.
The RAF tried a second very similar operation in Denmark 21 March 1945: Operation Carthage was an attack on the pre-war HQ of the Shell Petroleum Company in Copenhagen. Several Danish resistance fighters were kept there by the Gestapo and the hope was to break our more anti-Nazis from imprisonment, and about thirty did escape. This raid though ended less happily. One mosquito coming in low hit a pylon and was catapulted close to the nearby Jeanne d'Arc school. Unfortunately further mosquitos saw the fire and presumed that the wreck marked the target. Eighty six children and eighteen teachers were killed: forty two being drowned in the cellars from the water the firemen had liberally sprayed on the burning school.
Leaving these horrors we note that cine cameras were carried on Jericho  and Carthage . Some of these clips can still be seen. Other plane escapes? drbeachcombing AT yahoo DOT com
***
25 September 2012: LTM points out that the Gran Sasso raiduses gliders and planes and Beach should add that not a single shot was fired and that no one was killed. Tacitus from Detritus has this to say that includes an attempted plane escape.Not a direct parallel to your more, er, kinetic use of airpower and escapes but the tale of Franz von Werra deserves a telling. Among many other flourishes -posing for press photos with his pet lion cub Simba!-  Franz once dug his way out of a POW camp in England and posed as a Dutch pilot.  He claimed he had been cleared for a test flight and was actually sitting in the cockpit of a British plane attempting to learn the unfamiliar controls when he was apprehended. You just can't fully suppress someone like this, and he later went on to become one of a very, very small group….Axis POWs who made it back to Germany to fight again (Canada to US to Mexico, through Latin America, to Rome and back to Germany). His is in the category of biographies that I categorize as "larger than life".' Thanks Tacitus and LTM!