Author: Beach Combing | in : Modern , trackback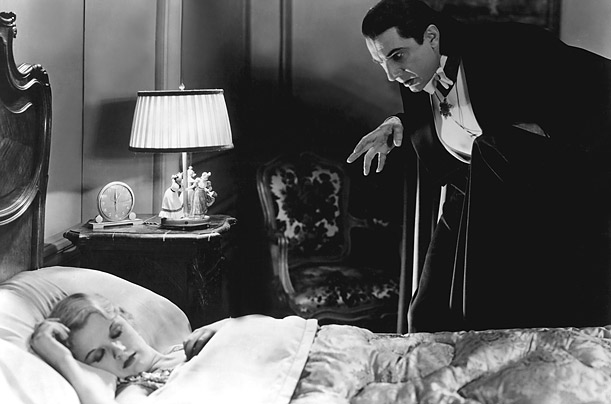 Beach recently gave some publicity to Walter Starkie's excellent Raggle Taggle. Here is a vampire story from the book. Our hero (Walter) has fallen asleep in a cemetery when he is woken by a man.
He was a strange little old man like one of the goblins in Grimm's fairy stories. He walked with bent shoulders and his long white beard nearly touched the ground. His clothes were ragged and grimy, but here and there they were patched up with pieces of gaudy colours….
The man asks what WS is doing in the graveyard:
'Don't you know that the tomb you are resting on is haunted by a nachtoer? When I saw you in the distance I took you for one of them and I made the sign of the Cross to drive you away. Look here, mein Herr, look on that tombstone and you will see two holes: that is the sign that the tomb is inhabited by a vampire: at any moment before dawn it might fly forth to attack you. Have you no garlic upon you to stop up those holes and prevent the foul demon from coming out?
The old man has a horrific story to tell. He had had three children, two girls and a boy named Sandor, but Sandor became infatuated with a man some twenty years old than him.
He monopolized my son's attention: not a thought would come into the latter's head which was not inspired by the stranger, and from being a wild, irresponsible youth he turned into a silent and thoughtful man, always day-dreaming. The stranger had something Mephistophelian about his appearance: he was tall and thin, with aquiline features and a small pointed beard. His eyes were strained and had a wild look in them like those of a cigany: his mouth coarse and brutal, with very red lips, and when he spoke he would frequently lick them and show his teeth, which were brilliantly white and sharply pointed like those of a dog or a wolf.
This isn't going to finish well is it? Of course not, for the elder daughter now falls in love with the stranger and the family throw him out of their house in a furious leave-taking.
 One night when all the household had retired to rest and all was as still as the grave, I heard the sound of horse's hoofs clattering on the road. The night was dark and misty, but when I looked out of the window I saw dimly in the distance a carriage drawn by four black horses galloping away in a cloud of dust. I am naturally superstitious and the sight of those four black horses paralysed me with horror, for I knew they were of evil omen. My first impulse  was to rush into Julcsa's room. She was not there. The bed was tossed and one of the sheet's twisted into a rope hung from the window. On the table I found a note saying: Dearest mother and father, Forgive me for what I am doing and pray for my soul. Julcsa.
At this point things get still worse. The mother dies grieving for her daughter, who she is convinced has been taken by a vampire. And Sandor moves to the city and becomes ill with consumption there. When his father visits he is at death's door.
All the life seemed to be ebbing fast from my son. At times he would cry out faintly for Julcsa and he told me of a strange dream he had had. He dreamt he met [Julcsa] outside the arched goate of the city and she stood within the arch and she beckoned him to enter. She was dressed in dazzling white and looked radiantly beautiful and happy, but her face was as white as her dress and her lips were like a scarlet wound. She beckoned again and again to him, but those he strove hard he was unable to cross the threshold of the gate . The he awoke in a state of terrible anguish, and he felt so weak that he thought he was going to die…. Then one night in the dream she had drawn him through the arch and he had followed her through the town and along a road until they came to a clump of trees where he saw grey tombstones dotted about. Sandor used to rave for hours incoherently trying to recall the place where he had seen the tombstones.
Finally, Sandor remembers. The tombstones are at Lepseny and the father leaves the dying Sandor and goes out to revenge himself on his vampire daughter.
I set out from Budapest accompanied by an old Gypsy woman I had known for many years. She was to be my confederate in the grim task which lay before me… When we reached Lepsény we turned back along the road and after a weary search we came to the cemetery where you and I are seated now, and I discovered that it tallied with the description my son had given in his dream. Tomb after tomb we examined and after a long search we came to one in a corner on whose stone the name Julcsa was engraved in big letters. She had died the year before. How had she died? Who had closed her eyes? Did she die in poverty and if so who had raised the tombstone over the grave? Who knows? The night after I had discovered the grave I returned with the old woman to carry out my grim task of liberation. It was a stormy night, the wind was whistling through the trees and rain and sleet lashed our faces. No moon was shining and I thanked God for that. A moon would have exposed our sinister work and perhaps drawn the suspicious peasantry after us. At midnight I started to dig down into the grave while the old woman stood by and muttered incantations. After digging for some timeI knocked with my spade against the coffin. The sound of the spade striking the coffin filled me with such horror that I nearly fainted, but the old woman called sternly to me to break open the lid with the spade. With difficulty I did as she commanded, and when I had wrenched open the lid I gazed on all that remained of my poor Julcsa. For a moment I thought I was the victim of an hallucination, for Julcsa looked as if she were sleeping peacefully. Over her eyes there was spread a filmy substance and her lips were bright red as though she had recently fed on a loathsome repast in the land of the living. Again I hesitated for my eyes were riveted on the corpse in the coffin. Again the old woman's sharp voice broke in upon my meditation: 'make haste and use this knife. You must cut her head off and bury it in another part of the cemetery. If you do that her spirity will trouble you and your family no more. The old hag with these words handed me a sharp knife she had brought with her and straightaway began to gather twigs to make a fire near by. Hardening my heard I tried to do her bidding, but my strength failed me. The witch then seized the knife from my hands and with one slash severed the head from the trunk. I shut my eyes, but it seemed to me as if the corpse moaned and the blood spurted over me. After fastening down the coffin-lid and piling the earth over it we buried the head in the opposite side of the cemetery, and we departed on our way towards Budapest. Before she took leave of me the old woman said: 'Be sure to go back to that cemetery and pour wine on the grave of your daughter, for this is nothing like wine for laying the ghost to rest.'
The son died in peace and was buried in the same cemetery. Beach presumes that WS placed a traditional tale in his travelogue. What really makes Beach suspicious is the detail of the Irish traveller happening to sleep in a cemetery. Even a granite hard atheist would think twice before doing that, surely. drbeachcombing AT yahoo DOT com