Author: Beach Combing | in : Medieval , trackback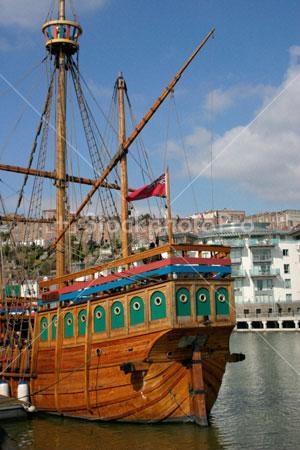 The most credible claims for pre-Columbian voyages across the Atlantic are those that took place in the generation immediately preceeding Columbus' trip into the unknown. Take the text of a famous letter that was written in Spanish to an Admiral, almost certainly Columbus in late December 1497. The author is an English sailor, John Day.
Se presume cierto  averse  fallado  e descubiertoen en otros tiempos el  cabo  de  la  dicha  tierra por los  de  Bristol que fallaron  el  Brasil  como dello  tiene  noticia  Vra  Sa la qual se  dezia  la  Ysle  de  Brasil  e presumese e  creese  ser tierra  firme  la que fallaron  los  de  Bristol
It is  considered  certain  that  the  cape of  the  said land [discovered by  Cabot  in  the 1497  voyage]  was  found  and  discovered  in  other times  by the  men  of  Bristol  who  found Brasil  as your  Lordship  knows.  It  was  called the  Ysle  of  Brasil  and  it  is  assumed  and  believed  to  be  the  mainland  that  the  Bristol men  found.
Bristol is of course the city on the Severn. Brasil is a Celtic name describing a mythical island out in the Atlantic: it later became attached to a large part of South America by one of those perversions of history that make life so interesting.
We are lucky that there is enough documentation to uncover some of the information about Bristol's search for 'Brasil'. We know, for example, that in 1480 a Bristol ship headed off into the Atlantic 'usque ad  insulam  de Brasylle in  occidentali  parte  Hibernie' (to the Island of Brasylle to the west of Ireland). Did it find what it was looking for?
In 1481 a second voyage with two boats, the George and the Trinity, headed out 'to serch & fynde a  certain  Isle  called  the  Isle  of Brasile', which suggests the 1480 voyage had failed. They left on 6 July and were back in port by the next year, and perhaps long before. Their leader, Croft, had a license for exploration.
In 1498 a Spanish agent in Britain wrote to the Catholic Monarchs.
Los  de  Bristol  ha  siete  anos  que cada  ano  an  armado  dos,  tres, quatro caravelas para ir  a buscar  la  isla  del  Brasil, i  la  Siete  Ciudades  con  la  fantasia deste  Ginoves
For  the  last seven years the people of  Bristol  have equipped  two,  three, four  caravels  to go in search of  the  island  of  Brazil  and  the  Seven  Cities according to  the fancy of  this Genoese.
This suggests that English expeditions were leaving Bristol in 1490 and crucially that these have left no trace in our documentation. Who knows what else was going on? The Seven Cities is another mythical Atlantic realm. The Genoese is the Venetian John Cabot (Zuan Chabotto) or perhaps even Columbus, which would open a dustbin full of worms.
Then just to throw a little more oil on the fire,  in 1527 one Robert Thorne of Bristol claimed that his father Robert Thorne and one Hugh Eliot had been the discovers of the New World.
There's a lot more that can be argued about here but the proof from contemporary documents are impressive enough without sending up fireworks. What is perhaps most impressive is not that the English got to North America before the Spanish:  who cares really… But that the English were actively looking for something: why? Here we perhaps return to a previous theme on this blog: the surviving knowledge of North America in the medieval Greenland settlements. For more on this and an exciting academic project. For other theories: drbeachcombing AT yahoo DOT com