Author: Beach Combing | in : Modern , trackback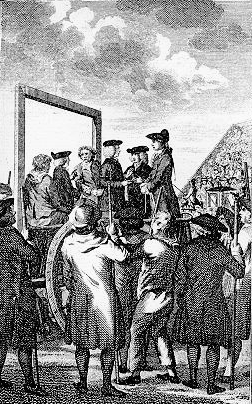 Poor old reverend William Dodd! Hanged in 1777 at Tyburn he was the last Englishman to be sentence to death for forgery. His trip to the gallows was greased by money. He was never able to make enough and yet he was always able to spend too much. In February 1777 he forged a bond for 4,200 pounds (a fortune in the late eighteenth century) in the name of the Earl of Chesterfield, an ex-student of his. Despite a huge petition being gotten up to prevent his death the execution went ahead. The following is a contemporary description that we found striking. Perhaps because this wasn't a hardened criminal, but a member of Britain's eighteenth-century middle classes, who was scared and broken. Also the line about 'drying off' is particularly cruel AND memorable.
Upon the whole, the piece was not very full of events. The Doctor, to all appearances, was rendered perfectly stupid from despair. His hat was flapped all round, and pulled over his eyes, which were never directed to any object around, nor ever raised, except now and then lifted up in the course of his prayers. He came in a coach, and a very heavy shower of rain fell just upon his entering the cart, and another just at his putting on his nightcap. During the shower, an umbrella was held over his head, which Gilly Williams, who was present, observed was quite unnecessary, as the Doctor was going to a place where he might be dried. The executioner took both the Doctor's hat and wig off at the same time. Why he put on his wig again, I do not know, but he did; and the Doctor took off his wig a second time, and tied on a night cap, which did not fit him; but whether he stretched that, or took another, I could not perceive. He then put on his nightcap himself, and upon his taking it, he certainly had a smile on his countenance, and very soon afterwards, there was an end of all his hopes and fears on this side the grave. He never moved from the place he first took in the cart; seemed absorbed in despair, and utterly dejected; without any other signs of animation, but in praying. I stayed until he was cut down, and put into the hearse.
There is then a strange episode, which I'm at a loss to explain. Presumably Dodd's body was to be spared dissection and so allies decided to try making him into a Lazarus.
The body was hurried to the house of Davies, an undertaker, in Goodge Street, Tottenham Court Road, where it was placed in a hot bath, and every exertion made to restore life.
Memories of those few who survived hanging. Beach is always looking for remarkable executions: drbeachcombing AT yahoo DOT com
***
31 Dec 2012: AB writes in: 'The resurrection attempt to me at least seems explicable by the emerging medical investigative tendencies at the time.  Some medical student or/and his mister hearing of the forthcoming execution probably approached friends of the Rev offering to make the attempt.  There's also a hint about the Rev's behaviour suggesting to me they may've attempted to narcoticise him into some sort of pre-execution state of extreme physical relaxation so he'd perhaps either struggle less thereby doing less damage to himself by struggling or maybe in the hope of making him seem more dead than he actually was.' Thanks AB!!