Author: Beach Combing | in : Contemporary , trackback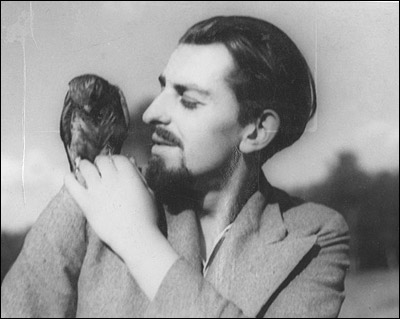 Norman Lewis' Naples '44 is one of the great works of the Second World War. It describes the most dramatic of places, Naples, under the most dramatic of situations, German and then Allied occupation. Beach was so excited, by his recent playing around with this book, in that tale about Padre Pio the human anti-aircraft gun that he read many of those much loved pages again: Lewis, pictured above, was a great writer. Here is a passage that really stood out.
The sexual attitudes of Neapolitans never fail to produce new suprises. Today Prince A. now well known to us all and an enthusiastic informant from our first days at the Riviera di Chiaia, visited us with his sister, whom we met for the first time. The Prince is the absentee landlord of a vast estate somewhere in the South, and owns a nearby palace stacked with family portraits and Chinese antiques. He is the head of what is regarded as the second or third noble family of Southern Italy. The Prince is about thirty years of age, and his sister could be twenty-four. Both are remarkably alike in appearance: thin, with extremely pale skin and cold, patrician expressions bordering on severity. The purpose of the visit was to enquire if we could arrange for the sister to enter an amry brothel. We explained that there was no such institution in the British army. 'A pity', the Prince said. Both of them speak excellent English, learned from an English governess.  'Ah well, Luisa, I suppose if it can't be, it can't be.' They thanked us with polite calm, and departed.
WtH! Did A perhaps find the American HQ more amenable? Or is it possible that Lewis just misunderstood? He spoke excellent Italian and usually proved a fine interpreter of Italy. He was also honest. However, perhaps Prince A was trying to marry off his sister? It is a mysterious passage to say the least. Any other interpretations: drbeachcombing AT yahoo DOT com Note for mudrakers. There are apparently about 4,000 noble families in Italy and about 6.5% of these are princes. That is over two hundred, but surely one of the top three families in the south would be easy to find. And in fact… There is a family that were princes and that were associated with Naples. They had a villa in the right part of the city.  They had Chinese antiquities. Their family name includes an initial 'a'. They also have very rich lawyers and why, in any case, rub salt in wounds that are probably still stinging from the war?
Beach is burning with fever today, lots of nightmares about witches and fairies.