Author: Beach Combing | in : Modern , trackback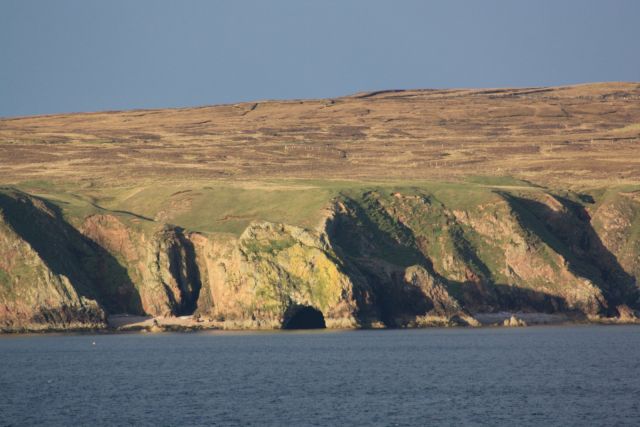 ***Huge apologies, this story briefly came out yesterday by accident. I've been doubled over with fever***
A scary fairy story from the Hebrides from about 1902. The events described here seem to have taken place on Lewis though the writer is not absolutely clear. Beach stumbled on this while looking for information about fairy dog teeth.
Much fairy folklore still lingers in the districts, and some of the tales of the little 'dwellers in the mound' and their ways are delightful. How far any of the people still really believe in the existence of fairies is more difficult to settle. But the incident about to be related is reported to have occurred so recently as last year. Near a village on one of the sea-lochs are rocky cliffs, and from these on a certain Tuesday evening was heard the sound of the bagpipes. From the nature of the place it seemed impossible that the sounds heard could be of human origin. The only other explanation was the supernatural one. The horrified listeners sent word to the village of the strange occurrence, and forth came certain of the elders accompanied by a crowd of those who were curious enough or brave enough to venture near the spot whence proceeded the uncanny music. On arriving, the elders read portions of the Scriptures, including the account of Temptation, and offered up lengthy prayers. After about two hours spent in this way the people returned to their homes.
These are quite aggressive steps to take against the fairies as late as 1902. We seem to have a community that had kept their terror of the fey. But interestingly there was a sequel.
The exorcism had evidently been successful, as afterwards one of the elders, with three other persons, was down at the beach engaged in painting a fishing boat, when a mysterious sound of knocking was heard from the inside of the boat, which rocked from side to side, while the mast trembled. The other boats near, to which this one was fastened gave no sign of sharing in the movement. The man, it is reported, dropped their tools and ran home. The explanation offered by some of the villagers was that the fairies, angry at being driven from the cliff, were doing some secret damage to the boat with the intention of causing a disaster to the crew when they had set out for the fishing. Whether this part of the story had a any sequel or not the writer has not yet learned; but one can easily imagine that if any mischance happened to the boat during the fishing season an explanation in accordance with the previous occurrences would be readily forthcoming.
Other scary fairy stories? drbeachcombing AT yahoo DOT com