Author: Beach Combing | in : Modern , trackback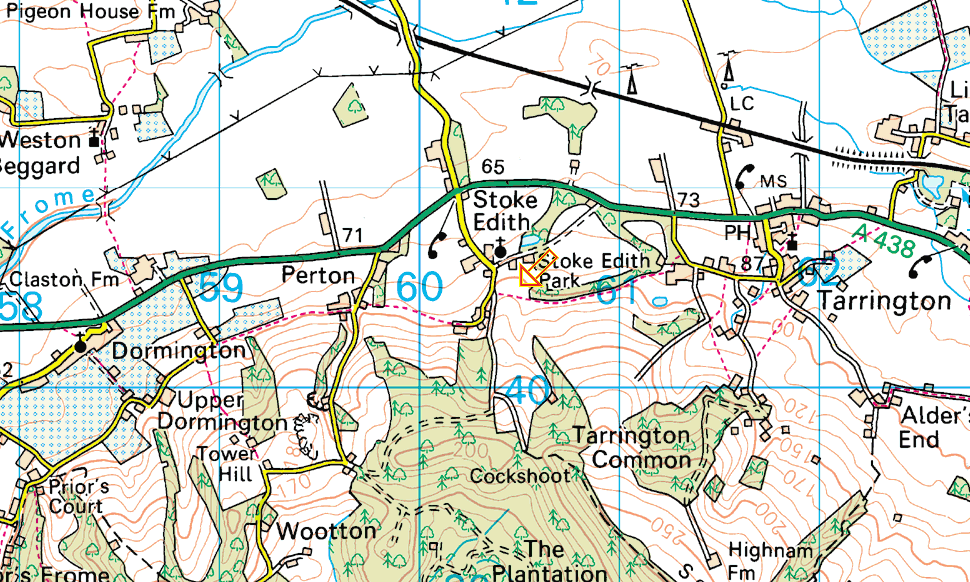 Skyfalls are normally a tedium of frogs and snails and red lobster's tails. But this one caught Beach's attention because of the sheer horror of the cottager and because of the very seventeenth-century reaction: get a justice of the peace, swear to it and then bring out an absurdly portentous-sounding pamphlet, A Very Strange, But True Relation of the Raining a Shower of Blood at Shewall in the Parish of Stoake Idith in the County of Hereford, on the 16th. Day of this Instant July, 1679 (2 pages). Here follows a nineteenth-century summary.
There is a very strange but credible relation from a place called Shewall, in the parish of Stoke Edith, in the county of Hereford that a woman named Mary Godsall, upon Wednesday the 16 instant July (1679), about an hour before sun-set going as usual to milk her cows, as she was milking, she observed something to fall upon the ground like drops of blood, covering the earth all about her with thick drops of blood; and also the right side of the cow, which she was then milking, was all covered over with blood; and some of the drops fell into her pail of milk, discolouring the milk, and sprinkling all the outside of her pail with blood: upon the sight hereof she was very much astonished and troubled, and immediately took up her pail, and went hastily to her own house, and presently sent for some of her neighbours, whose names the relation saith were, Alice the wife of Philip Hennington, the wife of one Richard Bilby, Margaret the daughter of Edward Chamberlain, and Mrs. Carpenter, the wife of Waincomb Carpenter, and gave them an account of what had happened; they thereupon agreed to go all together to the place that Mary Godsall had related that the blood fell; and when they came thither, they accordingly found it to be true, for they there saw the blood upon the grass in the ground aforesaid, and that not only in the place where the said Mary had milked her cow, but also in several other places thereabout. She also says further than when she perceived it to continue raining blood some time upon the ground, she cast up her eyes toward the sky, to observe in what manner and from whence the drops of blood came, and that as she was beholding the same, several drops of blood fell upon her face and her neckcloth, which neckcloth she hath since washed, to try if she could wash the blood out, but with all her endeavour she cannot set it out. The relation says, that this examination was taken from the aforesaid Mary Godsal upon oath, on Friday the l8th of this instant July, before Richard Hopton, esq. one of his Majesty's Justices of the Peace for the said county, at his house at Canon-Frome, in the aforesaid county of Hereford.
Shewall has eluded us, though it sounds like a credible English placename: can anyone who knows the area help, drbeachcombing AT yahoo DOT com Beach particularly, btw, enjoyed the comment of a nineteenth-century reader:
Mary Godsal was certainly a poor illiterate observer, and must have accidentally walked into a shower of blood; the miracle could not have been intended for her or the neighbouring cottagers. [italics our own]
As to the facts of what causes blood rain there is a lovingly crafted Wikipedia page, which gives though no definite answers.
***
30 April 2013: Paige writes: Google is a wonderful thing … 🙂  referencing [1863] THE POST OFFICE DIRECTORY OF GLOUCESTERSHIRE, HEREFORDSHIRE, SHROPSHIRE, AND THE CITY OF BRISTOL, WITH MAPS ENGRAVED EXPRESSLY FOR THE WORK Under entry for Stoke Edith: Perton is a hamlet; Stokebridge, Old house, Showle Court, and Free Town are farms. Taylor[,] William, farmer, Shawle Court (transcription )
Yarkhill (Herefordshire) Parish Register Transcription Baptisms at St John the Baptist's Church – 1563 to 1840 First instance on page: Showle    1582, Showell    1583, Showel    1592, Shewell    1594, Shoule    1634 Showle Court, Stoke Edith    1807. Mary Godsall – listed in register as mother of Alice baptized Jan. 29, 1649 Many people by the name of Godsall/Godsal/Godshall in the register. The Count offers an alternative: Your blood rain story takes place in "the parish of Stoake-Idith", by which I guessed the writer meant "Stoke Edith". There is such a place, and it's very near Canon Frome. Bearing in mind that his spelling of place-names was somewhat random, it didn't surprise me that the map didn't show anywhere called "Shewall" within the small area that might comprise a parish. However, about half a mile from Stoke Edith, there's a pond called Shade Well. I think that has to be your location. Then Invisible comes in with another shower of blood for general edification: Your gorge-rising little story of the rain of blood made me think of this very localized shower of blood, which, it cannot be doubted, was intended for the recipient: The following letter was sent to me by Mr. T. J. A., whom I had asked to make personal inquiry into the story he had told me: "my Dear Sir, November 17. The incident I mentioned to you the other evening occurred at Wivenhoe, near Colchester, in the cottage of a poor widow, who added to a very small annuity by letting two rooms, whilst her sons earned their subsistence by fishing. At the time of which I write, the widow's rooms were inhabited by Captain and Mrs. B., a family connection of mine, and from whom I heard the tale. One morning the two young fishermen went out, telling their mother they should not be home all night as the tide would not serve them. Their mother gave them their provisions accordingly, telling them if they did get home, to knock very gently at the window, so as not to disturb the sick lady (meaning Mrs. B.) At night she went to bed as usual and as the weather was calm, felt no uneasiness about her sons. She slept till about three o'clock when she was roused by the usual signal at her window; jumping out of bed and quietly throwing open the sash, she looked into the darkness and saw the form of her eldest child. "Be still," she said, "I will light the candle and let you in." On opening the door she found no one there, nor could she obtain any answer to her calls though often repeated, and thinking she had been dreaming, she re-entered her room to return to bed. But again she heard the knocking at the window and a second time she put her head out the window and called her sons by name. No answer was given and feeling something drop on her forehead, which she supposed to be rain, she, almost angry at what she called a trick, put out the light and got into bed. Though not alarmed she could not sleep and at day break rose to dress herself. The first thing she saw was a slight stain of blood upon her fingers, and on going to the little glass hanging on the wall, she was frightened at seeing blood upon her temple, and on the border of her night cap. There was no scratch in either temple or finger, no clue to guide her as to the cause of the blood stain. In a moment the truth flashed upon her mind, and she felt sure her sons were dead. She went to the kitchen and there, sitting in a state of desolation, Captain B found her, when, wondering at her non-appearance, he went to enquire about his wife's breakfast. The tale was told, and the blood stains, displayed upon the night cap. Captain B. was startled, for he had heard (or fancied he had heard) the knocking, but he endeavoured to persuade the poor woman she had hit her head against the window. No, she was sure she had not, and what she had supposed to be rain was, in reality blood. She bade Captain B. examine the window, and to satisfy her he did so, but he could discover no projecting nail or anything by which his landlady could have hurt either head or finger, but on the small sill, he saw drops of blood similar to those on the night cap. Nothing could be otherwise than conjecture, and taking the afflicted woman to his wife, Captain B set out to obtain tidings of the young men, but it was late in the day ere their suspense was ended and then the widow's presentiment was confirmed. Her son's boat had been swamped and both had perished. The body of one, the younger, was soon found and on his temple was a deep wound as if he had been struck by the mast of the boat as it turned over. The body of the other was never brought to shore. Thus ends the tale of the Wivenhoe widow. I have seen her many times, but I never heard her mention the subject, for she never quite recovered her senses. To my sister, who married Captain B's son, she has frequently told her tale, and shown her the cap with the blood stains on it.' The British Spiritual Telegraph, vol. 3-4, 1859, p. 57  Thanks to Paige, the Count and Invisible!!
31 May 2013: This from Amanda, These might be of interest concerning rains of blood: http://www.bbc.co.uk/news/magazine-20028490 http://www.guardian.co.uk/science/2006/mar/05/spaceexploration.theobserver http://natgeotv.com/ca/paranatural/galleries/blood-rain-and-star-jelly http://paranormal.about.com/od/earthmysteries/a/Weird-Weird-Rain.htm http://natgeotv.com/uk/wild-x-files/galleries/blood-red-rain http://www.oddee.com/item_97047.aspx http://www.sott.net/article/238921-UK-Mysterious-Rain-of-Apples-Stuns-Drivers http://www.telegraph.co.uk/topics/weather/9623778/Weird-weather-ahead-as-blood-rain-forecast-for-Halloween.html http://paranormal.about.com/od/earthmysteries/a/Weird-Weird-Rain_2.htm http://www.utaot.com/2012/11/11/rain-contained-human-white-blood-cells/ A rain of blood is mentioned in the Anglo Saxon Chronicle: A.D. 685.  This year King Everth commanded Cuthbert to be consecrated a bishop; and Archbishop Theodore, on the first day of Easter, consecrated him at York Bishop of Hexham; for Trumbert had been deprived of that see.  The same year Everth was slain by the north sea, and a large army with him, on the thirteenth day before the calends of June.  He continued king fifteen winters; and his brother Elfrith succeeded him in the government.  Everth was the son of Oswy. Oswy of Ethelferth, Ethelferth of Ethelric, Ethelric of Ida, Ida of Eoppa.  About this time Ceadwall began to struggle for a kingdom.  Ceadwall was the son of Kenbert, Kenbert of Chad, Chad of Cutha, Cutha of Ceawlin, Ceawlin of Cynric, Cynric of Cerdic.  Mull, who was afterwards consigned to the flames in Kent, was the brother of Ceadwall.  The same year died Lothhere, King of Kent; and John was consecrated Bishop of Hexham, where he remained till Wilferth was restored, when John was translated to York on the death of Bishop Bosa.  Wilferth his priest was afterwards consecrated Bishop of York, and John retired to his monastery (21) in the woods of Delta.  This year there was in Britain a bloody rain, and milk and butter were turned to blood. http://omacl.org/Anglo/part1.html. Thanks Amanda!