Author: Beach Combing | in : Medieval , trackback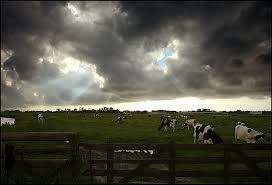 After a few days delay, back to Magonia… Agobard's reference to Magonia is often quoted, in translations of variable quality. But far less attention is paid to his references in the same text ('Contra insulsam vulgi opinionem de grandine et tonitruis') to tempestarii or stormy-ones:

In these parts [i.e. what is today southern France] almost all men, noble and plebian, town-dwelling and rustics, believe that hail and thunder can be brought into being by human will. They say, as soon as they hear the thunder and see the lightning, that 'a storm has been raised'. Now ask what raises the gale? Some of them with shame, with their conscience troubling them, some confidently, as is typical of the ignorant, claim that the storm has been raised by the magic of men that they call storm-makers (tempestarii) and for this reason they talk of 'raising a storm'.

In his regionibus pene omnes homines, nobiles et ignobiles, urbani et rustici, senes et juvenes, putant grandines et tonitrua hominum libitu posse fieri. Dicunt enim, mox ut audierint tonitrua et viderint fulgura: aura levatitia est. Interrogati vero, quid sit aura levatitia? alii cum verecundia, parum remordente conscientia, alii autem confidenter, ut imperitorum moris esse solet, confirmant incantationibus hominum qui dicuntur tempestarii, esse levatam, et ideo dici levatitiam auram.
What has this to do with Magonian sky-boats? Well, absolutely everything. The tempestarii are, it transpires, crucial to Magonia. We quote again Agobard's brief initial reference to the tempestarii. We should also note here that Agobard is not the only author to use 'tempestarii', a profession which appears, only to be condemned, in several Carolingian religious texts. 
The crops that were ruined because of hail and lost in storms are carried back into that region [i.e. Magonia]. These sky sailors, evidently, make a payment to the tempestarii, taking wheat and other crops.

[[Plerosque autem uidimus et audiuimus tanta dementia obrutos, tanta stultitia alienatos, ut credant et dicant, quandam esse regionem quae dicatur Magonia, ex qua naues ueniant in nubibus,]] in quibus fruges quae grandinibus decidunt et tempestatibus pereunt, uehantur in eandem regionem, ipsis uidelicet nautis aereis dantibus pretia tempestarii, et accipientibus frumenta uel ceteras fruges.
Let's put this into terms that early modern Europe would have understood and that perhaps are easier for the twenty-first century. The tempestarii are witches, great storm raisers, and the Magonians are demons. There is clearly some form of contract between the tempestarii and the Magonians. It would be interesting to see if the Magonians actually gave the tempestarii the power to make the storm.
In fact, the tempestarii won both ways. Because they got power or rewards from the Magonians, but also from their fellow humans.
This idiocy [believing in storm raising] is not the least part of [the people's] lack of faith and in many places there are awful men who claim that while they cannot send storms, they know how to stop the same for those who live there. The inhabitants have agreements with these men about how much of their crop they will give in 'tribute', even a small part annually, that the tempestarii claim from farmers to drive off storms.  Yet there are many who will not give the tithe to the priests and who do not give charity to the widows and orphans and others who are needy as is frequently preached to them and often red aloud. They are thus encouraged to do so but they do not do this. Yet they happily pay the 'tribute' to their protectors (claiming to be thus protected from the storms) without preaching, warnings and encouragement, but rather through the seduction of the devil.

Haec stultitia est portio non minima infidelitatis; et in tantum malum istud jam adolevit, ut in plerisque locis sint homines miserrimi, qui dicant se non equidem nosse immittere tempestates, [0157A] sed nosse tamen defendere a tempestate habitatores loci. His habent statutum quantum de frugibus suis donent, et [?] appellant hoc canonicum, nimirum eam frugum portionem, quae tempestariis tribuebatur annuatim a possessoribus, ut ab agris eorum depellerent tempestates. Multi vero sunt qui sponte sacerdotibus decimam nunquam donant, viduis et orphanis caeterisque indigentibus eleemosynas non tribuunt, quae illis frequenter praedicantur, crebro leguntur, subinde ad haec exhortantur, et non acquiescunt. Canonicum autem quem dicunt, suis defensoribus (a quibus se defendi credunt a tempestate) nullo praedicante, nullo admonente, vel exhortante, sponte persolvunt, diabolo inliciente.
Reading this Beach wonders if we don't have a Ginzburgian scheme. The bad tempestarii who bring in the storms and the good tempestarii who protect the crops: memories of the Benandanti of Friuli and other such 'witches'?  
One scholar it should be noted, seeing the very Christian term canonicum for 'tribute', has suggested that the tempestarii were nothing more than rogue priests and monks trying to make some extra money on the side: drbeachcombing AT yahoo DOT com. If this is right, and it seems doubtful to this author, then who knows what the local population thought when Agobard, a bishop remember, rescued the Magonians… The first conspiracy theory from medieval Europe?

In any case, Agobard moves onto the actual techniques used by the tempestarii, though this is, intitially, framed as natural science, informed by Christian theology.
If therefore, almighty God, whose hand cannot be stayed, whips the enemies of the righteous, with the strength of His arm, by using with new waters and hails and rains, then those who claim that man can do this have total ignorance of God. For if man can send hail, he would also be able to send rain. After all, no one ever saw hail without rain. Man would also be able to take vengeance on enemies, not just by annihilating crops but also by killing. For when the enemies of the tempestarii are on the road or in the field the tempestarii could kill them by sending down a great hail on these in one mass, wiping them out.

Si igitur omnipotens Deus per fortitudinem brachii sui flagellat inimicos justorum novis aquis et grandinibus et pluviis, cujus manum effugere impossibile est, omnino ignorantiam Dei habent qui haec homines facere posse credunt. Nam si homines grandinem immittere possent, utique et pluvias possent. Nemo enim grandinem sine pluvia unquam vidit. Possent quoque de inimicis suis se vindicare, non solum ablatione frugum, sed et vitae ademptione. Quando enim contingit inimicos Tempestariorum esse in itinere aut in agris, ut eos occiderent, possent multiplicatam grandinem super eos in unam congeriem fundere, et obruere illos.
This hail attack might seem a little vague, Agobard playing with ideas, but there is apparently a popular belief behind it. The ability of these tempestarii to send blocks of hail at their enemies is reminiscent, in its way, of some of those Marvel superheroes who glide along on ice and freeze their enemies with snow balls.
Some claim that there are tempestarii of this kind who can make dispersed hail fall in one place, a river or unfruitful woods or on one 'barrel' [cupa], under which someone had hidden. Certainly we have often heard from many that this has happened here or there. However, we have not yet heard of someone who is prepared to swear that they had themselves seen these things. I was once told about one such man and went to great lengths to see him, which I did. But when I spoke to him and he claimed that he had seen these things, I put oaths and prayers around him and Godly threats and I asked him again and again to tell only the truth. Then he did claim that what he said was true, naming a man,  a time and a place, but he also admitted that he had not actually been there.

Nam et hoc quidam dicunt, nosse se tales Tempestarios, qui dispersam grandinem, et late per regionem decidentem, faciant unum in locum fluminis aut silvae infructuosae, aut super unam, ut aiunt, cupam, sub qua ipse lateat, defluere. Frequenter certe audivimus a multis dici quod talia nossent certe in locis facta; sed necdum audivimus ut aliquis se haec vidisse testaretur. Dictum est mihi aliquando de aliquo, quod se haec vidisse diceret. Sed ego multa sollicitudine egi ut viderem illum, sicuti et feci. Cum autem loquerer cum illo, et tentaret dicere se ita vidisse, ego multis precibus et adjurationibus cum divinis etiam comminationibus obstrinxi illum rogitans, ut non diceret illud nisi quod verum esset. Tunc ille affirmabat quidem verum esse quod dicebat, nominans hominem, tempus et locum; sed tamen confessus est se eodem tempore praesentem non fuisse.
Beach particularly likes the brow-beaten witness, sweating in front of fierce Agobard. Thanks to the good bishop's efforts the Magonians and their colleagues the tempestarii are taken further and further from Forteana and deeper and deeper into the realm of folklore: Drbeachcombing AT yahoo DOT com.

30 May 2013: The Count writes in: You want to know why Christians thought hail was especially likely to be used as an instrument of supernatural wrath? Look no further than the Bible (if I may quote Moses and Wikipedia at the same time – the ultimate exobiddle?): 7. Plague of hail (בָּרָד): Ex. 9:13–35 This is what the LORD, the God of the Hebrews, says: Let my people go, so that they may worship me, or this time I will send the full force of my plagues against you and against your officials and your people, so you may know that there is no one like me in all the earth. For by now I could have stretched out my hand and struck you and your people with a plague that would have wiped you off the earth. But I have raised you up for this very purpose, that I might show you my power and that my name might be proclaimed in all the earth. You still set yourself against my people and will not let them go. Therefore, at this time tomorrow I will send the worst hailstorm that has ever fallen on Egypt, from the day it was founded till now. Give an order now to bring your livestock and everything you have in the field to a place of shelter, because the hail will fall on every man and animal that has not been brought in and is still out in the field, and they will die. […] The LORD sent thunder and hail, and lightning flashed down to the ground. So the LORD rained hail on the land of Egypt; hail fell and lightning flashed back and forth. It was the worst storm in all the land of Egypt since it had become a nation.' The seventh plague of Egypt was a destructive storm. God commanded Moses to stretch his staff skyward, at which point the storm commenced. It was even more evidently supernatural than the previous plagues, a powerful shower of hail intermixed with fire. The storm heavily damaged Egyptian orchards and crops, as well as people and livestock. The storm struck all of Egypt except for the Land of Goshen. Pharaoh asked Moses to remove this plague and promised to allow the Israelites to worship God in the desert, saying "This time I have sinned; God is righteous, I and my people are wicked." As a show of God's mastery over the world, the hail stopped as soon as Moses began praying to God. However, after the storm ceased, Pharaoh again "hardened his heart" and refused to keep his promise. Interestingly (and surely not coincidentally), given that that particular hailstorm was mingled with fire, in that rather dodgy Flash Gordon movie with the Queen music, one of the buttons pressed by Ming the Merciless when he assails Earth with mysterious catastrophes is clearly marked "hot hail" – a subtly blasphemous comment about the nature of God in a very unexpected place…? Thanks Count!!!