Author: Beach Combing | in : Modern , trackback
***Dedicated to Borky who has greater faith in coincidences than Beach***
Chesterton has that beautiful line that 'coincidences are spiritual puns'. Well, today's post is to celebrate a rare and seemingly unassailable coincidence in the life of this blogger: as to the 'pun' part any solutions gratefully accepted – drbeachcombing AT yahoo DOT com. Should I go into the worsted trade? Buy more hedgehogs? Write a play? (That last one is not going to happen).
As always in the summer Beach has been researching with great enthusiasm and this year his research has involved, particularly, delving through the records for Lancashire, the County Palatine, where people speak funny. His interests have centered particularly on one very talented man from a north-western town whose name Beach will not write here but who was Catholic, conservative and a teacher. Said young man – highlighted in the piece above – also had interests in folklore at a date and in a form that was not normal. He appears in the article above with a piece that he wrote: and any regular reader of this blog will immediately understand Beach's interest in this young man and anyone who knows modern universities and the perversities of Google will understand why Beach chooses not to actually write out his name. Anyway, Beach is obsessed with this individual and has spent many hours trying to chase him and his family down. Let's just say that he repays study: July has been good.
Beneath this advert there is a second advert for an Art Exhibit in the same town. One of the patrons was a certain Leonard Clement who was actually from a nearby town. Leonard was a fascinating man with excellent genes. He was a self-made semi-millionaire, who lived at Forest Villa on the edge of Nelson. He had a reputation as a radical liberal, but in later life he crossed the lines to support the Tories. He was as many northern liberals a non-conformist, actually a Congregationalist. Most interesting of all, he was a teacher. He had taught himself science and through a series of scholarships got a degree later in life. He, then, taught locally and on a voluntary basis, making his actual money in the worsted trade. After his death in 1902 all the Union Jacks in Nelson flew at half mast (unusually over both the Conservative and the Liberal club). However, his real legacy was not in local politics, but, according to the paper, among those he had endeavoured to teach. His family won scholarships and two girls went off to university at a date when this was not common. His kids also regularly partook in the joke column in the local paper and family tradition says that every Sunday Leonard and his sprogs used to walk up to Pendle Hill (of witch fame).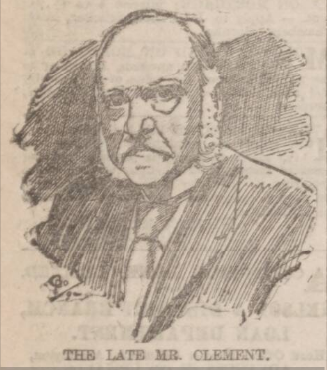 Beach says 'family tradition' because actually Leonard Clement is his great, great grandfather and some facts have been passed down. Now deep breath and furrowed brow. Isn't it remarkable that two individuals who matter so much (well, to this blogger) should appear within an inch of each other in a nineteenth-century newspaper? They lived in adjacent towns. They belonged to different religious and political traditions. But they were both characters. It was inevitable, Beach supposes, that they would both be mentioned a very great deal in the newspapers of the time (they were) and sooner or later their names would come together: as it happened they both belonged to one literary society and were presumably in the same room from time to time. Perhaps Beach had some strange disposition to study the land of his ancestors? If so it was subconscious because until he saw the name 'Clement' he'd forgotten that he was in 'that' region. Though by another coincidence Beach was actually born in said town, even if it is not where his parents then lived. Perhaps the coincidence in the end is not such a fish slap in the face, but hell it feels good.  
Here is another one with the name of the work written by the nameless young Catholic, conservative and Leonard again, this time dissolving things. We're two inches apart now. Sorry for the solipicism. Tomorrow back to true bizarre history.