Author: Beach Combing | in : Contemporary, Modern , trackback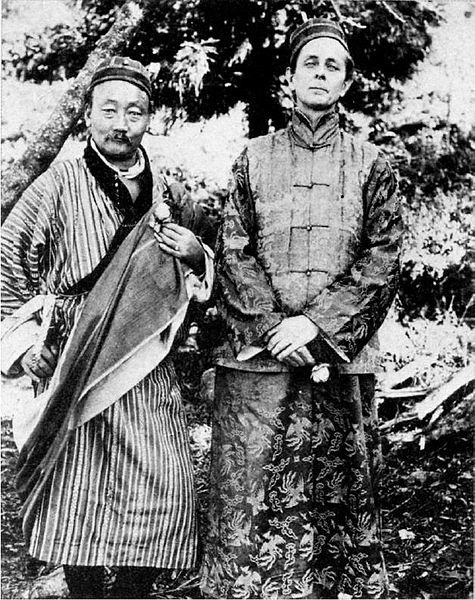 Walter Evans-Wentz (obit 1965) was an American mystic who wrote, as a young man, before his interests went eastwards, the most important twentieth-century book about fairies: The Fairy Faith in Celtic Countries, published at Oxford in 1911. That book, available in many places on the web, can be broken down into three parts. The first part is a collection of fairy experiences by men and women from Cornwall, Wales, Ireland, Brittany, Scotland and Man. The second part (actually interspersed through the first part) are essays on fairy belief in the Celtic lands by various renowned regional specialists. The third part is a delirious analysis of fairy belief and Wentz-Evans' claim that fairies actually exist: 'c'est magnifique mais c'est ne pas la science', as one critic memorably put it. Now most will disagree and some will agree with WY on fairies. But every single person in the room will admit that it is extraordinary that Wentz-Evans managed to publish his book with Oxford University Press! It still takes Beach's breath away. Evans-Wentz though had a talent for convincing people to do things against their better judgement. For example, the 'regional experts' he persuaded to get involved in his project were of the very first rank: Douglas Hyde, Alexander Carmichael, Sophia Morrison (for Man), John Rhys, Henry Jenner and Anatole Le Braz.
Beach wants to take the debate on Evans-Wentz and his fairy thesis a step forward. The Fairy Faith is not strictly speaking an original work. Evans-Wentz had already written a very similar piece for Oxford University, when he was examined by John Rhys and Andrew Lang for his degree.
During May 1910 the substance of this essay in its pan-Celtic form was submitted to the Board of the Faculty of Natural Science of Oxford University for the Research Degree of Bachelor of Science, which was duly granted.
It would be extremely interesting to see this earlier work, not least because Beach is desperate to know whether Evans-Wentz had the courage to push the fairies-at-the-bottom-of-the-garden thing all the way down the slope: perhaps, Andrew Lang was a believer. That phrase 'in its pan-Celtic form' might mean that Evans-Wentz restricted himself to his collection of memorates and saved his discussion of fairy realities for later?
In any case, Beach has been plotting to get his hands on the original thesis and so recently contacted the Bodleian. However, bad news followed his request. A member of the Bod's extremely professional staff responded, stressing though that he was writing in a private capacity. 

The modern, thesis-based degree of D.Phil. was inaugurated in 1917. Earlier doctorates would have been defended in front of a board of examiners so no thesis would have been deposited in 1910. A 'Bachelor of Science' degree, even so long ago, would not have constituted a doctorate. I have checked the thesis author card index of the Radcliffe Science Library, which holds theses submitted to the scientific Divisions, and there is no card for this author, nor for any so early.
And the news just keeps getting worse.
We do have some Evans-Wentz papers but there is no mention of a thesis. Here is the catalogue summary: Papers of W. Y. Evans-Wentz (d. 1965), used by Ken Winkler in Pilgrim of the clear light. The biography of Dr. Walter Y. Evans-Wentz (Berkeley, California, 1982). Bequeathed, with some Oriental manuscripts (now in the Department of Oriental Books) and artefacts (now on loan to the Ashmolean Museum) by Evans-Wentz, 1965. Many of the books and papers bequeathed were found to be so badly damaged by damp that they had to be destroyed. (MSS. Eng. misc. b. 393, c. 841-5; d. 1238-47, e. 1349-67, f. 799-832; Eng. lett. c. 577-8; Eng. poet. d. 232, e. 180-3, f. 40-1).
Screams.
In summary, then, Evans-Wentz's thesis was not collected in 1910 by Oxford: this was at a date when theses were not gathered in. A collection of Evans-Wentz material was given to Oxford at a later date, but it seems to reflect his later interests in Eastern mysticism (see silly picture above) and a good deal of this material was anyway done away with. Now the party may not be over as Stanford has a substantial Evans-Wentz collection, but we are guessing that the original thesis is not among those papers: though see 'Evans-Wentz's education'.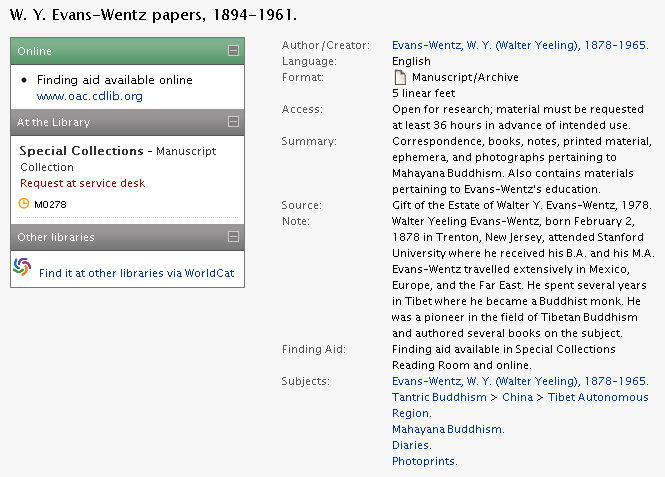 It is a very great pity. It should also be noted that prior to Oxford a very young Evans-Wentz studied at Rennes (with Brest the major university for Celtic studies in Brittany) and in 1909 'this study… was successfully presented to the Faculty of Letters of the University of Rennes, Brittany, for the Degree of Docteur-ès-Lettres. Since then I have reinvestigated the whole problem of the Celtic belief in Fairies, and have collected very much fresh material.'
Perhaps Rennes then? Please don't anyone hold their breath though.
Any help in finding the missing thesis or any knowledge of its destruction? drbeachcombing AT yahoo DOT com
Beach also wants to  nod to Carl Phillips, A 'mystic message to the world': Henry Jenner, W. Y. Evans-Wentz and the fairy-faith in 'Celtic' Cornwall' Cornish Studies 19 (2011). This is the only scientific study of Evans-Wentz and fairies we've been able to find and is well worth reading for understanding WY's modus operandi.