Author: Beach Combing | in : Contemporary , trackback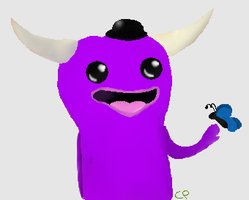 This little passage appears in Harry Speight, Chronicles and stories of old Bingley. A full account of the history, antiquities, natural productions, scenery, customs and folklore of the ancient town and parish of Bingley, in the West Riding of Yorkshire (London: Elliot Stock 1898), 268. It is typical of those extracts in general books that deal with the superstitious very quickly and then move on. However, you can't help but thinking that Speight did have a real interest but that he thought that it would be bad form to, shall we say, linger.
Barguest, guytrash, and such hob-goblins were once pretty common in the district, and certain shady dells and lonely places were their well-known haunts. I have heard stories of clanging chains, hair-breadth escapes, &c., which are too long to detail here. His Satanic Majesty, spitting blue-fire, also once appeared on Wilsden Hill; the strange circumstances being fully related in the Wilsden Almanac for 1890. Many persons bolted for very life, but learnt afterwards it was a huge joke. In the Town's Book at Yeadon, it is worth noting, there are entries of sums paid for 'boggard-catching' They appear to have been so troublesome in that locality as to have rendered necessary a call upon the public purse for their suppression.
First, the surprise visit of his Satanic Majesty on Wilsden Hill, sounds extraordinary. What was the joke? And how did the fakers carry out their deception? If anyone happens to have a Wilsden Almanac run going back into the late nineteenth century call us. Far more important, at least for this blogger, is the extraordinary reference to boggart catching: boggard is the West Riding spelling of what was essentially a dialect word by 1898; boggart was a Lancashire word for their solitary fairies. Now actually boggart catching is not that strange or surprising. There are several references in the literature to this strange sport: did they use butterfly nets? Boggart catching seems to have been an athletic version of boggart laying: getting rid of the little bastards.
But more interesting and more strange and, well, more worrying is the fact that this particular case boggart catching was subsidized by the tax payer. Is this possible? The Yeadon year book is probably in the West Yorkshire Archives at Leeds, at least it should be. Can anyone get the relevant extract: drbeachcombing AT yahoo DOT com. Or failing a visit to the Dresden of the north, Leeds is a wonderful city, does anyone have any idea about what might have led to this misunderstanding? Or did Yeadon city council really bring out some boggart hunters and give them sovereigns from the public purse?
7 Sept 2013: The Count is on fire: Just a quick note to say that, although ancient copies of the Wilsden Almanac seem to be in very short supply, I did find a reference to a certain local wit being responsible for the 1890 manifestation of the Devil on Wilsden Hill, and much else besides. Sadly the full details are not given, but there is some indication of how he went about similar pranks. Anyway, here's your link – scroll down to Francis Butterfield.' Then Leeds Archive doing, as always, sterling service to the community: Unfortunately, I have yet to find a reference to 'Yeadon's Town book' amongst our holdings. The most likely collections in which to find this item would be the in the District Council records or the parish church collection. As council records for Yeadon came in as part of Aireborough District Council records please find attached the catalogue of Aireborough UDC records to give you an idea of the records we might hold. Until 1844, Yeadon was part of the parish of Guisley, and some of the earlier township records can be found in this collection. Please find attached the catalogue for this collection (reference BDP29). As you will see, though neither catalogue specifically includes reference to the town book, some of the other records might be of interest. Did Harry Speight include any other references to the Town Book at all? Or possibly a date range?  This might help narrow down number of collections of possible use.  Thanks to the Count and Leeds Archive!