Author: Beach Combing | in : Modern , trackback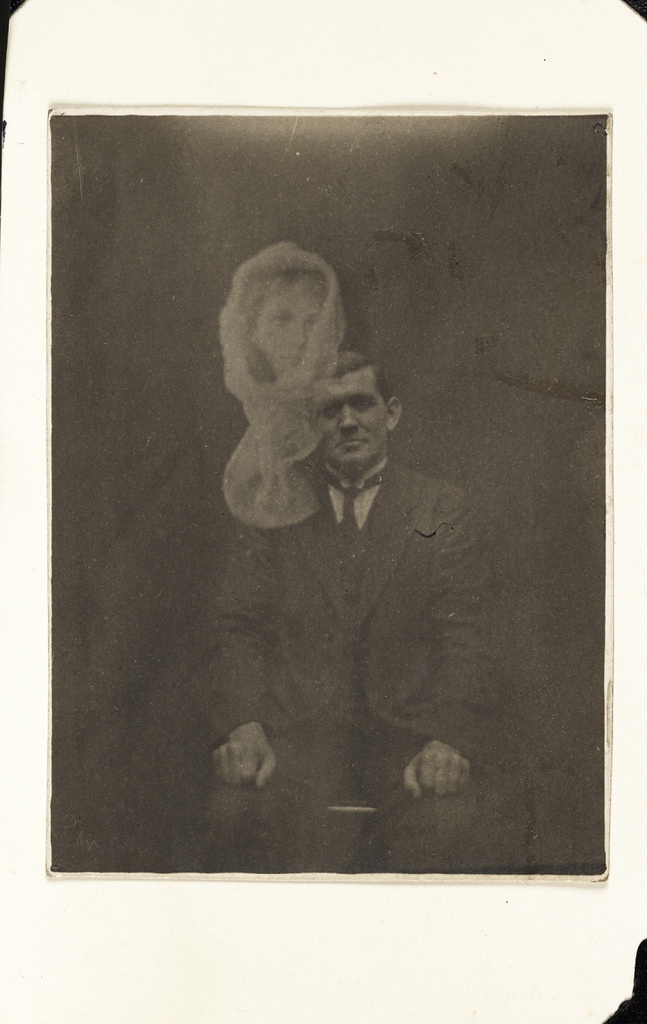 Beach has been enjoying, thanks to the Count (a longstanding friend of this blog), some fabulous spirit pictures, from the golden age of spiritualist shysterism. These were spirit sittings where men and women were photographed and spirits were invited into their presence. The spirits were then, if we are to believe the skeptics, as in this instance we certainly must, introduced into the picture by various acts of photographic tom-foolery. This much is uncontroversial. What is really interesting is, instead, the relations that the spirit photographers tried to suggest between ghost and living. Take, for example, a personal favourite of Beach's. Here we have a man with his first wife and his second wife. Presumably the spirit photographer had learnt that relations were less good with his second wife and reflected this in the snaps that were handed back!
There is also evidence of 'loveliness' in the pictures. The desire to show the universal cuddling that spiritualists were, for ever, cracking their toes about. The spirits often stand over those still living in this world.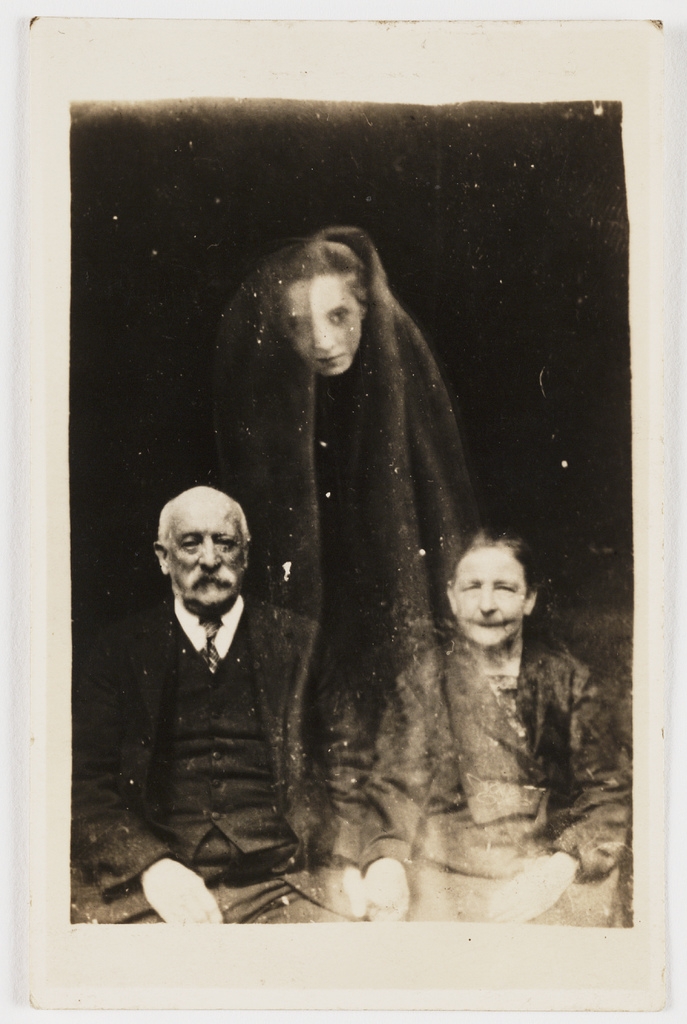 In other cases though they seem to elide with the living in caressing postures that no physical person could enjoy.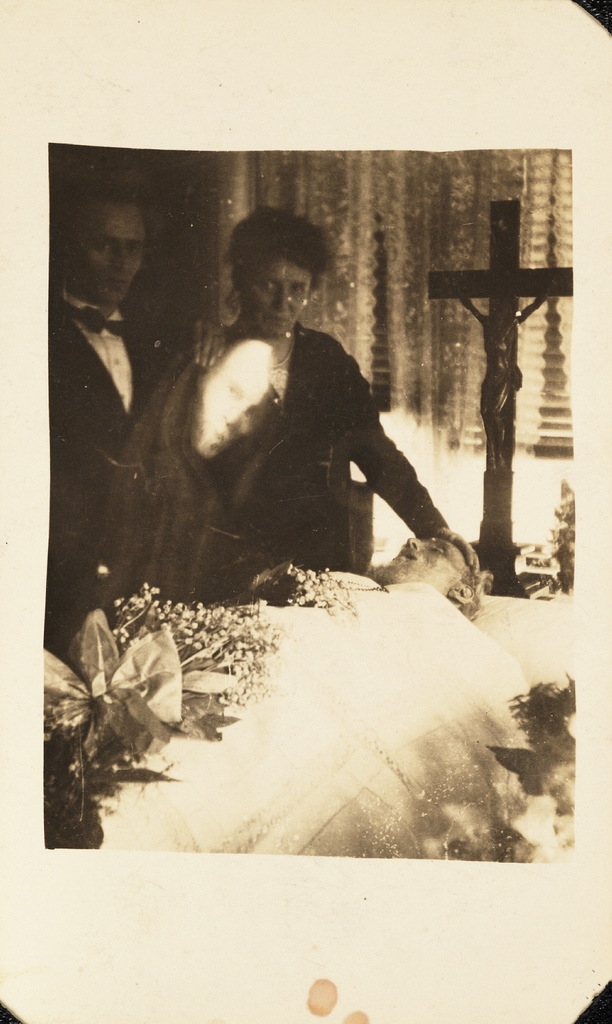 Or what about this one which shows the spirit and the sitter in an almost cat like pose, rubbing up against each other?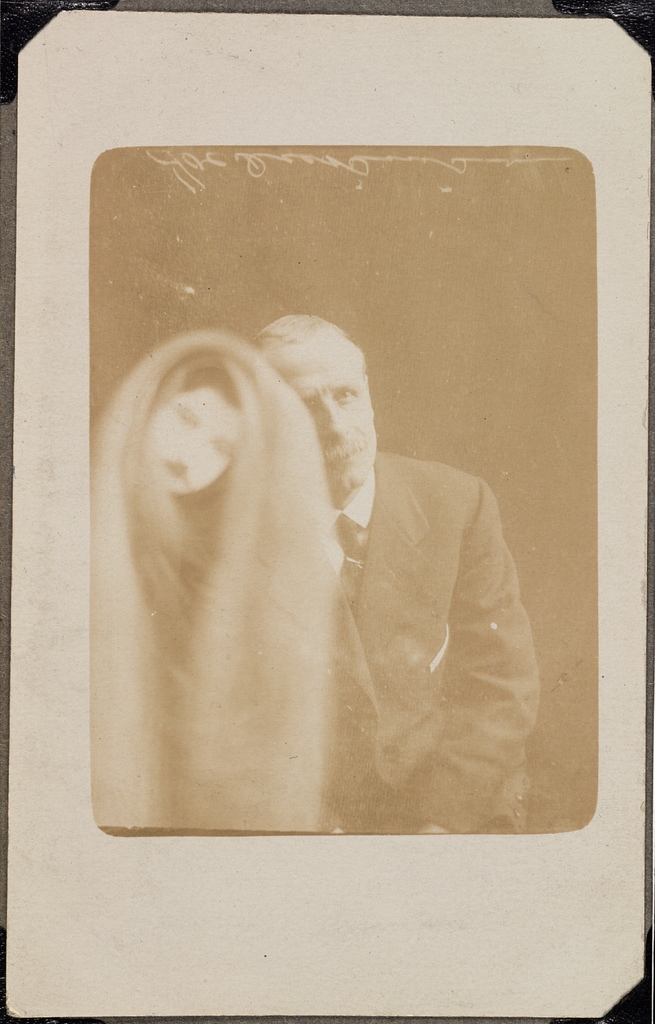 How did the fakers do it? A couple of problems here. Presumably they could either paint faces onto negatives or they could try double exposure: some seem to be painted, others look surprisingly photographic? A further problem is that the spirits in question were supposed to be known people. So how did the spirit photographers gull Granny Smith, say, into believing that that blob of white was really Granddad Smith? Were the victims asked to bring a photograph or picture in to help with contact, were they told to describe Granddad Smith through a cold reading: 'I see a man with a moustache, no a beard…' In other cases the image is very exact. Did they even have access to photographs? Take these final two examples. The first gets around the whole, what-do-they-look-like problem by representing the spirit as flashes, surely the most sensible strategy and similar to the modern penchant for seeing fairies in blobs of light. The second one has a very exact image of an African-American? She is described as 'his helper', so perhaps she was a spirit guide? Of course, in that case the more exact the picture the better.
A final thought did the spiritualist photographer actually claim to see the spirits: 'he's touching you now!' Or was everything much more low key: 'we'll take the photograph and hope that Uncle will stray into the frame, in any case that'll be 99.99 dollars, please: drbeachcombing AT yahoo DOT com. Beach owes it to the dead to note that most of the people who were gulled in this way were mourning loved ones: to us these are bizarre artifacts from another age, in 1890 they represented a 'welcome' imposition by conmen and women without scruples.
23 Sept 2013: Chris from Haunted Ohio Books writes in with these 19 cent articles. I've had no time to read this but trusting Chris I'm putting this up blind before I catch my bus so others have more to go on. 'The spirit photographs I find most interesting [writes Chris] are the ones where supposedly the deceased had never had a photograph taken in life. e.g. 'SPIRIT OF DEAD MAN SEEN IN PHOTOGRAPH LIKENESS OF MARVIN ANDREWS RECOGNIZED BY FORMER RICHLAND MAN IN LIFE HE HAD NO PORTRAIT William H. Andrews of Washington Says Brother Killed on Dewey Farm in Richland Township in 1857 Is Original of Picture—Who Recognizes It? Did you ever see a photograph of a spirit? Scores of readers of this issue of The Gazette will be in a position to either affirm or deny the statement of W.H. Andrews, a former Richland man, that the photograph reproduced herewith contains a faithful likeness of his brother, Marvin Andrews, who was killed by felling a tree upon himself during the year 1857, at the Dewey farm near Richland. The original photograph is to be soon in this office. It was taken on November 12, 1905, in the studio of W.M. Kealer, 1343 Euclid Street, Washington, D.C., and was posed by W.H. Andrews. About him on the photograph appear grouped the portraits of a number of men, whom he and his cousin, H.H. Andrews, identify as the likenesses of the brother, father, and three uncles of the former. More curious still, Marvin Andrews never had a photograph taken and his father had none taken since 1881, while the likeness was that of at least 20 years later, when he son last saw him. Letter by W.H. Andrews. Following I the letter by which Kalamazoo friends first learned of the strange picture which has set the whole press of Washington talking: Dear Sir: I enclose a copy of an article entitled "Camera Gets Spirits," originally published in the Washington post. My brother, Marvin, was accidentally killed by falling a tree on himself, in 1857, on the Travis, now Dewey farm, in Richland Township. I have a brother and sister living who know that Marvin never had his picture taken, viz.: L.D. Andrews, 179 North Broadway, Leavenworth, Kan., and Mrs. Nelson Reed, R.F.D. No. 2, Pomonoa, Franklin County, Kansas. Marvin's picture has also been recognized by two schoolmates, who might not desire their names published. Should any one desire to see the picture I will send it for inspection. That heaven is around us and that there is no death is worth knowing and some preachers begin to have courage enough to proclaim it. W.H. ANDREWS Kenilworth, D.C. In response to a further inquiry, Mr. Andrews wrote The Gazette: "The Kirklands, Gilkeys, Littles, Peaks, Chandlers, and Wards of Richland should be able to recognize Marvin's picture and father's too. William Hoyt of Richland showed a copy of the picture to his brother Frank Hoyt of Plainwell and sister Lucy Beers of Springbrook and he informed me that they called it a natural picture of Marion [sic] and father. The large face above my head is father and next to my shoulder below him is Marion I believe. These are said to be father's brothers. Four I do not know. It is not generally known that spirit photography has been established by scientific men, but such is a fact. Kindly let me know if any others of the old neighbors recognize Marion should you give them the opportunity." Following is the statement and series of affidavits that appeared in the Washington Post: Spirits gather before the camera of a Washington photographer. William H. Andrews and Joseph L. Williams, his cousin have made affidavits to this effect. Taking a solemn oath before a notary public, Andrews avowed his confidence in the camera of W.M. Keeler of 1343 Euclid street. "I never saw the photographer until a few months ago, and he never asked me to make this affidavit, but he has certainly taken the pictures of my dead father and brother and other relatives. My brother had never had a picture taken, and I know that he could not have copied the pictures. My father had none taken since 1831. The one of my father was just as he looked in 1861 (?) when I saw him in Kansas, just before he died. Andrews lived at Kenilworth, D.C. Williams his cousin lives at Allen, Ohio. After seeing the group pictures of his dead relatives, he sent it to Williams and other relatives, and depositions were given by them to the effect that the resemblances were indisputable. The affidavits of the two men follow: Mr. Andrews' Statement. "District of Columbia. On the 16th day of February, A.D. 1906, personally appeared before me, a notary public in and for the District aforesaid, William H. Andrews, aged fifty-three years, who being by me duly sworn, deposes and says as follows: "November 12, 1905, I went to W.M. Keeler, 1342 Euclid street, Washington, D.C. and had a sitting for alleged spirit pictures, having little faith in the truth of the phenomenon. In a few days two pictures of myself, with groups of faces thereon, arrived by mail, on one of which I instantly recognized an accurate picture of my father, Charles Andrews, as he appeared at eighty-five years of age when I last saw him, the spring of 1901, at Concordia, Kans., November 4, 1901, and had no pictures taken since about 1881. "I was quite confident I recognized the faces of two uncles, William and Herman Andrews, whom I had seen many years before, and I guessed one to be that of my brother Marvin because of his resemblance to mother. "He was accidentally killed when he was four and a half years old, and my parents informed me that he never had his picture taken. "I had several pictures taken from the one above described and sent them to persons who recognized father's picture. I submit statements from two, Joseph L. Williams and H.H. Andrews. I showed father's picture that was taken about 1881, to twenty persons, nineteen of whom, unaided, selected at once his spirit picture. "On one of the pictures I recognized my first wife, unlike any picture she had ever had taken. "I had never seen said photographer prior to November 12, 1905. "William H. Andrews "Sworn to and subscribed before me this 14th day of February, 1906, and I verify that the affiant is well known to me as a respectable and creditable person. (Seal) Edwin D. Tracy 'Notary Public." H.H. Andrews' Letter. "W.H. Andrews, Washington. "Dear Cousin: This photo of yours with the spirit faces (I don't know any other name to call them) grouped about and some of which I certainly recognize, is a poser. Among the faces I recognize are Uncle Chas. Andrews, your brother, Marvin—just as I last saw him; Uncle Josiah Andrews, Uncle William Andrews and I think Uncle Herman Andrews. "H.H. Andrews "Wichita, Kansas" Affidavit of J.L. Williams. "State of Ohio, Huron County "On this 13th day of February A.D. 1906, personally appeared before me, a notary public, within and for said county and State, Joseph L. Williams, aged sixty-three years, a resident of Reed township, Seneca county, Ohio, and his post office address is Attica, Ohio, whom I certify to be respectable and entitled to credit, and who, being by me first duly sworn, deposes and says as follows: "I received a picture recently from Washington, D.C., believed to be from my cousin W.H. Andrews wherein I recognized the face of Chas. Andrews and his son, Marvin Andrews, unlike any picture I ever saw, and I never before saw a picture of Marvin Andres "And further deponent sayeth not. "Joseph L. Williams "Subscribed and sworn to before me this 13th day of February. "(Seal) C.A. Will or Wilt "Notary Public." Kalamazoo [MI] Gazette 14 July 1907: p. 12  THE ORIGIN OF SOME "GHOST"  PICTURES. The American Journal of Photography says :— It is no uncommon experience to find upon new plates certain images for which there seems no possible explanation, their startling and unaccountable appearance being " wrapt in mystery," causing astonishment not unmixed with uncanny feeling. A gentleman made an exposure upon the interior of a friend's house; he was doubtful of the time, and proceeded to develop for under-exposure; to his great surprise the plate developed quickly, and to his greater surprise the image was an interior quite different from that upon which he had exposed. The plate was from a fresh box and could not possibly have had a previous exposure. Another instance of the kind, having quite a sensational and tragic ending, is on record. An exposure was made upon a view having a river in the foreground. The photographer, while developing this peculiar plate, was perfectly astounded by an appearance which he had not seen while taking the photograph, and for which he could in no way account. On completing the development there was plainly revealed, in the foreground of the picture, the figure of a woman, apparently floating upright in the water. Not many weeks after, to complete the mystery, the body of a woman was found in the river at the exact spot where the photograph had been taken. Again, not long since, the daily papers were agitated over the account of a travelling photographer, who, upon making an exposure upon the exterior of a reputed haunted house, discovered at one of the windows a portrait of the murdered man through whom the house had gained its evil name. In another case three distinct images, having no connection one with the other, were impressed upon a single film. The plate was exposed upon a garden in the evening—nothing remarkable being seen—but when placed in the developer a man's hat of old-fashioned shape, a child's dress, and a dog were distributed over the image of the garden. Such mysterious images were more common in the clays of wet plates than now. A few years back Professor Burton investigated the matter. Upon tracing back the history of the glass he found that it had been used for other films, and that the images which appeared undoubtedly arose from the remains of previous images. The old glass was thus proved to be the source of the ghosts; it only deepened the scientific mystery, while it cleared away the supernatural. The glass traced by Burton had been washed for some weeks, immersed in strong nitric acid, and every means taken to ensure chemical cleanliness, yet, in spite of all this, enough energy remained latent to form a developable image upon the new film, whether by chemical or physical force remains to be discovered. A complete solution of the difficulty would probably throw considerable light upon the nature of photographical images in general; at least, it seems to indicate that light is not absolutely essential in the formation of latent images in a sensitive film. Borderland Vol. 4 1897 p. 267 Spirit Photography: How Some Old Magazine Pictures Were Reproduced.—The apparent mystery in the spirit photography business is one that has been puzzling a good many people in this and other cities. Ardent spiritualists believe in the matter firmly, while sceptics think the matter is a humbug. The only laboratory where these photographs are turned out in the city is Miss Hedley's gallery, in State-street. Two ladies were desirous of ascertaining the truth of the matter. They both sat for a picture, which, when finished, showed a spiritalongside of each. In the first photograph the spirit was that of a young lady on a balcony with her hand to her face, her hair and costume being in the style and fashion of thirty years ago. The other photograph showed the spirit of a woman dressed in the costume of about the same period, her hair done in ringlets, banded on the top near the temple with strings of pearls. In her hand is a flower intending to represent a rose. The pictures of the ladies themselves are clear and sharply defined, while those of the intruders are hazy, but with the outlines clearly defined. When the pictures were finished the ladies took them home, and on examining them closely concluded they had seen the spirits partly somewhere before, and on turning over the leaves of some old lady's magazines they had at the house ran across the engravings of the originals. The first one is taken from au engraving representing Nourmahal, and the second is from an engraving by T. Fleming, intending to represent The Last Rose of Summer. On comparing the photographs with the engravings there can be no doubt on the subject, and this discovery has punctured the humbug—at least so far as Miss Hedley is concerned. Yesterday afternoon the photographs and pictures came into the possession of a representative of this paper, and, in order to ascertain how the negative was worked to have one picture very sharply defined and the other so hazy as to be nearly indistinguishable, he visited the gallery of a leading photographer in State-street, who showed him in a practical manner the modus operandi. A negative is first taken of the engraving. When the sitter comes for a picture the negative is turned the other side, the collodion put on, and the glass put in. the camera. In this manner theportrait of the sitter is on one side of the glass, and what is intended for the spirit on the other. When the negative comes to be printed the paper is placed against the side of the glass having the portrait of the sitter, and exposed to the light. The spirit being on the other side of the glass has to strike through it, which gives it the hazy appearance, while the portrait, being on the side next the light, comes out clearly defined. Anyone who is desirous of doing so can test this for himself, and the illustration shown by the photographer explained the matter fully to the eyes of the inquiring newspaper man. The more artistic a photographer is of course the more unearthly he can make the work, and the gentleman in question said he could produce a picture of the most ghastly description.— Rochester Union. The British Journal of Photography No. 1010 Vol. XXVI Sept. 12, 1879, pp 429-430' Thanks Chris!
1 Oct 2013: the Count writes in, 'Regarding "spirit photos", William Hope [author of these photos] still has followers who consider these ludicrous photos to be genuine! On one such website, I found, posted as proof that he couldn't have faked them, a description of his method. Hope would ask the sitter to provide the plates, and also to sign them (signatures can be seen on some of the photos you posted). He would also allow the sitter to look inside his camera and observe that nothing suspicious was within. Obviously you have to be very, very ignorant of photography (as most people were back then) not to see the flaw here! After exposure, the plate was removed to be developed later. There was exactly nothing preventing Hope from exposing it again. The giveaway is that in every single one of these photos, the "spirit" is superimposed on the sitter, not the other way round. Later in his career, he adopted the slightly less blatant method of substituting plates with the spirit manifestations already on them for the ones brought by the client. This allowed him to position the spirit behind the sitter, making it look as if it was hovering protectively rather than shoving itself rudely into the foreground. Towards the end of his life (he died in 1933), he was caught out by Harry Price, who had secretly marked the plates that were supposed to be used. No elaborate methods were used – every single one was a just simple double exposure. Those that look like paintings were presumably photos of paintings, perhaps miniatures in lockets (some of those spirit heads are weirdly small compared to the sitter). Hope would very probably have had access to photos or paintings of the departed relatives of a great many of his sitters because servants were poorly paid and frequently had no love at all for their employers, thus bribing them was very easy, and lots of fraudulent mediums used to obtain information about their clients in this way. If hope just borrowed a portrait miniature or photo-album for an hour or two, nobody would ever know they'd been taken. Notice how much more vague white stuff there tends to be around the heads that look like paintings? If there were a dozen snaps of Uncle Ebenezer, he could just take one and cut it up. But a locket or painting he would have had to place straight onto the plate with the edges very well hidden. Sir Arthur Conan Doyle naturally believed these photos were genuine, and wrote a book about it in 1925 whoch you probably won't want for your collection because it's a wee bit expensive! See also William H. Mumler, whose spirit photos weren't anywhere near as good as Hope's, but who invented the whole thing shortly after 1860, and took a very famous (or notorious, depending on whether or not you're incredibly gullible) photo of Abraham Lincoln's ghost comforting his widow.' Thanks to the Count!!