Author: Beach Combing | in : Modern , trackback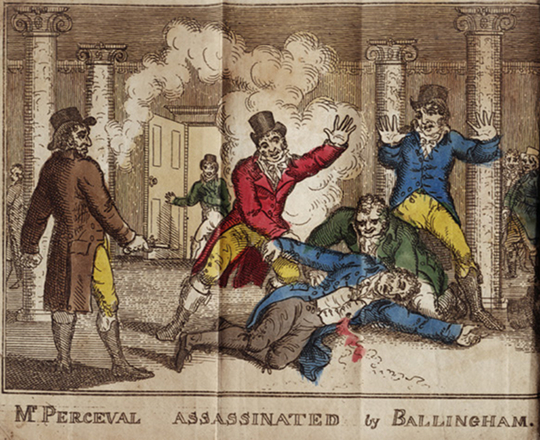 Any study of the psychic dream that supposedly/allegedly accompanied the death of Spencer Percival in 1812 needs some background: most studies get straight to the dream and skip over the whos and whats of the assassination, which have some intriguing aspects in themselves. Spencer Perceval (1762-1812) was a Tory statesman who had served as Chancellor of the Exchequer 1807-1809. He then continued as Chancellor, while becoming 'first among equals', i.e. British Prime Minister in 1809, a position he held until his murder in 1812. SP is remembered today as 'the one that was assassinated', the only British premier to hold that dubious distinction: though Margaret Thatcher and John Major came close to joining him.
When important people are killed in the modern period they are usually murdered either by the insane or by terrorists. However, SP stands out here too. His assassin was John Bellingham, an East Anglian. JB was neither insane (though his defence tried to make that case), nor was he a terrorist. He was rather a pissed off constituent.  JB had been arrested in Russia and felt that the British government had failed to assist him during several disastrous years in the Tsar's penal system. More seriously, His Majesty's Government refused to pay him compensation when he returned to Britain. There is no question that Bellingham's blood pressure had been steadily growing through these difficult years. His blood vessels metaphorically broke, however, when a civil servant (at the foreign office) told him that there was nothing to be done and that he was free to take whatever private measures he might choose. Woops!
JB bought some pistols and 11 May he walked into parliament and shot PB. There was a good deal of pre-meditation: he had stalked Perceval to make sure he shot the right man and had brought a pistol into Parliament in a secret pocket. After watching the Prime Minister sink to the ground he then sat quietly down and awaited his arrest. He did not struggle and denied nothing in the interrogations that followed. His only anxiety was to make sure that his motives were fully understood: he was given an opportunity to do just this in the court case that led to his execution. The following from the Old Bailey records.
Finding myself thus bereft of all hopes of redress, my affairs ruined by my long imprisonment in Russia through the fault of the British minister, my property all dispersed for want of my own attention, my family driven into tribulation and want, my wife and child claiming support, which I was unable to give them, myself involved in difficulties, and pressed on all sides by claims I could not answer; and that justice refused to me which is the duty of government to give, not as a matter of favour, but of right; and Mr Perceval obstinately refusing to sanction my claims in Parliament; and I trust this fatal catastrophe will be warning to other ministers. If they had listened to my case this court would not have been engaged in this case, but Mr. Perceval obstinately refusing to sanction my claim in Parliament I was driven to despair, and under these agonizing feelings I was impelled to that desperate alternative which I unfortunately adopted.
There was an outpouring of sympathy for Perceval, naturally enough, among the political class and the established middle classes. But there was also – reading between the lines of contemporary reports – a good deal of sympathy for Bellingham among the little shop-keepers and the working classes. The proof of this is that a fund put together to compensate Bellingham's family was oversubscribed and his wife and children were very well provided for after HB had been left to dangle. Bellingham became 'the citizen' frustrated by an uncaring system: which is all very well save that in Perceval, an idealist, an anti-slaver, an effective partisan against Napoleon and an evangelist, he had shot the wrong man. But who cares? The public wants symbols not facts.
A couple of asides. First, there is a 'conspiracy theory' about Perceval's death claiming that he was the patsy of some secretive merchant cabal in London: Andro Linklater's Why Spencer Perceval had to Die (not read) carries this unlikely baton. (Warning no lizards.) There has also been some chaffing through the generations. An ancestor of Bellingham, Henry Bellingham, now sits in parliament on the Tory benches. In 1997 HB briefly lost his Norfolk seat to Labour when a Roger Percival [sic] standing for the Referendum Party split the right-wing vote. Percival was an ancestor of the murdered Prime Minister and could reasonably have walked away from the count muttering 'revenge, revenge is ours…'