Author: Beach Combing | in : Actualite , trackback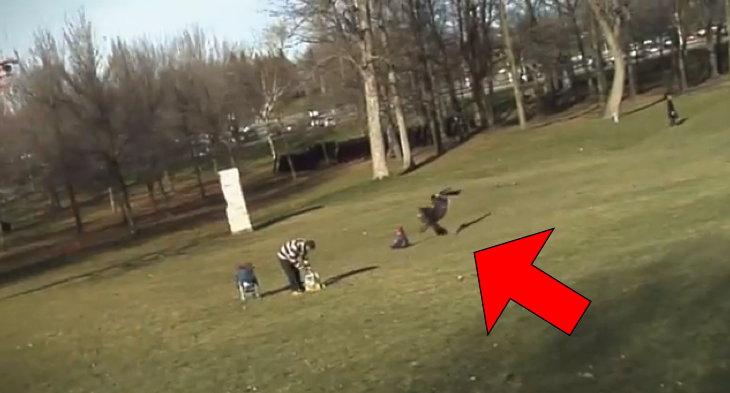 A couple of years Beach wrote a blog on birds of prey 'stealing' babies: the following post serves as an update of a subject that greatly interests both this blogger and those who arrive here by google. Since the original post two important events have taken place. First, a video was put up December 2012 showing a Golden Eagle swoop down and pick up a child in a Montreal Park. It is an extraordinary production, only, of course, it is a fake.
Here's the basic version.
And here is a debriefing.
The 'Golden Eagle Snatches Kid'" video, uploaded to YouTube on the evening of December 18, was made by Normand Archambault, Loïc Mireault and Félix Marquis-Poulin, students at Centre NAD, in the production simulation workshop class of the Bachelors degree in 3D Animation and Digital Design. The video shows a royal eagle snatching a young kid while he plays under the watch of his dad. The eagle then drops the kid a few feet away. Both the eagle and the kid were created in 3D animation and integrated into the film afterwards.
For more check out snopes.
The kids did good: it is a beautiful production and the fact that even now Strange History gets emails saying 'aha, eagles can take children' with the link is a reminder of how effectively the video was made and perhaps more importantly what primal fears it taps into. Why do we have such an ingrained fear of birds of prey? Some peculiar ancestral memory of bigger fauna? Drbeachcombing AT yahoo DOT com Beach has been attacked twice by birds: by a magpie (!); and by an owl. it is scary.
The second video – really a photo stream – shows a deer being attacked by an eagle. It is traumatic and it is certainly not fake: so be warned, not something to watch with strawberry jam on your fingers.
What comes out of these? Well, two points. First, there is absolutely no question that large bird of prey can attack relatively large creatures on the ground: in size terms a child is at the top end of the victim bracket, it is worth stressing again though that this is rare behaviour. If you ever read a report saying that a four-year-old has been killed by, say, an eagle, there is no reason to disbelieve: though given just how rare this behaviour is suspicion would not be out of place. Second, the physics of a child being picked up and carried away are just the same as when Beach left them a couple of years ago.  A flying eagle can lift 6 and possibly 8 pounds if it is strong and fast. But that rules out all children but newborns: average weight at birth is between seven and eight pounds. Even a month old baby would probably be too heavy for the bird with the claws. Summarised if you are the most irresponsible parent in the hemisphere and you leave a six month old to its own devices in a field near an eerie it is conceivable that a bird might kill the child, but no bird would be capable of taking its victim up to its nest.
Andy the Mad Monk, a very old friend of the blog, 14 Jul 2016 writes in with this remarkable video (or set of photos)