Author: Beach Combing | in : Modern , trackback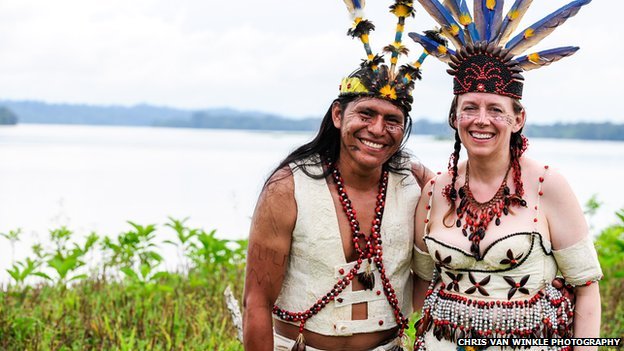 This unusual story dates to the reign of Charles II, the son of the unhappiest monarch in the pantheon, Charles I. Beach has decided to include it for two reasons. First, because it reminds him of some of those shamanistic individuals who he has sometimes celebrated as fairy witches; and second because there is almost nothing on the net or in his books about poor Elizabeth and that just won't do.
We have a relation of one Elizabeth Freeman, aged about twenty-one years, living at Bishops Hatfield, in the county of Hertford, taken before Sir Joseph Jorden, Knt, and Richard Lee, D. D. and Rector of Hatfield. The substance of the  account which she gave is as followeth. That, on  Monday night, being January the twenty-fourth,  she sitting by her mother's fire-side, between  five and six o'clock in the evening, with a child  in her lap, she heard a voice behind her, which  mildly said, 'Sweet heart'. Whereupon she,  turning her face back, saw an appearance of a  woman, as she conceived, all in white, covered  with a white veil, so that she saw no face; but a  very white hand was laid on the back of her chair,  and said to her, 'The fifteenth day of May it is  appointed for the Royal blood to be poisoned;'  and further said, 'Be not afraid, for I am sent to  tell thee;' and so vanished.  On Tuesday, January twenty-fifth, about the hour of five or six at night, she, going to her mother's house, coming near her door, the same apparition appeared to her again in white as before, and said, 'Do you remember what I said?' And she answered, 'Yes.' And she further said 'In the name of the Father, the Son, and the Holy Ghost, What art thou?' And immediately it appeared in a very glorious shape; and, with a more harsh voice, said, 'Tell King Charles, from me, and bid him not remove his Parliament, and stand to his Council;' and said, 'Do as I bid you.' To which she answered, 'Yes;' and so it vanished.

'On January twenty-sixth, between the hours of five and six in the evening, she sitting by the  fire, and her mother sitting by her, the same apparition came again to her, whereas she could  not speak; and her mother, perceiving her to be troubled, and fixing her eyes, said, 'Daughter,  seest thou anything?' And she, not able to speak, nodded with her head and hand; whereat her  mother said, 'Shall I go out?' And thereupon, she being enabled to speak, the apparition nodded  to her; she said 'Yes;' whereat her mother  going out, the apparition said, 'Do your message.' And she answered, 'I will, so soon as God shall enable me;' and it said, 'Be not  afraid;' and so vanished. 'The apparition appeared to the maid on Thursday in the evening, between the hours of five and six, she being at a neighbour's house, but said nothing to her.
Now if this had been the twentieth century then Elizabeth would have ended up in a mental asylum, possibly with electrodes on her head. In the twenty-first century she would have got a contract to appear on acelebrity desert island we-live-in the jungle show. As it was in the seventeenth century she was put on the next bus to London.
On the ninth of February, the Hatfield maid,  accompanied by Sir Joseph Jorden, Dr. Lee,  and Mr. Wilkinson (who were, at taking her  first examination in the country), and her  mother, and several other friends, attended the  King and Council; where his Majesty was  pleased to ask her several questions, as also to  hear her relation patiently; after which, he was  pleased to bid her 'Go home, and to serve God,  and she should see no move such visions' or to  that effect; and so she was dismissed.
Charles II comes out of this story quite well and the face we hear nothing more of Elizabeth suggests that she took her monarch's advice: drbeachcombing AT yahoo DOT com
17 August 2014: Abrams kindly writes in with the original source here. News from Bishop Hatsfield in Hertfordshire. First she gives an account, that on Monday at night, being January the twenty fourth, 1680, she sitting by her Mothers fireside, between five and six of the Clock in the Evening, with a Child in her lap, she heard a voice behind her, which mildly said, sweet-heart: whereupon she turning her face about, saw an appearance of a woman, as she conceived, all in white, covered with a white vale, so that she saw no face, but a very white hand, was laid on the back of her chair, the apparition further said to her. The fifteenth day of May it is appointed for the Royal Blood to be poisoned , and said likewise, be not afraid, I am sent to tell thee, and so vanished. Secondly, that on Tuesday, January the twenty fifth, 1680, between five and six and night, coming to her Mothers from a friendshouse, being within four or five pole of the door, the apparition appeared to her again in white and vailed, as before and said do you remember what I said? And she answered yes. And that young woman woman she further said, in the name of the father, the son and the holy ghost, what art thou? And immediately it appeaered in a very glorious shape, and with a more harsh voice, said, Tell King Charles from me and bid him not remove his parliament, and stand to his council, and said likewise, do as I bid you, to which the young woman answered yes and so the apparition vanished. Thirdly, on Wednesday, January the twentyeith sixth 1680 between the said hours of five and six in the evening she sitting by the fire, and her Mother sitting with her, the said Apparition came again to her at the sight whereof she could not spake, and her Mother perceiving her to be troubled, said to her Daughter, seest thou anything? The daughter not able to speake, noded with her head, whereat her mother said shall I goe out?  and thereupon her Daughter being inabled to speak, ( the apparition nodding to her) said yes upon which her mother going out, the Apparition said do the message. She answered, I will, so soon as God shall inable me and it said be not afraid, continued the Apparition, and so vanished, and she cryed Mother, Mother and then her Mother and some other friends came in. Fourthly, the said apparition appeared to the said Maid on Thursday in the evening, between the aforesaid hours of five and six; she being at a Neighbours house, but said nothing to her. This was tkane from the Maids own mouth by me. Richard Wilkinson (Printed 1681) The original is linked if anyone wants to check the original in two gifs: