Author: Beach Combing | in : Modern , trackback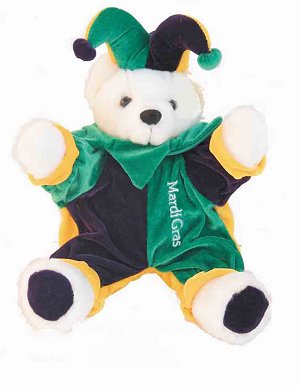 The relevant Wikipedia page dates the first recorded Mardi Gras to 1835. However, there was certainly a small Mardi Gras held a long century before. Indeed, possibly our earliest Mardi Gras description from the city was written out in 1730. In that year a Company of the Indies official Marc-Antoine Caillot, who had been in the city for less than a year, decided that he was bored. New Orleans was in much tension after the murderous rising of the Natchez Indians in the season before and it was in part as a relief from this tension that Caillot decided to insist with this friends in the office that they should dress up. At first his friends expressed no interest, in fact, they stoutly resisted claiming there were no costumes available. But Caillot was not to be dissuaded. He made up as a woman, an Amazon, in fact, and he gradually convinced his office mates to join him in a Mardi Gras march (from what is today Jackson Square) to Bayou Saint Jean, an inland settlement.
The ten dolled themselves and masked themselves, even finding a master of festivals. They then enlisted a group of French soldiers for music and some local slaves to carry torches through the dark: not sure if 'enlisted' the right word in that case. However, the first Mardi Gras in history almost came to an end half way down the route: and the modern procession should really introduce some ritual memory of this. On the wilderness road to Bayou Saint Jean and the wedding feast there, the party ran into four absolutely enormous bears, gambolling around. Apparently only the torches of the accompanying slaves scared these monsters away and left the party full of anxious laughter.
The Mardi Grassers then reached the wedding with no more molestation, being played in by the soldiers and the wedding party were much amused in trying to understand what mask hid which individual. Caillot was so well dressed as a woman – he coquettishly claims to have shaved extremely closely – that many of the watchers were amazed he was not of the 'gentle sex'. However, the masks off the real business of the evening could begin. Caillot describes his attempts to seduce the delectable Madamoiselle Carrière with a 'fine figure', 'beautiful rosy cheeks' and 'unrivalled blue eyes'. However, the lovely Madamoiselle was a boarder at the local Ursuline convent and Caillot seems to have got no further than some hopeless sparring. Any other striking Mardi Gras accounts: drbeachcombing AT yahoo DOT com The source for this article is, btw, an excellent piece by Sophia White in the William and Mary Quarterly 70 (2013 July)
28 Feb 2014: John M kindly noted that the first US Mardi Gras was in Mobile Alabama. I can't help but wondering about the French Canadian possessions… thanks john!