Author: Beach Combing | in : Contemporary , trackback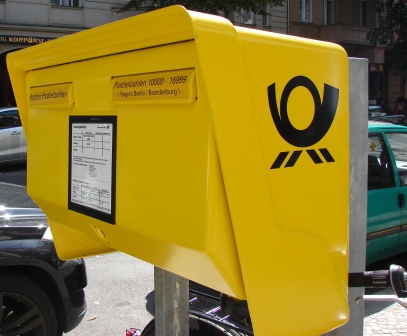 This letter came in the spring of 1915 to the Michon family house in France. It arrived from a Naples address, but it had come ultimately from Berlin: direct letters from Berlin to France where, of course, out of the question by this date. The writer was one Charlotte von Dassel.
Very dear Madame, In the hope that these lines reach you without too much delay, it is with my great regret that I have to bring you some bad news. It gives me great pain to have to inform you of the death of your husband, bravely fallen on the field of battle near to Auvelai-Arsimont on the Sambre. After the battle, my husband, Oberst von Dassel, happened to be near to a very badly wounded French soldier. To the best of his ablities my husband bandaged and gave him something to drink from his flask. Your husband, feeling that his end was near, gave my husband a brown case, which contained his watch, an amulet and three letters. My husband promised him that he would make sure that these objects were returned to you as soon as possible, and in return he asked my husband to give you his love for the last time. A short time later, when my husband returned, he had breathed his last and was delivered from his great suffering. Our soldiers, to whom my husband gave the order to bury the dead, buried your beloved husband at the same time as our officers and soldiers. Now, I wish to to explain why this sad news has reached so late.
CvD goes on to explain how her husband was wounded in September and died later that month at home in Berlin. CvD had to wait though for his effects to be sent on to get the precious objects left by Michon and even then she promised to send the objects on at the end of the war: presumably when there was no danger of them being destroyed or going missing in transit. Much better if they didn't have to fall into the hands of Italian postal staff… CvD continues.
I would ask you once more to give you my profound and sincere sympathy on the occasion of your great bereavement and say that although we have been enemies from a political viewpoint, as human beings and as women we are overwhelmed by the same grief and by the same suffering since, as I have been able to make out from your letter to your husband, you were waiting to give birth. Perhaps your child has now been born and finds himself without a father like my dear little girl born on the 18 December. Since my husband rendered a last service and honour to yours, I feel able to clasp your hand and ask God to console you.
This letter appear in Ian Senior's excellent 2011 book Home Before the Leaves Fall. Senior after quoting this letter in his postscript (339-341) asks: 'Did her husband's effects safely reach Madame Michon when the war was over. [because of the greater bitterness by 1918?] I wonder. Did they perhaps meet to console each other and to share their joy in their new children? We will probably never know.'
I am reminded of the terrible line of Graves, written about the same bloody fields: 'and maybe in that Golgotha you'll meet the mother of the man who killed your son.'
It would be nice if anyone with good enough French and German googling skills could flesh the story out drbeachcombing AT yahoo DOT com Ian Senior, whose account of the Marne is rivalled only by Herwig's, does include an interesting final note on the matter.  It seems that CvD was half German and half English. Her father was Walther von Richthofen (uncle of the Red Baron). Her mother was one Jane Oakley of Forest Hill in southern London. Charlotte added a third country to the mix as she was born in Denver, Colorado where her parents had emigrated in the 1870s! She died, however, aged 100 in 1982 in Wehrheim, Germany. She saw most of her life out, including the Second World War in Germany then? Senior continues with a rapid biography of her husband:
Oberst Wilfried von Dassel probably served with Regiment Alexander as Valarché indicated [Valarché, Le Combat d'Arsimont, 96-97 is the source of the letter]. He is probably identifiable with the Oberst von Dassel who was later the commander of IR 165, which belonged to the seventh Infantry Division in Sixt von Arnim's IV corps. If this is the case he would have been mortally wounded on 8 September in the battle of the Ourcq. This information comes from the entry on Walter von Richthofen by Trygve Has-Ellison on the website h-net.msu.edu (accessed 1 June 2011).
Reading the letter you can't help but wish that Mme Michon and Charlotte had been in charge of European affairs in 1914. They might have saved a great deal of heartbreak. They could hardly have made matters worse than Wilhelm and co.