Author: Beach Combing | in : Modern , trackback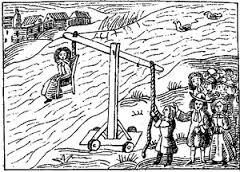 This may not be the last witch killing in Britain, that seems to have taken place some months before. But this is my candidate for the last attempted witch ducking in the UK in 1880! Susan Sharpe, the 'witch' apparently brought the case to court because she was frightened that the local community, or elements in the community might actually get involved.
At the Dunmow Petty Sessions, Charles and Peter Brewster, father and son, two labouring men, were recently charged with misbehaving themselves towards Susan Sharpe, wife of an army pensioner living at High Easter [Essex], in a manner likely to lead to a breach of the peace. The evidence showed that the defendants were under the impression that the complainant was a witch, and they wanted to put her to the test by throwing her into a pond to see whether she would sink or float….  The chairman (the Rev. E. F. Gepp) said such things they had done might have led to serious riot some years ago. [the Brewsters] were bound over to keep the peace for six months.
As interesting are the complaints against Sharpe.
[The Brewsters] affirmed she had bewitched the young defendant and his wife— the furniture in the house was disturbed, their domestic animals died, their bed rocked like a swinging boat, and shadows appeared in their bedroom.
Domestic animals, of course, is standard early modern witch fare: to think of how many isolated weirdoes got burnt or hung or garrotted because they were unlucky enough to live in a mountain village when a pig murrain swept through the area… However, the swinging bed and the shadows are new, while the furniture being disturbed is more polt than broomstick. The attacked took this matter very seriously even getting together a commission to watch the bed shadows.
On one occasion there were three in bed to witness the shadowy apparition, and they strongly asserted that the shape was that of the complainant.
Images of a thumb with a witch hat and shadow puppets on the wall.
The elder defendant had visited certain reputed 'cunning' men and women in the villages around with a view to bailie the supposed witch's evil designs, but without effect— 'all sorts of things' had been tried, but they could get no peace, and the'reports they set abroad caused excitement in the locality.
The 'excitement in the locality' is the most difficult sentence in this all too brief report. How many of the Brewsters' neighbours were prepared to go along with the ducking, even tentatively? Are we talking about a couple of mentally unstable Essexers or half the village? Of course we'll never know. Other nineteenth-century witches: drbeachcombing AT yahoo DOT com