Author: Beach Combing | in : Contemporary , trackback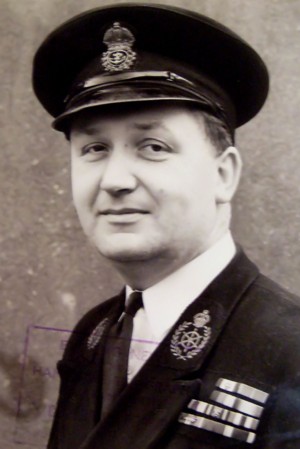 Long, long ago I did an article on the unluckiest individuals in history. But spurred on by the Gannet Club I've started to think in terms of the luckiest and I've come across an absolute winner, Gordon Selby, a much decorated son of a Wiltshire farrier. GS (obit 2007) was twenty when the Second World War began and was already a gunner in the navy. He volunteered for submarines and before long he found himself in the single most dangerous branch of the British military (in terms of survival). He was, indeed, one of very few British submarine men who made it through the whole war, which is in itself remarkable. But what is striking is how close he came to the chopper on seven occasions during and after that conflict.
i) He was detailed first to serve on Oxley (which was sunk by a British sub in 1939) but was changed over to another submarine just before the Oxley's disappearance under the waves.
ii) He served under Britain's most talented WW2 submarine captain David Wanklyn and was made to change submarine just prior to the sinking of Wanklyn's Upholder in 1942: he had served 24 patrols with the brilliant but wreckless commander before being shifted.
iii) His next boat was the P39 that was bombed to oblivion while he was in an air raid shelter.
iv) He was hit on his next boat, the P36, and was one of nine men from a crew of 98 who made it to shore swimming six miles (!!) to Malta. Exhausted on the last stretch he thought of his daughter growing up without a father and that gave him the necessary second wind.
v) In 1944 Selby served with the Sickle in the Mediterranean, the Sickle sank on the tour after he was moved to his next vessel HMS Storm.
His daughter got to the end of the war with a father, but then Selby decided to continue to serve on submarines: for me this is the single most incredible thing about the story.
vi) He was moved off HMS Truculent just weeks before she sank after colliding with a ship in home waters.
vii) In  1951 he was called off the submarine Affray while in dock and then had an 'episode' on the portside that led to him being hospitalized and the submarine sailing without him: HMS Affray sank that night and there were no survivors
And what did the Divinity have in store for a man whom He had gone to such lengths to save? Well, Selby later emigrated to New Zealand before finally settling in Australia where he lived a quiet productive life. Beach likes to think of him cutting roses and spraying aphids a long way from the ocean. Note much of this information here came from Tim Clayton's excellent Sea Wolves, particularly Tim's chapter on fate, entitled, suitably enough 'Selby's Luck' for, yes, Selby became proverbial in the service.
Other lucky men and women from ww2: drbeachcombing AT yahoo DOT com Or any more info on GS.
28 Apr 2014: Mike Dash kindly writes in with some rivals. 'Probably the most celebrated example of a lucky survivor of World War II (though frankly his record pales into insignificance in comparison to Gordon Selby's) was Tsutomu Yamaguchi, who – as his obituary puts it – was "the only person officially recognised as having been twice on the bull's eye of atomic bombs." Although badly burned and temporarily blinded at Hiroshima, then deafened and left with leukaemia and cataracts by the attack on Nagasaki, he survived to die aged 93. In mostly-World-War-II-related fortune, a favourite is the story of Jack "Lucky" Lohrke, a baseball player drafted in 1942who is one of the few men whose story bears comparison with Selby's in terms of the number of narrow squeaks experienced. He survived, first, a fatal rail crash in 1942 which saw the train he was travelling on derailed. Three fellow passengers were killed and many others badly scalded by escaping steam; Lohrke walked away without a scratch. Sent into combat, he made it through the D-Day landings and then four battles in Normandy, in each of which the man alongside him during an attack was shot dead. Fighting on into Germany, Lohrke was eventually sent home in 1945. He was about to board a flight from New Jersey to California when a senior officer pulled rank and took his seat; the plane crashed 45 minutes later, killing everyone on board. Finally, in 1946, playing for the minor league Spokane Indians, Lohrke was on the team bus heading for Seattle when it stopped at a roadside diner for lunch. There he took a phone call telling him he had been called up to the San Diego Padres. Obeying an instruction to report to his new team immediately, Lohrke stayed behind and hitch-hiked home, arriving to the news that the Indians' team bus had plunged into a 350-foot ravine shortly after he got off it and exploded – killing nine of the 15 players on board, including both Lohrke's room-mates. He died in 2009, aged 85. "I'm a fatalist. I believe the old song, that whatever will be will be," he said. Finally, turning to the Great War, there was John Hedley, an observer in an RFC Bristol Fighter, who was given the title "The luckiest man alive" by a Chicago Tribune journalist thanks to a scarcely believable incident which involved him, apparently, being thrown out of his aircraft when the pilot attempted a violent evasive manoeuvre, falling several hundred feet, and landing on his own aircraft's tail as it completed a nose-dive, enabling him to climb back into his seat.' Thanks Mike!