Author: Beach Combing | in : Contemporary , trackback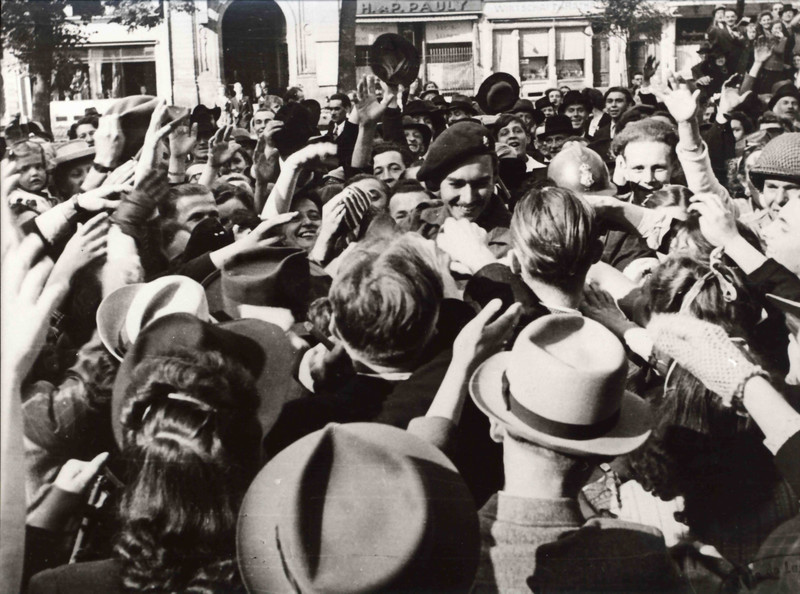 One of the great pictures of the liberation of Europe: from one of Europe's least known states.
Luxembourg, the tiny country, caught in a threeway squash between Germany, Belgium and France, straddling the most contested line in modern history, was never going to have an easy twentieth century. It was occupied immediately by the Germans in WW1 and then, in WW2, it was occupied again in the lightning German strike in the west in May 1940. The only good thing to be said about these two invasions was that the tiny Luxembourgian army did the only sensible thing in the circumstance and avoided heroism, almost immediately laying down their weapons: the Archdukes of Luxembourg accepting force majeure with haughty, aristocratic grace. In the Great War the head of state, Grand Duchess Marie-Adélaïde, perhaps the most beautiful European royal of the twentieth century, remained in the country, but was then encouraged to abdicate at the end of the conflict, going off to become a nun in Italy: she had appeased the German occupiers, it was believed. The Luxembourgian Grand Dukes did not make the same mistake in the Second (while the king of Belgium failed to learn from the Luxembourgian lesson). Marie-Adélaïde's sister, Charlotte, an extremely capable ruler, led the government into exile first in France then in London where she broadcast to occupied Luxembourg on the BBC.
This brings us to the picture. The photograph was taken, of course, at the liberation of Luxembourg, but it is a liberation photo plus. The man at the centre, in an Irish Guard's uniform, is Charlotte's elder son Jean, who had served in the British army for the two years previously, landing at Normandy on DDay and fighting inland. Here 10 September 1944 the heir apparent has been taken away from his unit and escorted by the new American occupiers (see helmet far right). Jean has, in fact, arrived in Luxembourg city and has been recognised by the locals who are mobbing him. Can't think of any other liberation photograph where the joy at being liberated combines with the joy of being liberated by someone in particular. De Gaulle was an extraordinary figure, but seemed to petrify or leave in awe those whose path he crossed.  Jean was a harmless and rather likeable toff who happened to be the son of a woman who had saved Luxembourg in 1919 (from a revolutionary squall), who had spoken defiance over the airwaves and who now now would bring Luxembourg back to itself: Mir wëlle bleiwe wat mir sinn! She would rule until 1964 when Jean succeeded on Charlotte's abdication.
Other great pictures: drbeachcombing AT yahoo DOT com