Author: Beach Combing | in : Contemporary , trackback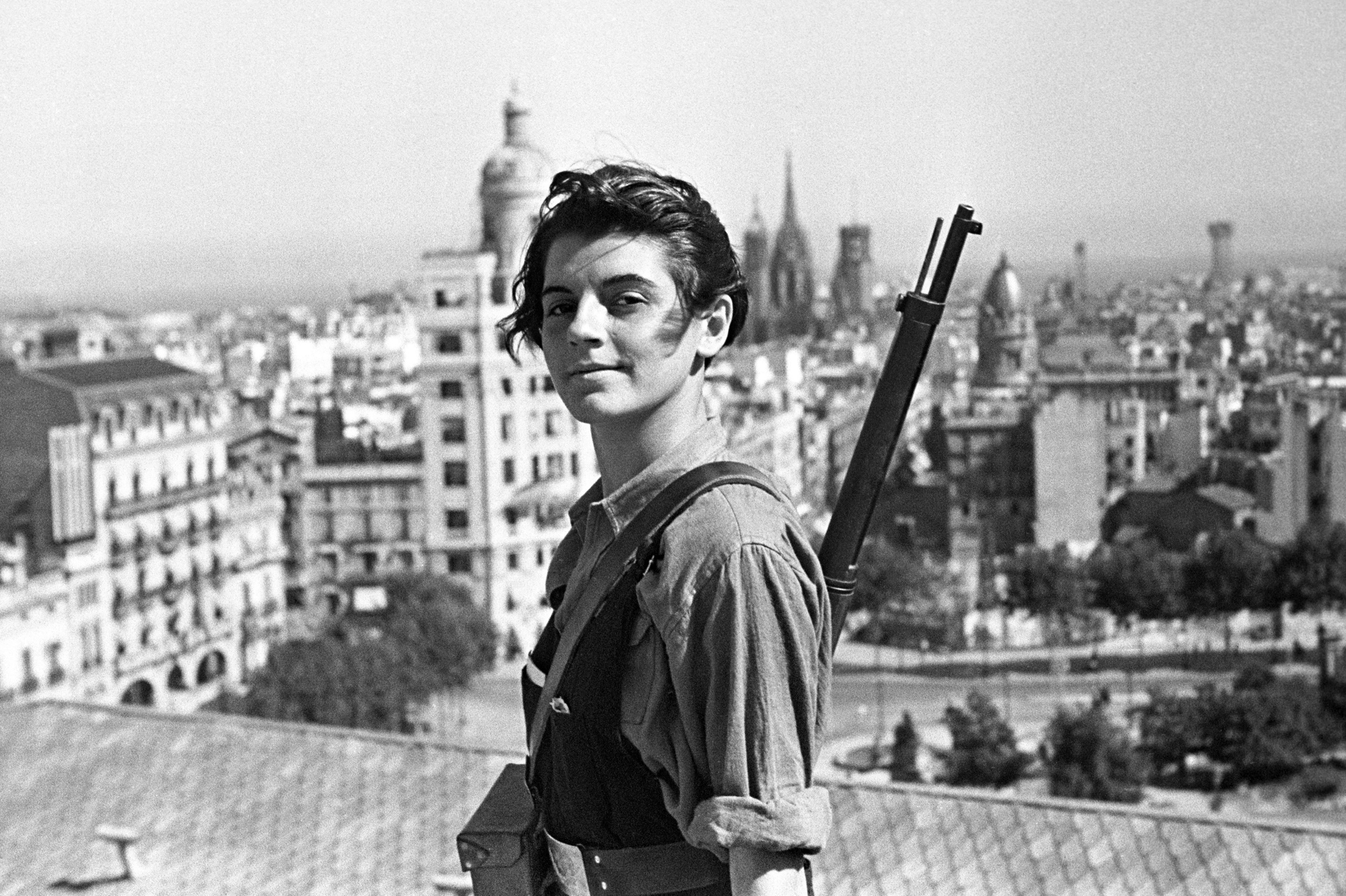 Marina Ginesta was seventeen when, in 1936, the picture above was taken by Hans Gutmann on top of the Hotel Colón in Barcelona. The Spanish Civil War was now underway and Marina, from a French family settled in Spain, had joined up with the Unified Socialist Party of Catalonia. She did not habitually carry a gun, she worked as a translator for a Russian journalist, Mijail Koltsov. But this shot catches more than any other image this blogger has ever seen the magic and hope of the early Republic. A young and stunningly beautiful girl with an old and stunningly beautiful city behind her. Of course, the picture doesn't show Republicans lynching priests or executing Christ. But no picture can catch every light from the crystal of unwinding affairs. The photograph does though have the very great merit of catching the essence of a mood and a moment: that Barcelona would see the Red Terror and, finally, Franco's victory in January 1939 just makes this girl's smile all the more powerful and poignant. Her life afterwards included, as with many who had fought for the Republic, a long series of exiles. She fled from Franco to France, from Hitler (who invaded France) to South America, then from Trujillo (in the Dominican Republic), before returning to Barcelona as the husband of a Belgian diplomat, and finally settling for the second half of her life in Paris.

Gutmann's photograph only emerged into print in 2004 on the cover of a book named the Trece Rosas Rojas and from there it has slowly gained fame until, at her death in January of this year, at 94, several international publications gave an obituary to MG, the subject, after all, of one of the war's most memorable photographs. When MG had been tracked down and confronted with this version of her younger self, in 2006, she confessed that she still remembered the dead bodies she had seen, including a mother with two children in her arms, the best part of seventy years before. She also had a comment that is worth putting down about the composition: 'They say that in the Colón photo I have a captivating look. It's possible, because we were immersed both in the mysticism of the proletarian revolution and the images of Hollywood, of Greta Garbo and Gary Cooper.' (Dicen que en la foto del Colón tengo una mirada arrebatadora. Es posible, porque convivíamos con la mística de la revolución del proletariado y las imágenes de Hollywood, de Greta Garbo y Gary Cooper). These are perceptive words! Her socialist fire seemed to have dulled sensibly with age: like many of those on the left in that generation her loyalty switched to the western democracies in their fight against Nazism.  The right-left battle-lines became the battle-lines between totalitarianism and (with apologies to Stalin) parliamentary constitutionalism, something she had already had a taste of in Barcelona with the commissars.
Too bad they couldn't have got her back to the Colón for this photograph and now, of course, it is too late.
More on Marina: drbeachcombing AT yahoo DOT com