Author: Beach Combing | in : Modern , trackback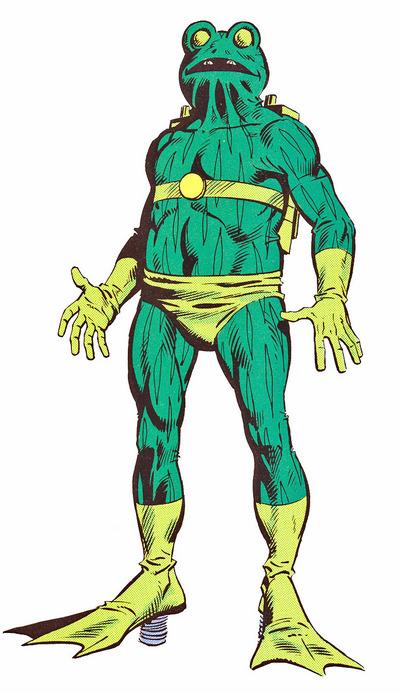 Nineteenth-century London. Three million human beings crammed into rookeries and tenements, villas and palaces and desperate for stimulation outside the normal run of work, gin and jellied eels. The theatres and music halls did their best, of course, but even the wildest cant, the heartiest acting, the prettiest legs quickly jade in the world capital. It was in answer to that hunger for novelty that in 1867 Natator* (aka the Frog Man) arrived to surprise, delight and, yes, to teach those Londoners who turned out to see him in their thousands. If Beach were a graphic novelist he would now produce a superhero with green gills who lived somewhere in the waters of the Thames and who emerged at night to fight Parliament Man (a bat hybrid flying out of Big Ben) and Old Man Gladstone doubling as Jack the Ripper. But as a simple historian Beach must, instead, introduce Natator, the showman, whose surname was rumoured to be the disappointing 'Cooper'. Natator became a London prodigy who, for about five years, was the toast of the city before disappearing back into the slums out of which he had, for all too short a while, swum.
The first we hear of Natator is in late May of 1867 when it is announced that 'the Great Amphibious wonder will appear in the aquarium daily.' Listen carefully and you might hear tea-spoons being dropped at breakfast tables across the capital. 'He will' the advert continued 'remain under water as he did while diving for pearls in the east.' This sounds like ad agency bunkum: what's the betting that Natator had never been east of Paddington? (There were some later rumours about a French circus but Beach does not take them seriously.) 'He will eat, drink, smoke, talk and dance, in short his imitations under the water exactly represent those of a frog'. Our copy writer had presumably never seen a frog underwater…  Reptiles with tobacco?
Natator was advertised for the Cremorne Gardens in Chelsea where his tank was set up: 9 feet by 5 and six foot deep, really very small. In the same year his performances caused, though, an absolute sensation: among these our best source is certainly that of the famous Victorian naturalist Frank Buckland (whose father was once seen on this blog licking bat urine). We will return to Buckland's account tomorrow because it has several interesting elements and this will be the first of a number of posts on Natator (follow the tag if you arrive late).  For now let's settle on this brief description of the frog man from The Era (25 August). By modern swimming standards it is not a very impressive list and perhaps that is the most important thing to take away from Natator. He was a pioneer and his audience was easily satisfied.
Among the greatest marvels of the present day is the performance of a young man named Cooper, and nicknamed as above [i.e. Natator], with the addition of 'The Human Frog.' He exhibits in an aquarium containing four tons of water and with a depth of six feet. His power of remaining under water is almost incredible, and he has been known to remain sixty-nine seconds below the surface. He swims up and down the tank twenty times without taking breath, opens his mouth, eats a sponge cake, drinks a bottle of milk, keeps a pipe alight, sings and dances, imitates the swimming of a pike, a shrimp, and a carp, and turns twenty-four somersaults. All these exploits, be it remembered, are performed under water, and 'Natator' avers he can distinctly hear the piano [being played outside the tank?]. He enjoys good health, is twenty years of age, and may be termed one of the wonders of the world.
Tomorrow Buckland's account… In the meantime any pictures of Natator? drbeachcombing AT yahoo DOT com
If you are coming to this late, follow the Natator tag.
* the swimmer in Latin
31 Mar 2015: Bob S, an old friend of this blog, sends an image in. The question though is whether this is our Natator or Charles Weightman, a New Zealand version. Any thoughts? The man-fish sounds worryingly like Natator's one time foe, the Professor.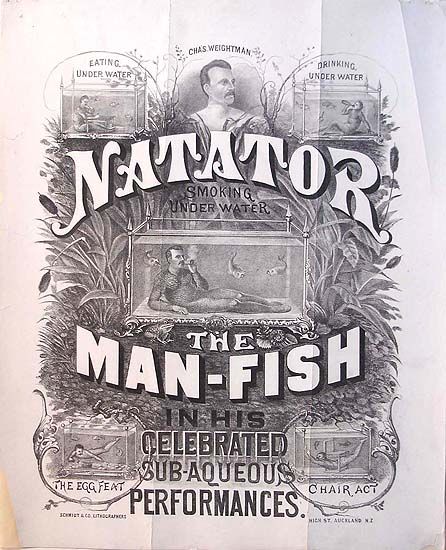 30 April 2015: The great Mike Dash writes in with two emails on Natator: I've been greatly enjoying your series about Natator. I can extend our knowledge of him a little. The Era Almanack – an annually published "Register of Dramatic and Musical Events" – for 1874, 1875 and 1877 lists, in its directory to "Music hall artistes", a double act comprising "Victor Natator and Emma Day (the Man Frog and Queen of the Waters)"  I presume that Miss Day may have been the same person as the "Madame Natator" advertised to appear with our hero in 1869, and that Natator had indeed incorporated her into a new sort of act to resist the competition of the villainous Professor Jefferson the Man Fish (who also appears in the directory). There are other hints that he had made a recovery from the dark days of the appearances in drawing rooms; in volume 12 of another journal, The Shamrock, dating to the same year, is reference to recent "amphibious exhibitions" at the Opera House. And by 1882 Natator was writing (or more likely allowing to have ghosted for him,)the article "Learning to swim" which appeared in Knowledge: the Monthly Record of Science. A few issues later came this reader's comment: "GRATEFUL is much pleased with Natator's instructions; he has "learned more," he says, "from his simple rules than from all the books he has seen."" One other mention that offers some filling out of our sketch of Natator and his personality is a squib from The Tomahawk, 28 September 1867: "Naif enfant!" – A guardsman we know assures us that Natator, the Cremorne Frog, seems quite out of water when he is on dry land." I wonder if it is possible to read this rather specific reference as a veiled allusion to the infamous gay cruising zone in Bird Cage Alley, St James's Park, where guardsmen from the local barracks regularly offered sex from as early as the 1750s. (Ruth Goodman, in How to Be a Victorian, observes that "soldiers were believed to be especially vulnerable. Their smart uniforms attracted attention and their low pay led them into temptation… the soldier _ and especially the guardsman – became almost a stereotype of the working-class homosexual.") Perhaps the innocent (?) Natator went for a stroll in St James's Park and encountered one of these Victorian-era rent boys? Another minor mystery: who was the "Queen of the Waters" who teamed up with Natator? Might she have been the same Emma Day as the London music hall artiste who advertised herself as "Miss Emma Day (the fascinating Serio-Comique)" and "Emma Day (the exquisite)," and who was noted in the New York Clipper for 8 May 1875 for her "piquant serio-comic songs"?
Then in a second mail doubts about Natator's identity, was there more than just one Natator? [Mike writes] Just dug up the following good-looking leads on a genealogy website too:
Hi Posters
I am presently looking for info on this man. He was born in Nottingham England in 1846 and became well known around the world for his stage production in which he swam,ate,drank and smoked a pipe in a tank underwater. In 1876 he appeared at the great exhibition in Paris.
He traveled to Australia still performing and later became a theatrical agent
He married Catherine Bowman who was also on stage using the name Kate Douglas.
Her sister Maud Bowman was also on the stage.
All three have traveled to New Zealand and he died in San Francisco in 1887.
Anything would be appreciated especially contact with other family members.
Cheers Olive
Quite a bit more there including some doubts about the name – Charles Weightman seems correct rather than Victor Cooper – and the info he had originally been a soldier in the Life Guards, which may have some bearing on my comments about the London gay scene.
http://www.rootschat.com/forum/index.php?topic=603451.0
http://www.rootschat.com/forum/index.php?topic=603289.msg4541687#msg4541687
Somebody claims his as a great great grandfather and someone else supplies what they say is a death certificate indicating TB:
I had a look on Familysearch.org  there is a  register of death
Chas Weightman who died  5th May 1887 aged 41 ( b 1846)
Funeral Home: N. Gray & Co. Funeral Records
Funeral Home Place: San Francisco, San Francisco, California
From Phithsis Literally, means a wasting disease but almost invariably will mean pulmonary tuberculosis – debilitating lung or throat affections; a severe cough; asthma
An obit:
The Daily Examiner
San Francisco
Wednesday May 4th 1887
Weightman-In this city, May3, Chas Weightman [professionally known as the Man Fish], a native of England, aged 41 years.
Friends and acquaintances are respectfully invited to attend the funeral to-morrow [Thursday] at 10 o'clock.a.m. from the undertaking parlors of Cowen, Porter and& co. funeral directors, No. 118 Geary street.
More on his death and burial
Chas Weightman
Burial   05 May 1887
Place: San Francisco, San Francisco, California
Age: 41
Funeral Home: N. Gray & Co. Funeral Records
Funeral Home Place: San Francisco, San Francisco, California.
On line on familysearch.org
No cemetery given except for "San Francisco " as above.
No hard evidence yet but Grave 11 Tier 57  is a numbering system in the  Lone Mountain Cemetery, San Francisco. Lone Mountain Cemetery graves were removed and  reburied in the early 1900's primarily to Cypress Lawn Memorial Park Cemetery.