Author: Beach Combing | in : Modern , trackback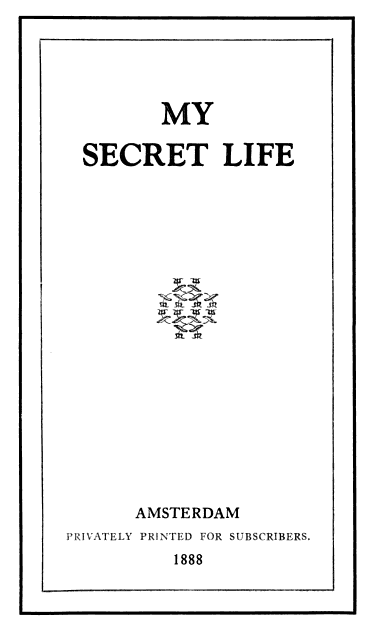 Can anyone please help with this one? Beach will send a 75 Euro voucher for the first person who manages to get a convincing candidate in a British census return. ***note this has now been solved***
Walter, My Secret Life, is an eleven volume work of pornographic autobiography describing a Victorian gentleman's 'romps'. As the 'gentleman' in question ruins a series of women, 'deflowers' teens and rapes at least one stranger it is difficult to have much affection for him. However, the debate about Walter tends not to centre on his disturbing morality but on his truthfulness. A majority of scholars believe that the volumes are in part or perhaps entirely fictional. Beach is convinced that they are not and has long had a side-line in looking for 'real' externally verifiable facts in Walter's works. The other day he thought that perhaps he had found one. In reading the following it must be noted that Walter disguises names with the use of asterisks. He is usually accurate in one asterisk standing for one letter, though with foreign names and printers getting in the way it is always possible that there lacks perfect correspondence. Anyway to the passage in question:
Going along L**c**t*r Square one evening I saw a shortish female in front of me. She had short petticoats (worn then), Balmoral boots, a small foot, and shapely calf. — The movement of haunches and legs told me she had the class of form I loved; I can tell by the pose of the foot, and the swing of the bum, what sort of thighs and rump are moving underneath petticoats — I passed and looked at her. She had a quite young, modest face, white and pink complexion, dark eyes, and looked healthy, fresh and enticing. I stopped, turned, and she passed me. She is modest I thought. — Bah! what does modesty do here by itself at eight o'clock p.m.? —So I accosted her, wondering at her steady bum swing which looked twenty-one at least, whilst her face looked but seventeen or thereabouts.
No prizes for guessing that L**c**t*r is Leicester Square in West London, a place well known for prostitutes in the later nineteenth century. But some more details follow:
'May I go home with you?' 'Yes if you like,' and she looked back. 'Where do you live?' — 'I live at — oh I forget, but it's just over there.' 'Go on and I'll follow.' — She hesitated, but turned back. — Up came another female, taller, with flaxen hair, and a nearly white face. — 'The gentleman wants to know where we live, what's the name of the street?' 'Tibble, Tickle, Tish, or something like it I forget, but I know the way.' —Then both laughed heartily. — 'Well go on,' I said (for we had stopped), 'I only want this lady and not you.' — I never like talking long to gay women [gay = prostitute] in the streets. 'It's Pickle Street,' said my selected one, laughing. 'Cross over.' — Both crossed, I following, when a short, sallow, Jewish looking woman there stopped them. — 'What is it my dear,' said she. 'The gentleman wants to know the name of the street.' 'Oh, it's T***f***d Street, sair — I will shows the vay,' and off she walked rapidly with the girls, I following at a little distance behind them. It was the baud who was giving them their first lesson in street walking, and following them in view.
Beach wasted a couple of hours on this last night and he is convinced that the street in question is Greater Titchfield Street, about ten minutes walk from Leicester Square. That would fit with the confused pronunciation of the girls, who are recent arrivals in London and who are out for their first night 'on the game'. There is one asterisk missing but perhaps Walter made a simple mistake, or perhaps he thought of the street as Tichfield Street.
If this were all, then, we would have another maze of familiar yet unfamiliar places, but there is a further intriguing detail. This is the pimp of Nell and Sophy (as they are called), the baud mentioned before, talking to Walter now, negotiating a fee.
'Oh! all rights, all rights, sair, you can stop all night vith dem. I knows a gentlemans vhen I speak vid him, all rights, sair, my name is S***k*n*us, and I've been here five years, I'm a dress-maker, sair.' (I had some idea that I was going to be bilked.) 'Now my dearees mind vot I as tell you, and I'm sure he'll be a friend to you both,' and nodding her head at the girls she went out. I bolted the door. She was a German woman I found, perhaps Jewish, but who had been some time in England, actually worked with a sister at dressmaking, and let her upper floors to quiet gay women, and had now by some chance got these two young women, to introduce to the pavé of London.
There is, by Walter's sorry standards, a wealth of material here. First, there is a name that should be German, perhaps Jewish German. Beach has messed around with this and the best he can come up with is Stockenius, an existing, though not a common name. Of course, it is possible that Walter badly mangled a foreign name, but actually Walter was quite good with German: he may have even spoken the language well. In any case, these are the clues:
We have a German surname, possibly Stockenius (or something with 'haus' 'aus' at the end?).
We have someone born in Germany.
Our mystery woman has and lives with a sister.
She lived for some time on Titchfield Street or nearby.
She describes herself as a dressmaker.
Also two other points:
For some time the two girls Nelly L**l*e and Sophy S***h [Smith surely?] lived with her: Nell particularly. As to Sophy 'For a year or two (and in after years she returned) she was in the same house as Nelly and Madame S***k*n*us.'
Also, the first time Walter sleeps with the girls he asks the German woman to go and get champagne at '***** a well known place for food and wine [then].' Curious that not a single letter is given here. That might mean that the eatery was VERY well known?
All this information has been put down because every historical bone in Beach's historical body shouts that Mrs S***k*n*us should be easy to find in a British census (where job and place of birth are given) and yet Beach wasted six hours this morning and last night. One problem is that the year is not clear when Walter met Nelly and Sophy. Secret Life was part published in 1888: did the encounter take place in the 1850s, the 1860s, the 1870s or the 1880s? To win the prize we need a German woman (or a woman from a German speaking area) with the right surname who is a dressmaker or lives with her sister or better still with Nelly and Sophy in the right part of London.
It is possible that Walter has used an assumed name for Mrs S***k*n*us, but Beach would guess not. Walter was writing a book that was originally only published in twenty five copies about events that had taken place a decade or many decades before. No one was seriously going to go and check the census were they? But then Walter could never have dreamt of ancestry.com….
So any candidates? drbeachcombing AT yahoo DOT com
This is a stand in for the Index Biography. Back to the IB next month.
31 April 2015: BT writes the following An "e" or an "a" are much more likely than an "i" preceding the "us" in her last name in German. You have a larger range of sounds that can be made in German with the "e" and the "a" in combination with the "u" than the "i". As the writer thought initially the woman was Jewish and mimics her accent in the text, you may be looking for a garbled Yiddish surname. A census of that time period for the area in question would surely mention both religion and national origin of dressmakers in the area.
I [Beach] would answer that, after going through lots of German surname lists aus is certainly more credible than ius but not in this combination of letters. As to census records there are just so many people in this part of central London. I've searched by nationality, profession (religion unfortunately is not recorded in British censuses at this date)
31 April 2015: Filip gets a whiff of the 75 euros. I find this very exciting if anyone can hunt it down in the censuses I'll double the prize money and send 75 to Filip and 75 to the finder.
Dear Dr. Beachcombing, Palmer's index to the Times 1871 (spring) lists one Hildas Stockenius, i.e.: "Stockenius, Hildas, for Keeping a Disorderly House [brothel, right?], 13 m 11 e" (see http://babel.hathitrust.org/cgi/pt?id=ien.35556026448811;view=1up;seq=7 page 27, unfortunately, I don't have the access to "The Times" archives). Maybe she (?) is the one. The first name sounds strange, shouldn't it be Hilda or Hilde??
Again to try and put my [Beach] excitement in context Stockenius is a rare German surname. Hildas does not sound English. And she's working in the right profession. The dates are between April 1 and June 30 1871. I've not been able to turn anything up. My instinct would be that this is the person.