Author: Beach Combing | in : Modern , trackback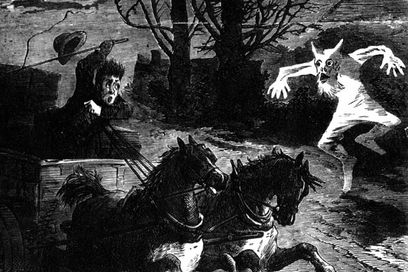 Supernatural beings occasionally, like the rest of us, jump. In some cases, e.g. Spring Heeled Jack and the Devil, this seems to be a key characteristic. In other cases it is there in many descriptions: e.g. American wild men. Then, with other bogeys it is only an occasional activity: e.g. fairies and ghosts. However, Beach does have a couple of references to jumping undead in his files in the downstairs bathroom. This is an account from 1933. It appeared in Dun Ev Tel, 13 Mar, 6.
A remarkable story of an encounter with a 'ghost' near a farmhouse about three miles from Bethesda, to which they were carrying a coffin, was related by two Bethesda men. According to Hugh Ellis Williams, joiner and undertaker, and William Davies, they had got within half a mile of the farmhouse with the coffin, which was for the tenant who had died, when they were met at a secluded part of the road by a weird figure wearing long overcoat and with head muffled. At first, the men stated, they thought it was poacher, but when only a yard away the figure leaped into the air shrieking just missing the coffin. The men say they were so overcome that they had to sit by the roadside to recover, and on reaching the farm stayed until daylight before returning. 'I am too scared at present to say more,' said Williams when further questioned.
It leapt into the air and 'just missed the coffin'. Did it jump over the coffin? The next is an extremely strange description also from Wales and the John O London letters, 1936.
I have been told of queer, round, goblin shapes on high legs, that escort people along lonely roads after dark, hopping and skipping in front and then leaping a high gate and disappearing into the grounds of gardens or of learned colleges [!]. And the tellers of these tales are steady folk.
Then here is yet another Welsh example: Lanc Ev Po, 13 May 1905, 2.
There has been ghostly resumption at Coomba Cross, Garndiffaith, a mining village in Monmouthshire. 'A few weeks ago,' said a man to a Press representative, 'I was coming down Varteg-lane, near Coombs Croas, about 12  30 at night, when my attention was attracted what appeared to be a black dog walking by my side. I tried to stroke it, but could feel nothing. I afterward saw it walking in front of me. I kicked it, and my foot appeared to go right through it. Still it walked on before until I came Coombs Cross, when it jumped about 8ft. into the air over into the new burial ground, and I saw it no more.'
So what is with Wales and jumping ghosts? Drbeachcombing At yahoo DOT com Or are they everywhere?
28 Aug 2015: David O 'I'm sure you're going to get a lot of pointers to this, but…. Chinese Hopping Vampires.'