Author: Beach Combing | in : Contemporary, Modern , trackback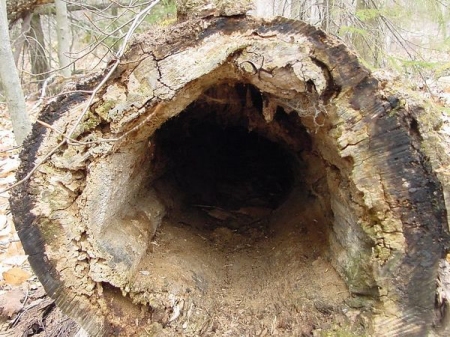 There are several nineteenth century legends about bodies trapped in the hollow of trees. These seem to be, for the most part, urban legends. But there are some unquestionably factual accounts. It must be quite difficult to die within a tree, but clearly some people managed it. Beach concentrated on Britain. Are there other factual accounts from around the world: drbeachcombing At yahoo dot com
This is a suicide: an attempt for the despairing man to hide his own body?
Two men were resting beneath hollow oak tree at Edmonton last night when they noticed through a crack in the trunk the dead body of a man. Round his neck was a rope tied to the branch overhead. They told the police, and as a result the body was extricated. It has been identified as that of Henry Beech, aged 56, of Tottenham. He had been missing since Saturday. York Post, 26 July 1928, 5
Here is a very unlucky sentimental traveller: the dangers of looking back (or down).
Mr. Roberts, a farmer, near Mold, was walking in  one of his fields; when he discovered what was practically the skeleton of a man standing upright in the hollow trunk of an old oak tree. Saturday the corpse was identified as that of Griffith Hughes, brother of Ellis Hughes, landlord of the Ruthin Castle public-house, Mold. Seeing that Hughes was over fifty years of age, and had lived at Bury, in Lancashire, the circumstances of his strange death are shrouded in mystery. It seems that came over to Mold June last, and it was noticed he often spoke about his boyhood days, and how he used to descend the hollow of this particular oak tree for owls' nests. It is surmised that Hughes had a longing see this particular tree, and dropped himself down the hollow trunk as he did when a boy. He must have been unable to release himself, and would, therefore, have died a lingering death from starvation. His shouts would not be heard, as the tree was in the middle of a field. The body was very much decomposed when found. The hollow is about six feet depth, and deceased was found feet downwards. Lich Mer 8 October 1909, 7.
These two need no comment, sad as they are.
On Saturday evening last an inquest was held at Coundon, near Coventry, to inquire into the circumstances connected with the death of a child, whose body had been found by boys in the hollow of decayed tree, in the hamlet of Coundon. Gran Jour,16 July 1870, 3

The body of a newly-born baby was found in the hollow trunk of a tree near the footpath leading to Preston from Whitley Bay. The discovery was made by three boys who were passing with a dog. Sun Dai Ech 21 Apr 1939, 6
30 Oct 2015: Bast makes an obvious point that had escaped me: what about the most famous tree trunk of them all, Bella in the Wych Elm.