Author: Beach Combing | in : Contemporary, Modern , trackback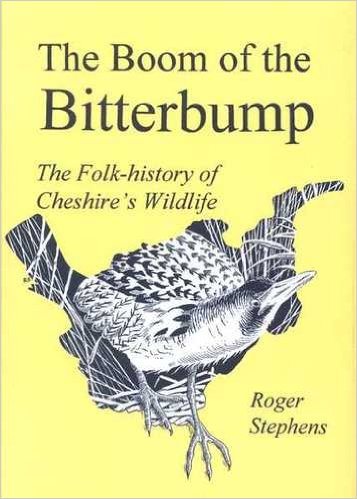 Beach has recently been going through modern folklore books for the northern English counties (Lancashire, the three Ridings, Northumberland etc etc). Of forty or fifty books he has so far taken to bed he has been struck by their rather low quality. There are not many awful books, but most are offensively mediocre: these people, remember, have interesting subject matter to hand! However, there have also been a sprinkling of top notch books. John Billingsley has written a lot of outstanding stuff: particularly fine are his two Calderdale volumes. David Clarke's writings on the Peak District are worth reading, though they lack notes. Kai Roberts' Yorkshire Folklore also lacks proper notes but is animated by good thinking and promises still better things from a young and talented folklorist. However, Beach's absolute favourite so far (another hundred to go) has been this little gem: The Boom of the Bitterbump: The Folk-history of Cheshire's Wildlife by Roger Stephens.
The initial signs were not good. Cheshire is a county that has low self esteem (compare Cheshirites with 'the master race' living in Yorkshire). The title page seems a bit passé. And the title promises something that is unlikely to be delivered, a whimsical journey through dialect and fluffy and feathered things with sprinklings of fairy dust. However, The Boom does work and gloriously so. It has four things going for it. First, it has living and just dead folklore; second, it has natural history (of which the author has real knowledge); third, it has wit;* and fourth, it has beautiful line drawings by the author.** The alchemy is a happy one. There is a chapter on the mystery monster of Hoylake (a leatherback turtle a long way from home); magpie traditions (Beach's favourite bird); nineteenth-century working class natural history societies (bird eggs, pale ale, fisticuffs…); and rogue kangaroos living in the English outback.
One final reflection. This fabulous book was published in 2003 to no applause: the Financial Times forgot to carry a review. It has been on electronic shelves now for over a decade. Books, of course, partake in a bloody Darwinian battle for supremacy, clawing their way up a heap of broken spines and uncut pages. The Boom should have slowly scaled past its often pitiful rivals. But let's see how that great arbiter of taste, the Amazon review system has judged The Boom. It has ONE review: one!!! The reviewer  gave the book four stars – he's called Rotgut and is not easy to please. Hopefully the present notice will push the Darwinian battle for survival in the right direction and The Boom past at least a couple of its lackluster rivals. If Roger Stephens is not outselling Dan Brown in a year this blogger resigns…
*Warning to non-British readers, we are talking about that rather 'sorry' wit that passes for humour in Britain and Ireland: a form of comedy that enervates outsiders (e.g. my wife) but that intoxicates natives.
**The title page is the least impressive in the book. Beach's favourite was the glorious back page 'The author collecting folklore'.