Author: Beach Combing | in : Contemporary , trackback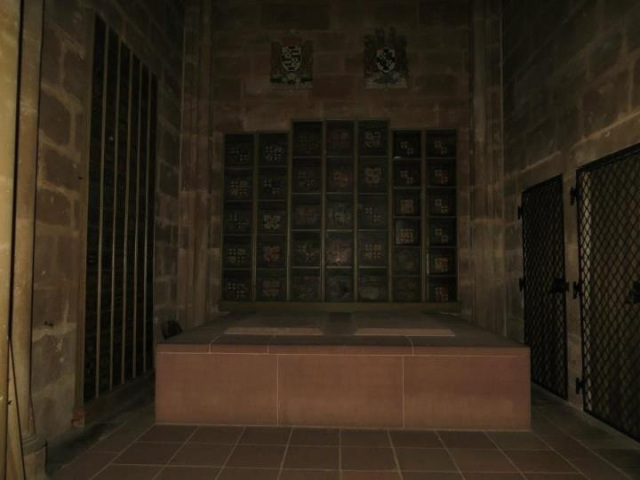 Most cultures look with distaste on the removal of dead bodies: many families will do whatever they can to avoid such a thing for their loved ones. So imagine the trauma of being buried and reburied six times in a dozen years. Let's start though with our death. Paul von Hindenburg, the President of Germany died 2 August 1934 with Hitler rubbing his hands: Hindenburg had heartily detested 'the corporal' and had been the only significant check on Hitler's power in 'the new Germany'. Hindenburg had asked to be buried with his wife at 'home' in Hanover where his wife's body had been lain to rest before him. But matters of state intervened… He was whisked off in an Nazi convoy to the other side of the country and his long and bizarre post mortem travel's began.
1) 1934. Hindenburg was interred at the famous Tannenberg Memorial. Hindenburg had been the architect of victory at Tannenberg in August of 1914 and so his body was to be the central attraction.
2) 1935. Hindenberg's body was dug up for the creation of a special Tannenberg crypt: there was also the desire to bring his wife, Gertrud east, and her coffin was now moved to Tannenberg from Hanover; the couple were at last reunited.
3) 1945. As the Soviet army came within spitting distance of a memorial they certainly would not care for – it celebrated, after all, the defeat of the Russian army – the Germans acted and removed Hindenburg west to Berlin where Hindenburg and his wife were kept safe in an underground bunker. The Tannenberg memorial was, as it happens, destroyed.
4) 1945. A salt mine at Bernterode in central Germany became an emergency burial ground for Hindenburg (and Gertrud who had followed him from Tannenberg) and Frederick the Great. Hitler stayed in the capital, Hindenburg's remains were far more important.
5) 1945. The war over, the American army discovered the cache of celebrity bodies and they were now moved to Marburg Castle in their zone of control in the west. Imagine the conversation in that truck…
6) 1946. The bodies of Hindenburg and his wife were buried locally in a modest medieval church, St Elizabeths, at Marburg: see the picture above. The grave is barely marked. Many casual visitors miss it entirely.
Hindenburg got his final wish then. He was not home but he was at least within driving distance of Hanover: and he also had Gertrud by his side.
Can anyone better six burials in twelve years? Drbeachcombing At yahoo DOT com
30/4/16 Chris from Haunted Ohio Books:
Not a celebrity, but 4 interments within 2-3 months–does that better Hindenburg?
WIDOW'S REMARKABLE WHIM.
A curious story of a widow's whim comes from Bathgate (says the Edinburgh Evening Dispatch). About two months ago a man named McIntosh, who belonged originally to Armadale, came to this country from America for the purpose of undergoing an operation in the Edinburgh Royal Infirmary, he being accompanied by his wife. Unfortunately, however, he did not rally from the effects of the operation, and succumbed shortly afterwards. The remains of the deceased were in due course interred beside those of his father and mother in Bathgate Cemetery. The widow however, three weeks after the interment, having decided to return to her home in the State of Ohio, determined to take all that was mortal of her late husband back with her, and being a woman of decided character, nothing would put her past her notion. An order from the Sheriff for the exhumation of the body was obtained, and the remains were sent to Edinburgh, where they were enclosed in an air-proof lead coffin, and afterwards sent to Liverpool, where the widow awaited, and she is now on her way to America with her sad belongings. It is said that her whim will cost her about £300.
Nelson Evening Mail  2 January 1895: p. 4