Author: Beach Combing | in : Modern , trackback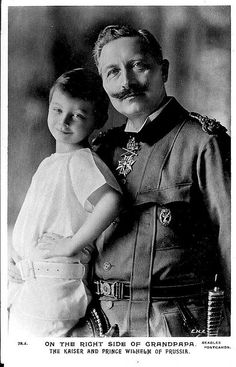 This story may or may not be true: but as all good Victorians would tell 'it might as well have been'. The Emperor of Germany is, of course, that world destroyer Wilhelm II, and the tale is absolutely at one with his martinet, aggressive nature. It might be worth noting that at this date the Emperor was popular in Britain: the storyteller had no particular axe to grind, then, though perhaps this was to show the Prussians being Prussians?
The other day the Emperor, busied in his own room, heard a violent disturbance in the nursery, and speedily made his way to the scene of tumult. When he entered the Crown Prince and Prince Eitel drew themselves up and saluted their father in the military fashion, as is their wont. 'What is all this noise about?' asked the Emperor. 'A slight dispute, sire,' said his eldest son. and I was obliged let my brother know who is Crown Prince in this establishment.'  'Good,' said his Majesty, 'I see what you mean, and now I think it will be as well if I let you know, the same way, who is Emperor in this particular family' and forthwith administered a punishment which impressed itself on the mind, and also on the body, of the Crown Prince in a manner highly suggestive of the possibilities of the situation. Diss Express (22 Mar 1889), 6
The crowned prince would get his own back through some extraordinary choices in later life.
And while on the subject of German cousins.
The scene of the occurrence was a ball at Berlin. A colonel advanced towards a young lieutenant, who bore on his breast as sole decoration a large badge richly set with diamonds. 'Tell me, young man,' he said, 'What is that thing you have got there?' 'It is an order, my colonel,' replied the lieutenant. 'An order!' exclaimed the colonel. 'It is not Prussian then, for I don't know it.' 'It is an English order, colonel,' responded the juvenile officer. 'Ah, indeed!' said his superior; 'who, for goodness sake, could have given you such order.' 'My grandmother, colonel,' was the reply. 'Your grandmother!' ejaculated the colonel, bursting out laughing; 'what is her name?' 'Her Majesty Queen Victoria. Queen of England,' answered the young lieutenant, who was none other than Prince Albert of Schelewig-Holstein. The colonel suddenly disappeared.
Wells Journal (10 Dec 1896), 8
Other German stories: drbeachcombing AT yahoo DOT com
Invisible writes in, 30 Jun 2016, with more Germans: A sentry having failed to recognise the Empress of Germany, the Kaiser has given orders that her portrait is to be hung in every German barrack room, to prevent a repetition of the mistake. Otago [NZ] Daily Times 13 January 1893: p. 3 What Happens in Berlin When the Crown Prince's Baby Goes Out of Doors. At the guard-houses there is considerable fuss made whenever any royalty passes that way. It is the duty and the only duty, of the sentry on guard to keep his eye open for royalty. When he sees it—and he seems to have a remarkably long range of vision—he yells at the top of his by no means musical voice. The rest of the guard drop their cards and pipes, rush precipitately out, fall in, and present arms with drums beating. This sort of thing is gone through with every time any royalty passes. Even the infant children of the Crown Prince receive the same homage. There is something strange in seeing a lot of grown men present arms to a year-old infant. But they do it every time the nurse of the Crown Prince's family takes the children out for an airing. But this "isn't a circumstance," as Chicago says, to what, according to the story of one of the American colony, happened here once. The nurse had a little child of the Crown Prince out for a walk, and happened to pass one of the guard-houses. The sentry on duty yelled, the guard turned out and present arms, while the drums beat. Just as the nurse and child got in front of the line of soldiers, the child espied a heap of nice, clean sand suitable for the manufacture of mud-pies. The instinct of the child got the better of its training; it broke away from its nurse and began to play in the sand. The nurse protested, entreated, begged—but it was of no use. That child was bound to indulge in a little plebeian amusement. It had its own way, and played in the sand until it had satisfied its royal mind, and all this time the guard stood at "present arms," while the drummer nearly wore his drumhead out. Cincinnati [OH] Enquirer 27 May 1882: p. 9 [The Crown Prince's baby was, of course, Friedrich Wilhelm Victor Augustus Ernest, the heir, who gave the Kaiser so much trouble over almost everything.]