Author: Beach Combing | in : Modern , trackback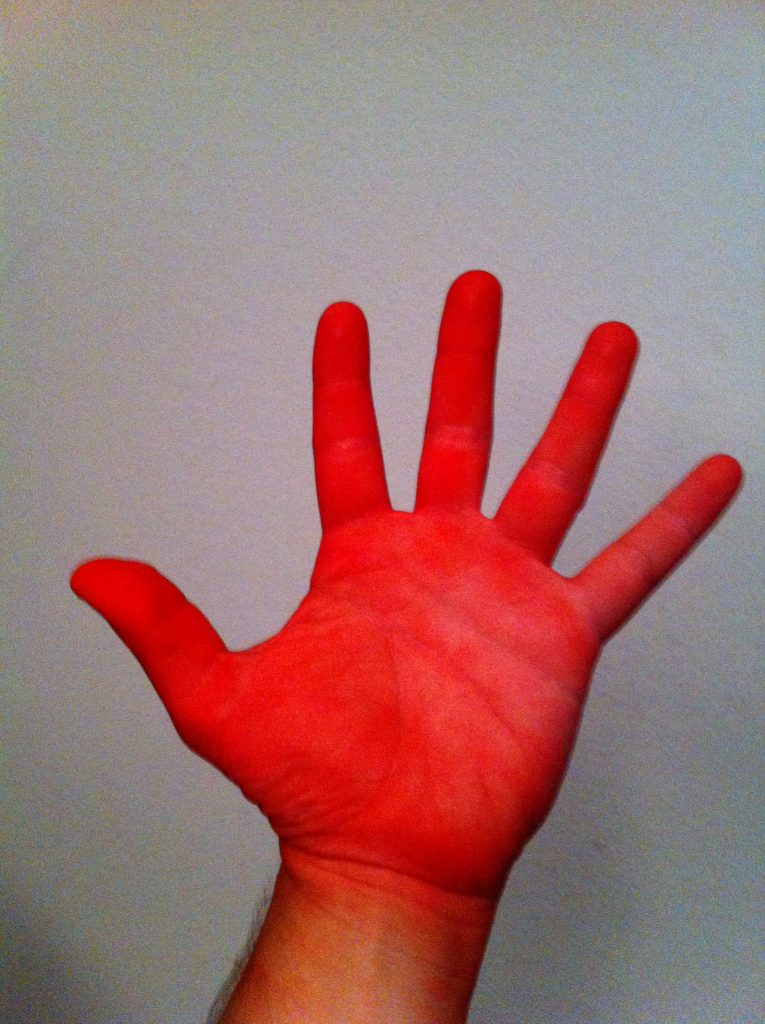 Beach is absolutely fascinated by this story. It is clearly genuine and it somehow manages to convey a great deal of menace. There are four English counties beginning with 'W' (or at least there were): Westmorland, Worcestershire, Warwickshire and Wiltshire. It seems rather futile to look for 'T' because 'W' may have been to mislead… Much more importantly though what is the Red Hand? The young man had presumably been badly misled by a joker somewhere, but what kind of urban legend is this?
One December evening, the year before last, returning to T , in the northern extremity of W , in a drisling rain, as I approached the second milestone, I observed two men, an elder and a younger, walking side by side in the horse-road. The elder, whose appearance indicated that of a labourer in very comfortable circumstances, was in the path directly in front of my horse, and seemed to have some intention of stopping me; on my advancing, however, he quietly withdrew from the middle of the road to the side of it, but kept his eyes firmly fixed on me, which caused also, on my part, a particular attention to him. He then accosted me, 'Sir, I beg your pardon.' 'For what, my man?' 'For speaking to you, sir.' 'What have you said, then?' 'I want to know the way to S.' 'Pass on beyond those trees, and you will see the spire before you.'  'How far is it off, sir?' 'Less than two miles.' 'Do you know it, sir?' 'I was there twenty minutes ago.' 'Do you know the gentleman there, sir, that wants a man to go underground for him?' 'For what purpose?' (imagining, from the direction in which I met the man, that he came from the mining districts of S, I expected that his object was to explore the neighbourhood for coals.) His answer immediately turned the whole train of my ideas. 'To go underground for him, to take off the bloody hand from his carriage.' 'And what is that to be done for?' 'For a thousand pounds, sir. Have you not heard any thing of it, sir?' 'Not a word.' 'Well, sir, I was told that the gentleman lives here, at S , at the hall, and that he offers a thousand pounds to any man that will take off the bloody hand from his carriage.' 'I can assure you this is the first word I have heard on the subject.' 'Well, sir, I have been told so;'' and then, taking off his hat, he wished me a good morning. I rode slowly on, but very suddenly heard a loud call, 'Stop, sir, stop!' I turned my horse, and saw the man, who had, I imagined, held a short parley with his companion, just leaving him, and running towards me, and calling out, 'Stop, sir.' Not quite knowing what to make of this extraordinary accost and vehement call, I changed a stout stick in my left hand to my right hand, elevated it, gathered up the reins in my left, and trotted my horse towards him; he then walked to the side of the road, and took off his hat, and said, 'Sir, I am told that if the gentleman can get a man to go under ground for him, for seven years, and never see the light, and let his nails, and his hair, and his beard grow all that time, that the king will then take off the bloody hand from his carriage.' 'Which then is the man who offers to do this? Is it you, or your companion?' 'I am the man, sir.' 'O, you intend to undertake to do this?' 'Yes, sir.' 'Then all that I can say is, that I now hear the first word of it from yourself.' At this time the rain had considerably increased, I therefore wished the man a good morning, and left him. I had not, however, rode above a hundred and fifty yards before an idea struck me, that it would be an act of kindness to advise the poor man to go no further on such a strange pursuit; but, though I galloped after them on the way I had originally directed them, and in a few minutes saw two persons, who must have met them, had they continued their route to S, I could neither hear anything of them, nor see them, in any situation which I could imagine that they might have taken to as a shelter from the heavy rain. I thus lost an opportunity of endeavouring to gain, from the greatest depths of ignorance, many points of inquiry I had arranged in my own mind, in order to obtain a development of the extraordinary idea and unfounded offer, on which the poor fellow appeared to have so strongly set his mind.
The author who wrote this in 1827, anonymously to the the Table Book finishes with these very ill-arranged thoughts.
On further inquiry into the origin of this strange notion of the bloody hand in heraldry, and why the badge of honour next to nobility, and perpetuated from the ancient kings of Ulster, should fall, in two centuries, into indelible disgrace, I find myself in darkness equal to that of the anticipated cavern of the poor deluded man, and hitherto without an aid superior to himself. Under these circumstances, I present the inquiry to you, and shall be among many others, greatly gratified to see it set in a clear light by yourself, or some friendly correspondent.
There were no answers: can anyone do better? drbeachcombing At yahoo DOT com
The only clue to this peculiar tale comes from a 1903 article in a Scottish newspaper.
The red or bloody hand in coat armour is generally connected with some traditional tale of blood, and the badge was never be expunged till the bearer had passed, by way of penance, seven years in cave, without companion, without shaving, and without uttering a single word. In Aston Church, near Birmingham, is a coat armorial of the Holts, the bloody hand of which is thus accounted for: 'lt is said that Sir Thomas Holt, some two hundred years ago, murdered his cook in a cellar with a spit, and when pardoned for the offence the King enjoined him, by way of penalty, to wear ever after bloody hand' in his family coat.
Dundee Evening Telegraph (25 Jul 1903), 3
The Holts came from Aston in Warwickshire (note above counties beginning with 'W'), perhaps this legend is connected with them. Tamworth is just beyond the northern borders of that county: in its pre-1974 incarnation. Sutton Coldfield is to the south
Chris from Haunted Ohio Books, 30 Jun 2016 'On the Red Hand story, I can't say where the red hand comes into it, but a similar "challenge" was that of a reward of a million francs for the person who would stay in the tomb of a Russian Princess Père Lachaise Cemetery for a year and a day without seeing anyone' http://hauntedohiobooks.com/news/the-tomb-challenge-of-the-russian-princess/
Matt with gold, 10 Jul, 2016: Thanks for the truly odd story of the man who would stay in a cave for seven years. While I'm familiar with the 'red hand' legend, as it attaches to the Holts of Aston, I'd never heard of this method of expunging the mark of shame. I suspect that the poor men in this story had fallen victim to a cruel joke, with someone telling them that great riches would be theirs if only they would go to this out-of-the-way place in the pouring rain.
But which out-of-the-way place, exactly? From the story we're looking for:
A county beginning with W;
Which has a town beginning with T at its northern extremity;
Which has a neighbour beginning with S about four miles away down a reasonably wide road (the 'horse-road');
Which has a church with a steeple, and a large hall of some kind;
And which is located in a mining area.
That's a pretty specific set of conditions, but surprisingly there is a candidate that fits all of them. The town of Tamworth was formerly divided between Warwickshire and Staffordshire, and about four miles away from Tamworth, down what's now the B5493, lies the village of Seckington – which is in a (former) coal mining area, has a grand old manor house, and also has a church with a very prominent steeple which is easily visible from the main road, as described in the story.
I've been unable to track down any legends relating to Seckington, concerning red hands or anything else, and cursory enquiries about the Old Hall don't turn up much, either, but maybe someone else can do better. The one curious fact about the village is that King Aethelbald of Mercia was murdered there in 757 – but it's hard to imagine that something so ancient could be the cause of a curse still active in the early 19th century.
Southern Man writes in, 29 Sep 2016, with a quotation from Lore of the Land (808-9). Note that this is just the part relevant to the Midlands:
A notable example [of heraldic legends] concerns the Lyttletons or Lyttletons of Hagley in Worcestershire, specifically Thomas Lyttleton (1744-79), 'the wicked lord Lyttleton', also the subject of a well-known ghost sotry attached to Epsom, Surrey. A contributor wrote to notes and Queries in March 1856: Being at Hagley, some time since, and conversing with a villager about the Lyttleton family, I was gravely informed that on account of the misdeeds of Thomas Lord Lyttleton… the Lord Lytteltons were compelled to have a 'bloody hand' in their arms; and that their arms being painted on a board, with the bloody hand very conspicuous thereon, were placed over the door of the hall; and I was moreover informed, that his lordship dared not  remove it for twelve months. This board, I found, was placed there just after the death of the late lord, and was nothing more or less than a hatchment. I was also told that the hand was to be smaller every generatin until it disappeared.
He had heard a similar tradition concerning the Holtes (or Holts) or Aston Hall, Warwickshire.
In one of the windows of Aston Church… are the arms of the Holts, baronets of Aston; and there… the had has been painted minus one finger; and to explain this, I was told that one of the Holts, having committed some evil deed, was compelled to place the bloody hand in his arms, and transmit the same to his descendants, who were allowed to take one finger off for each generation, until all the fingers and thumbs being deducted, it might at length be dispensed with altogether.
Other contributors responded with stories of 'Bloody Baker' at Cranbrook, Kent, and of the Vincents at Stoke D'Abernon, Surrey. [the entry continues]