Author: Beach Combing | in : Modern , trackback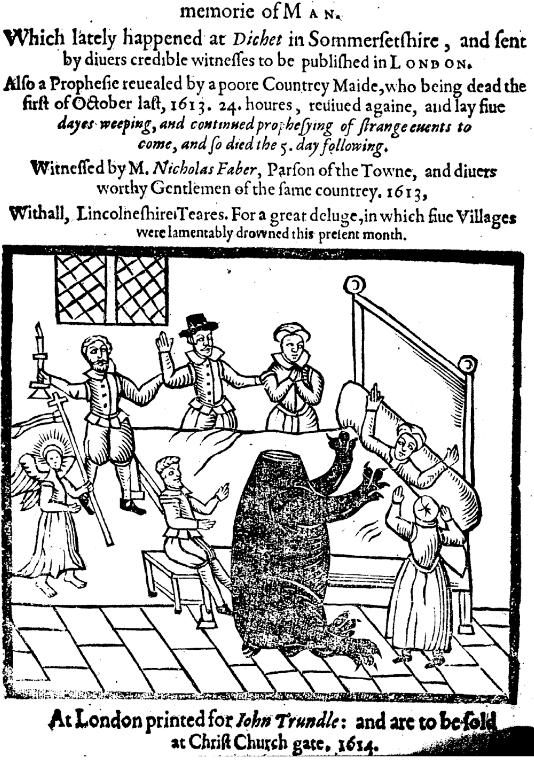 There are many different kinds of British bogeys, but one of the oldest attested is the fearsome 'headless bear'? The most famous record of this monster is, without any question, Shakespeare in Midsummer Night's Dream:
Sometime a horse I'll be, sometime a hound,
A hog, a headless bear, sometime a fire;
And neigh, and bark, and grunt, and roar, and burn,
Like horse, hound, hog, bear, fire, at every turn.
Early commentators were worried by 'the headless' bear and tried to emend away not the animal, but its decapitated state, suggesting, for example, 'leadless' bear. However, 'headless bears' were attested both before and after Shakespeare and no emendation is necessary. For instance Burton, in the Anatomy of Melancholy, has this poetic header
Methinks I hear, methinks I see
Ghosts, goblins, fiends; my phantasie
Presents a thousand ugly shapes,
Headless bears, black men, and apes,
Doleful outcries, and fearful sights,
My sad and dismall soule affrights.
And Burton knew his English folklore even better than Shakespeare.
It has been suggested that Shakespeare and Burton both got their reference from a pamphlet previously examined on this site: entitled A true and most Dreadfull discourse of a woman possessed with the Deuill: who in the likeness of a headlesse Beare fetched her out of her Bedd, and in the presence of seuen persons, most straungely roulled her thorow three Chambers, and downe a high pair of staiers, on the fower and twentie of May last. 1584 Certainly this seems to be the earliest reference in English: it was also a productive reference as this story got recycled and recycled in the next century as Simon Davies has shown in a fascinating article on the subject. There is also a curious reference in Fox's Acts and Monuments (1597) where a certain William Webb of West Wycombe was accused of placing the image of 'a headlesse Beare in the Tabernacle of S. Roke'. W.H. Summers suggests that this was 'most likely a broken piece of stonework', still the expression is a curious one. Headless bears can be followed through right into the modern period in English folklore and, most of all, English encounters. Where, on earth, do these bears come from? It is a nice question. Bears were driven to extinction in Great Britain in antiquity: there is a stray Roman reference to a Caledonian bear. But bears did survive in bear-baiting shows that were commonly walked around the country: most Britons would have known what a bear looked like in the sixteenth century, perhaps they had a closer experience of bears than many modern Britons. Still, why not a badger or a dog or a fox? drbeachcombing AT yahoo DOT com
Source: Simon F. Davies, 'The Adventures of the Headless Bear and Other Reprinted News in Early Modern England', Studies in Renaissance 8 (2015)